Visit the Mount St. Helens National Volcanic Monument on this guided, full-day, small-group tour from Seattle. Travel just a few miles from the crater to see the steaming volcano. Walk through the park with a naturalist guide and discover how volcanoes are monitored. Learn more about the geological events that transpired during the 1980 eruption. Transportation plus a picnic lunch, snacks and beverages throughout the day are provided. Seattle hotel pickup and drop-off included.
Highlights
Visit the Mount St. Helens National Volcanic Monument
Travel just a couple miles from the crater
See wildlife in their natural environment
Small-group ensures a personalized experience
What You Can Expect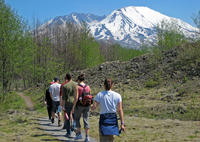 Tour one of Seattle's top attractions, the impressive Mount St Helens National Volcanic Monument, on this full-day small-group tour. Your tour begins with a downtown Seattle hotel pickup and a light breakfast including pastries and hot beverages. During the 3 hour drive from Seattle to Mt. St. Helens National Volcanic Monument , your naturalist guide will tell you about the infamous volcanic eruption of 1980, which destroyed nearly 230 square miles (370 km) of forest and covered eastern Washington in volcanic ash. Learn about the ongoing reforestation project and discover how well the ecosystem is recovering from the eruption.

Arrive at the blast zone, located 5 miles (8 km) from the crater at the Johnston Ridge Observatory, and take in magnificent views of the steaming volcano. Your guide will share the magic of the geological events surrounding the 1980 eruption through a variety of stories and facts. The observatory's state-of-the-art interpretive exhibits portray how the landscape transformed, and how the eruption opened up a new scientific era of monitoring active volcanos and forecasting eruptions. Take a short walk on the Eruption Trail with your expert guide and admire views of the lava dome, crater, pumice plain and landslide deposit.

In the afternoon, enjoy a gourmet picnic consisting of fresh local food and wine. Snacks and drinks will also be provided throughout the tour. See the Itinerary section below for a sample menu.
Itinerary
Gourmet Picnic Lunch:
Organic and locally sourced
Includes a meat (such as grilled salmon or chicken), a grain salad (such as quinoa with roasted vegetables) and a green salad. Sometimes sandwiches or wraps as served in lieu of the meat dish. Vegetarian option available.
Local wine, Pellegrino water and sodas are included.
June 2016
Excellent guide,great mix of participants! We had a fantastic time and we were given individualized attention during the tour. The only problem was the van's transmition seemed to lurch occasionally. All in all a great time was had by all.
September 2015
Wonderful experience and a great learning experience ! Our tour guide was extremely knowledgeable !! We had a blast and would highly recommend this to others !!
September 2015
Our tour guide Rachel was the most informative person I have ever been on a tour with. She knew about so much stuff, and it was a delight to travel with her. Even though the weather was not the best, Mt St Helen's was just spectacular. I'm glad to see that things are returning to normal up there.
August 2015
I got to see my favourite volcano, had delicious food, an excellent and knowledgeable guide and a glass of wine. Pretty much my perfect day!
August 2015
Marty was our naturalist. Marty is highly skilled , educational and took care of us!! We learned about the entire area and the mountain. We stopped at peaceful places for Breakfast and lunch . We picked blackberries and apples at one of our stops . The food was Delicious. My st Helens was A highlight of the trip. Well done Marty!!
June 2015
Terrific guide - in all a great trip and learning experience.
June 2015
An excellent day, very friendly well informed guide and well worth it
November 2014
This was a great, personalised trip with a guide full of energy and knowledge. On time pick up, clean and comfortable, good home made food. A trip not to be missed. Thanks Shawna! (could have turned the seat warmers on earlier ;))
December 2013
Trip to Mt St Helen's was very memorable and a wonderful experience.
We certainly got our money's worth and I would highly recommend the trip to anyone.
Angie, our tour director was just great, a wealth of information and contributed to a great day.
Lunch was very enjoyable and Angie set it up beautifully.
We were fortunate to have good weather which enabled us to see the effects of the eruption in 1980 + how the area has recovered since e.g. flora and fauna......saw the little migrating frogs and saw and heard several birds. Again, Angie was very informative with her knowledge.
All in all we enjoyed a wonderful day, which will remain in our memories for a long time.
Bouquets to Angie, who gave us a great day and a comfortable trip with her excellent driving.
Ian and Mary Sept 2013
September 2013
This was an exceptional tour; our guide, Marty, was very knowledgeable and polite to everyone in the group. He allowed us plenty of time at each stop. The morning tea and the lunch were tasty and healthful. I would recommend this tour to anyone!
Advertisement
Advertisement