Get a taste for some of the Pacific Northwest's top wines on this 5.5-hour, guided, small-group, wine-tasting tour. Roam through Woodinville wine country, nestled in the beautiful Sammamish River Valley just 30 minutes northeast of Seattle and home to over 100 wineries and tasting rooms. Visit three boutique wineries for a wine tasting with local meats, cheeses and crackers served. Hotel pickup and drop-off from downtown Seattle accommodations included.
Highlights
5.5-hour wine-tasting tour through the Woodinville wine country near Seattle
Visit three boutique wineries such as Lauren Ashton Cellars or Kestrel Vintners, and taste some of the best wine in Washington
Meet the winemakers and get a lesson in viticulture from an expert guide
Ride in a luxury vehicle with round-trip transport from downtown hotels
All tasting fees and snacks are included
Small-group tour limited to 10 ensures more personalized attention
Why Our Insiders Chose This Tour
In addition to touring the wineries and tasting wines of the highest caliber, you'll get an exclusive educational experience from the expert winemakers themselves.
Recent Photos of This Tour
Small-Group Wine-Tasting Tour Through Woodinville
What You Can Expect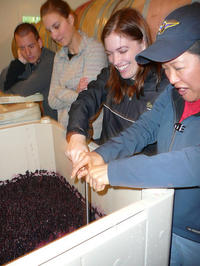 Tucked away in the beautiful Sammamish River Valley just 30 minutes northeast of Seattle is Woodinville Wine Country, home to over 100 wineries with tasting rooms representing every appellation in the state of Washington.
From the historic to the quaint, a wonderful variety of wine-tasting experiences awaits on this 5.5-hour Woodinville wine-tasting tour.
After a downtown Seattle hotel pickup, climb into a comfortable van or luxury sports utility vehicle and get ready to spend the afternoon tasting some of the best wines in the region.
On this tour, visit three boutique wineries — such as Lauren Ashton Cellars, a winery noted for crafting artisanal wines, Kestrel Vintners, with four tiers of wine, and William Church Winery, whose award-winning Viognier is considered one of the best in the state.
Meet the region's winemakers and learn about the interesting "vine-to-wine" process. Unlike larger areas that mass produce their product quickly, the boutique wineries of the Woodinville region focus on quality over quantity, pouring their heart and soul into each and every bottle.
Throughout the tour, pair the wine tasting with local meats, cheeses and crackers while soaking up the beautiful scenery.
Itinerary
Three of the wineries you visit may include:
Kit Singh of Lauren Ashton Cellars: Made entirely from Northwest grapes, Kit Singh of Lauren Ashton Cellars, is defining the craft of Northwest wines. In a European-style, the winemaker's chemistry degree creates distinct flavors and deliciously smart wines.
Celaeno: A small and authentic boutique winery, producing 750 cases per year, Celaeno excels in breaking the normal rules of wine making. Enjoy Okanagan Valley sourced Pinot Noir and wines fermented in oak barrels originating from Hungary, Kentucky, and Pennsylvania.
William Church Winery: Taste the splendor of Washington wines through their highly rated Viognier, Malbec, and Bordeaux blends. In the ambiance of a working winery, this stop allows you to focus on balance, power, dimension and finesse when wine tasting.
Kestrel Vintners: Innovatively crafts wines of the highest caliber, showcasing the unique terroir of the Pacific Northwest. Through passion, knowledge and stewardship, their wines reveal masterfully tended vineyards, innovative wine making techniques, and unrivaled hospitality
June 2016
Stephanie simply was marvelous, so full of knowledge and caring. We were a group of five, with my husband and me being substantially older than the charming three young ladies who comprised our group. What a treat for all ages!!! Stephanie has visited major vineyards and wine-growing regions of Europe and is so well informed also about the wine-making industry outside Seattle and in neighboring areas of Washington State. She brought it all to the table, and we drank wonderful wine, heard heart-warming stories from vintners, and laughed with joy over our many experiences. If you love wine, take this tour, and you'll be talking about it for years. Thank you Stephanie. Mimi and Bill
April 2016
had a great time. Would do it again in a minute.

October 2015
We were able to visit 4 great wineries. Barbara was our guide and she was FANTASTIC. Great day if you want to get to know Washington wine!
October 2015
Wonderful guider and a great time. Thank you so very much!!!
September 2015
I enjoyed the tour and the wineries. I do recommend the small group setting. I enjoyed Emily, her candor, and very personal approach. I do highly recommend it.
September 2015
This was a great small group tour with a very pleasant guide
September 2015
Picked up at our hotel right on time. Visited 3 wiery tasting rooms in Woodinville. Met one of the winemakers and saw some crushing of grapes. Just an awsome day! The guide was very well informed and handled all questions with ease. The transportation was very nice and comfortable. Would highly recommend this tour to anyone!
August 2015
Had no idea there were so many wineries in Washington. Wish you had been able to pick us up in Sea-Tac. Not knowing the area, we hired transportation in at a cost of 20 each but rode the train back out.
July 2015
Very informative and fun tour. Our guide was very knowledgable as well. Well done!
June 2015
excellent information and our tour guide Barb was amazing - very knowledgeable - had a wonderful time visiting the three wineries
Advertisement
Advertisement