Go deep into the world of canyons and cowboys on a 2-hour off-road tour from Sedona, and experience the rich history and rugged scenery of the magnificent Sonoran Desert. Ride a 4WD into historic Dry Creek Basin, and hear stories of rebels and renegades at a frontier cabin made from hand-hewn logs. Enjoy views of Sedona's brilliant rock formations, and watch for the lizards, birds and mammals that make their home in the harsh desert environment.
Highlights
Canyons and Cowboys tour from Sedona

Great tour to capture the color and beauty of a Sedona sunset
Step back in time to the wonderful world of cowboys
Travel through the beautiful canyons of Sedona
Discover Sedona's colorful history and hear tales of murder and moonshine
What You Can Expect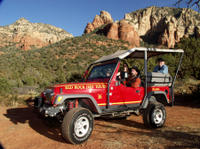 A rugged ride into the scenic and historic Dry Creek Basin surrounded by seven majestic canyons to the hand-hewn log cabin that stands as a reminder of Sedona's colorful past. Relive the early cowboy days and the old Van Deren cabin and hear the colorful story of its historic beginnings.

This is a great tour to capture the color and beauty of Sedona.
April 2016
We had the best time! Cowboy Joe made this such a fun adventure for our family. It was adventurous enough to keep our 13 year old interested and just wild enough to not scare our 7 year old. We saw amazing sights that we never could have seen on our own. I recommend this tour company because of the personalized service. It was important to us not to have to share the jeep. With the local tour operator, you get to be with just your own group.
April 2016
Courteous, prompt services. Variety of packages. Competitive pricing. Family friendly, informative outing.
January 2016
Really a lot of fun. Our guide and driver Mary, was very knowledgable, fun, and experienced. We started on time and we saw beautiful country while on the tour. Definitely recommend this tour. A good, fun time.
November 2015
Friendly and knowledgeable staff and beautiful scenery! Would highly recommend!
July 2015
The tour was amazing and fun. The tour guide was very friendly and knowledgeable.
July 2015
What beautiful country! And what a great way to see some of the more remote parts of it. Joe was very knowledgeable about the geography and history of the canyons and the log cabin we were able to get to. He had a great, ah, shucks way of telling it. Just like you'd expect from Mitchum or Martin. When I'm in the area again, this will be on my list of things to do.
June 2015
I would recommend this tour,it was very informative . Dan our guide was very good and gracious.
March 2015
The tour was a lot of fun. Those Jeeps a hoot to ride around in. The tour guide was very knowledgable about the area. We had a great time and will do it again if/when we go back.
October 2014
Rocky was the best guide ever! He was funny, intelligently presenting the history and geology of the area and those who peopled the Sedona before it was called Sedona. It was an adventure! Although we were seat belted we held on to the metal frame bars as we made our way up. It had rained a bit and that made that arid land flood a little in spots. Mercifully not a roller coaster ride but definitely exciting as we skimmed the puddles! Rocky slowed down to see the deer and when I asked to photograph the prickly pear cactus and he obliged us and took pictures of our family against the stunningly beautiful background of the Sedona landscape. As city slickers from New York these are most appreciated. He told us of some of the medicinal uses of some of the vegetation as well as the food supply practices of the original land owners of that place which we stopped to visit. His costume and visage were no costume! We appreciated that he truly was part of the history and life of the place! He is a sincere and honest man who lives out the best in the history of the West as Gene Autry sang, "where the only law is right". We were privaledged to meet him and we wish him all the best. Once again, THANK YOU SO MUCH ROCKY!
March 2014
My sister was here visiting so we wanted a scenic plus fun Jeep tour and boy Howdy that's what we got!
Our tour guide Rocky was fun loving, so very knowledgeable and certainly made this the best ever trip. We would highly recommend this guided tour.
Advertisement
Advertisement