31 Reviews
Location:

Sedona, Arizona

Duration:

1.5 - 3 hours
A trip to Arizona is not complete without a jeep tour through the spectacular red rocks that Sedona is famous for. Enjoy a ride along an old stagecoach route for panoramic vistas and picture-perfect views.
Highlights
Old Bear Wallow Tour from Sedona
Take a jeep tour through the spectacular red rocks that Sedona is famous for
Some wondrous sites such as Snoopy Rock, Teapot formation and Damnfino Canyon
At the top of the Mogollon Rim admire the amazing view of Oak Creek Canyon
What You Can Expect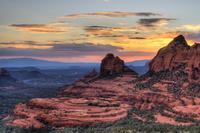 Follow this rough and rugged early stagecoach route, which was the only road between Sedona and Flagstaff until 1914! As you rise in elevation you will see some wondrous sites such as Snoopy Rock, Teapot formation and Damnfino Canyon. You will wind your way towards the top of the Mogollon Rim as your breath is taken away by the view of Oak Creek Canyon. On the way back to town you will be wowed by Carousel Rock and the picturesque view of the Valley below.

On the longer, 2 hour tour, a 4x4 excursion along the scenic volcanic rim trail is included.

Please Note: upper portions of this trail may be closed in winter.
November 2015
This was an amazing ride to see the beautiful red rock formations and scenery. Little Deb made this a great experience for us. Thanks to all.
October 2015
We had a great time on this tour. Our tour director/driver was Dan. This guy is really knowledgeable. Plus he has a sense of humor that kept everyone chuckling. It was a great tour. He is a musician also and my husbandalso a musician was interested in what instrument he played, etc.
I was surprised when he said that there was a 3 hour tour too. I tried to sign up for that tour but it was not offered on the website.
October 2015
We really enjoyed this tour and our driver was friendly informative and entertainning. He took particular care of one member who was not quite so fit as the others. A good time was had by all. The pick up and return to hotel worked well.
September 2015
This was great value for the money, we had such a great tour guide - Joe. If you go to Sedona, you need to book this tour. Nice views to see and pictures to take. And ride in the back seat if you like a bumpy ride.
September 2015
We had a great time, Rocky was our driver, he was very informative of the history of the area, and a GREAT guide. Thank you Rocky
August 2015
Our tour of Old Bear Wallow was great. Jim our tour guide was very informative about our surroundings and gave us interesting information about the rock formations, plant and wildllife. Definitely would recommend this Tour.
June 2015
This tour actually got rained out but the company upgraded our tour and we got one that followed part of where our original tour was to go. It was great and our guide Wild Bill was better. He picked us up at the hotel and was very knowledgeable about the area. Lots of fun. Highly recommend.
June 2015
Our Driver, Erin, was pleasant and helpful even to the point of helping me to retrieve my voucher from the internet when I had misplaced it. He gave us an interesting and informative tour and stopped to take some pictures of us in the jeep to prove we were there. The views were awesome. Would do it again. ECM
June 2015
We very much enjoyed the tour. Pete, our guide, was great, knowledgeable, and very friendly. Of course, the scenery was breathtaking.
May 2015
Big John our tour guide with the Jeep tours was really great and entertaining as he drove us up the rim trail. This was an excellent tour. Beautiful views of Sedona from the rim.
Advertisement
Advertisement