Take in aerial views of Sedona's mountains and ancient sites on a 25-minute helicopter tour that goes deep into Red Rock-Secret Mountain Wilderness. Soar above Rattlesnake Mesa and see the cliff-side homes of the Sinaguan people as you explore a landscape split by deep canyons and crevices. Capture unforgettable images of Sedona's unearthly rock formations as you fly past Bear Mountain, Fay's Arch and Doe Mesa, and enjoy sweeping vistas of Arizona's dark pines and vibrant cliffs.
Highlights
25-minute helicopter flight from Sedona

Fly over the Red Rock-Secret Mountain Wilderness and the Dry Creek area

Admire natural landmarks like Secret Canyon and Fay's Arch

See the ancient cliff dwellings of the Sinaguan

Enjoy expert commentary from your pilot

Hotel pickup and drop-off are included
What You Can Expect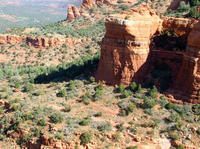 After pickup from your hotel, head to the Sedona airport to board your helicopter and fly west toward the Red Rock-Secret Mountain Wilderness, passing over the Dry Creek area.

One of the Sedona area's most popular destinations for hiking and other mountain activities, the wilderness is surrounded on three sides by high red cliffs that are split by many deep and hidden canyons, including Secret Canyon, which you'll see.

Next, fly over Rattlesnake Mesa and into Boynton Canyon to see the ancient cliff homes of the Sinaguan people, a pre-Columbian group that occupied the Verde Valley region from 500 AD to 1425 AD. Their incredible homes have stood the test of time and are some of the most interesting sights on your helicopter tour.

On your way back to the airport, fly over Bear Mountain, Fay's Arch and Doe Mesa.

May 2016
Absolutely Breathtaking views!! The Pilot was great and and shared lots of info. The staff at the local tour company is very friendly and accommodating!!
April 2016
Fabulous tour. Joshua our pilot was great and so was Josh that picked us up and got us loaded in the helicopter!
December 2015
December 2014
beautiful weather, beautiful photos and the pilot was very good and informative
June 2013
April 2013
Our pilot, Mark, and our guide John were so wonderful to be with. They were kind and informative making sure of our safety. Mark would point out points of interest as he would go as close as possible to allow us to take pictures. Both men made our trip special.

January 2013
This flight took my breath away! The beautiful mountain formations around Sedona are amazing. The pilots narrative was very informative.

October 2015
A fun experience.
Outstanding scenery under the guidance of a great experienced pilot.
Staff at office is friendly,
Did not get the DVD video I thought we were to get free.
June 2013
The pilot was very nice and knowledgeable-gave a great briefing. It was hard for us to see since I was behind the pilot and my wife(5 ft) was in the center seat. A large man was sitting to the left, right (me) and right front (pilot). I could see a little but she saw very littleif anything. Since there were storms in the area, the ride was rough so she just tried to hold on and not get nauseous. I could have bought a video and saved myself the trouble.
April 2013
The helicopter pilot was very skilled and took us into the canyons and showed us the remains of ancient Indian settlements which were very interesting. What I didn't like was loading 4 people into seating that was meant for 3. It was very cramped and my wife couldn't see properly because she was in the middle seat. I couldn't take proper pictures because I was cramped up against the window.
Advertisement
Advertisement