Discover the mystical and spiritual world of Sedona's vortexes. You'll visit at least two of the main vortex sites to experience these unique energy forces firsthand.
Highlights
Sedona's Original Vortex Tour from Sedona
Visit two of the main vortices in Sedona
Come and discover the mystical world of healing, spirituality and metaphysics
Recent Photos of This Tour
Sedona's Original Vortex Tour from Sedona
What You Can Expect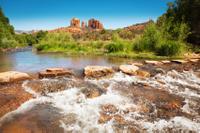 What is a vortex? Where are they? Where do they come from? How can they be used for healing and spiritual growth? You'll explore these questions and more as this tour -- the original Vortex Tour -- visits at least two of the four main vortexes in Sedona, which is recognized worldwide for the presence of these mystical energy sources.
December 2014
I had a fantastic time and this was exactly what I had wanted and it gave me great insight. Thank you Mary for your very skilled tour and facilitation and love.

October 2012
It was absolutely phenomenal. Our tour guide, Mark Willner was so well versed on the vortex energies and little experiential stories to go along with each one of them that we were all taken in. It was such a positive spiritual experience, one that I will never forget. I will return to Sedona in more than dreams. ....Deborah Weltin
May 2011
I went with my daughter and we had a wonderful time there. The jeep arrived on time and the local guide was a great company. He even gave us extra time to collect stones during short hike up the vortex. I will definitely go back there when I have a chance! Thank you for offering us such incredible experience.
June 2015
April 2014
most of the time was spent crushing the city in the jeep. I expected more outback.
December 2010
We were not enthralled with this tour. We were staying in Sedona for one night. In my first email to them I asked for a later tour they had scheduled me for 8:00 am and I had no response. Our Bed and Breakfast served a gourmet meal in the morning at 8:30. We had to leave at 7:30 to make our 8:00 tour. I had called twice and left messages also for them that I need to make a latter tour and no one returned my call very upsetting and we also had to pack up because by the time we would return it would have been check out. When we got to the Red Rock Jeep Tour the desk said our tour wasn't until 10:00 am. No one notified us of this and I let them know that I emailed and also called twice. They told me the number that I called was their office and that number was no longer any good. They must of changed the time per my first email request and never told us. Then they called the guide in which took a while. I found that the tour guide was more interested in giving us a quick history and getting back to having his cigarette and leaving us there on are own. He also shaved 1/2 hour off our time we should have been our. We had a very bad experience and I compare that to the another tour I went on 5 years ago I had a great time and thought I would do it again and show my friend. That will never happen again. Sedona is so beautiful what a waste that made our whole stop.
Advertisement
Advertisement