Travel by Jeep through Sedona's rugged countryside toward Soldiers Pass for expansive landscape views. This tour also brings you to two interesting natural sites: Devils Kitchen sinkhole and Apache's Seven Pools.
Highlights
Soldier Pass Trail from Sedona
Travel through the rugged countryside and challenging trails of Sedona towards Soldiers Pass
Ride over, around and up the red rocks
A challenging 4x4 experience that only a Jeep can provide
What You Can Expect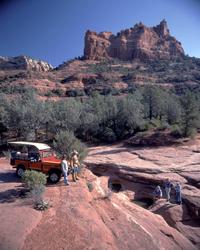 Ride over, around and up the rugged red rocks of Sedona on this challenging and entertaining Jeep ride. Only Red Rock Western Jeep Tours is permitted by the U.S. Forest Service to take you on this historic trail, which is where General George Crook traveled during the 1871-72 Apache campaign. You'll feel like a pioneer as you step out on the rocks at key landmarks, where your knowledgeable guide will explain the area's fascinating history.
April 2016
This was so much fun. The guide was great, personable and lots of fun. He was very smart in asking if anyone had issues with vertigo or motion sickness. Since I am very prone to motion sickness I had been worried about this bumpy ride. He was very kind and put me in the front seat which took care of the problem. The views were spectacular, the informative information he shared was interesting and the ride was so much fun. I recommend this tour over any other in Sedona as they go into the park and others can't. It was great.
April 2016
We were late but they still took us on our tour. Mary, our guide, was awesome and was well informed. She made the tour a lot of fun.
April 2016
This was an awesome tour and experience.
Our guide was knowledgeable and gave us good historical info about the area as well as the wildlife and plant life and other local topics of interest.
Highly recommend doing this while in Sedona.
November 2015
Our guide Joe was very knowledgeable and fun. I liked that there were no set stops on this tour, unlike the jeep tours so it was up to the group when and where we wanted to stop for pictures and to get out and explore. I would recommend this tour for first time visitors to Sedona and to those wanting a bumpy, fun ride through some beautiful scenery.
July 2015
Sid was an excellent guide! We had a lot of fun and got a history lesson at the same time.
June 2015
Tumbleweed Tom was terrific!! He educated us on the environment and the people that inhabited this land. He also kept us safe as he took us to piano rock / sinkhole and other formations. We highly recommend this tour.
June 2015
Guide was terrific. Maybe advertise very safe....No scary moments. My wife loved it , but was nervous at the beginning. Most enjoyable.
September 2014
It was a great tour. We'll experiences guide that was just fun to be around, his sense of humor made the trip that much more fun
August 2013
This was fantastic...and Mark was very knowledgeable and showed us a great time.
June 2013
Advertisement
Advertisement