15 Reviews
Location:

Seoul, South Korea

Duration:

2 or 3 hours
Discover the secrets to creating Korea's most popular dishes during this small-group cooking class in Seoul. Your culinary adventure with a professional chef takes place in a modern, spacious cooking school located in the heart of Seoul. Your chef shares different dishes for this beginner class depending on the day selected, and leads a walking tour through a local food market. At the end of your lesson, enjoy the delicious meal with your class.
Highlights
2-hour beginner cooking class in Seoul
Learn how to make several Korean specialties
Enjoy a culinary experience in a professional cooking school furnished with modern kitchen tools and equipment
Study with professional chefs, trained both internationally and in Korea

Savor the delicious meal at the end of class
Take a guided tour around a local market to experience Seoul's food culture up close
Why Our Insiders Chose This Tour
In addition to your class, you get the scoop on how to pick out the freshest seasonal ingredients during a guided tour of a food market. You'll learn the essentials of a well-stocked Korean kitchen and how to select the best vegetables, fish, meats and seasonings.
Recent Photos of This Tour
Experience Seoul: Korean Beginner Cooking Class
What You Can Expect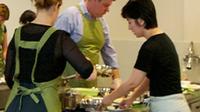 Explore Korea's wonderful food culture with a professional chef as you learn how to prepare traditional Korean dishes. Each class provides a primer on the ingredients and flavors of Korea's diverse cuisine.

Your expert chefs preface your cooking class with a few safety instructions before delving into the cooking portion of the lesson. For more detailed information about each cooking class, please see the Itinerary section below. If you would like to see the schedule of classes and a map to the school, click on the blue View Additional Info link below. When making a reservation, please ensure that you are booking the correct day and time for your desired class and dish.
Itinerary
Four different classes teach you to make two or three dishes during your 2-hour class. After learning how to create these specialties, sit down to a meal that features your dishes, accompanied by rice and a drink. Either before or after your cooking class, take a guided walking tour of a small local market to discover Korea's food and market culture and learn tips from your chef-guide, or certified tour guide, about how to choose the best ingredients.
Bulgogi (marinated barbecued beef) and kimchi (spicy fermented vegetable dish): Tuesdays (lunch) and Thursdays (dinner)
Learn about the fermentation process that gives kimchi its zesty taste before making either cucumber kimchi or napa cabbage kimchi (vegetable varies depending on the season). Then, it's on to the main dish: bulgogi. Your chefs carefully show you how to create the marinade that gives the dish its flavor, and teach you how to cook the meat to make it perfectly tender.
Haemul pajeon (seafood pancake) and sundubu jjigae (soft tofu stew): Mondays (lunch)
In this class, discover the tasty secret of how Koreans prepare seafood. Try to achieve the taste and texture of haemul pajeon, a pancake-like dish made from a batter, flour, green onions and a variety of seafood. Then, recreate the tantalizing flavor of sundubu jjigae, a hot and spicy stew made with tofu, seafood (oysters, clams, mussels and/or shrimp), scallions and other vegetables. If you prefer non-spicy dishes, simply let your teacher know.
Dakbokkeumtang (spicy chicken stew) and japchae (glass-noodle salad): Thursdays (lunch)
Two of the most requested dishes for cooking classes are dakbokkeumtang and japchae. Try your hand in making japchae, a salad dish that mixes a variety of vegetables with glass noodles. Then, discover how to properly use gochujang (red chili paste) to create the perfect flavor for the spicy chicken barbecue dish, dakbokkeumtang.
Bibimbap (rice topped with meat and vegetables) and Korean lettuce salad: Wednesdays (lunch)
Start by learning how to make a fresh lettuce salad, Korean-style. Composed of lettuce, bean paste, sesame oil and yozu marmalade, this dish is delicious and simple. Then, make one of the most famous Korean dishes worldwide: bibimbap. Learn how to sauté the vegetables and beef to achieve just the right texture and flavor before arranging it on perfectly steamed rice.
Desserts: bopki (caramel lollipop), hotteok (sweet filled pancake) and patbingsu (shaved ice with toppings): Tuesdays (dinner)
If you enjoy sweets, this class teaches you how to make Korea's most famous desserts. Learn to cook bopki, a caramel lollipop;
hotteok, a pancake filled with cinnamon and peanuts that is one of the most popular street snacks in Korea; and patbingsu, shaved ice topped with sweet red beans, fruit, milk and various other toppings. Bring the whole family — both kids and adults enjoy this class. This class does not include the market tour.
October 2015
Loved this class! Everyone was very nice, everything was all set up, it was easy to follow, and fun to cook! The menu was great and would definitely do it again.
September 2015
the class was so much fun. my family and i really enjoyed it.
Jeff
United States of ...
June 2015
I truly recommend this cooking class. I am a solo traveler who enjoys lots and lots of food lol. So not only was I able to learn how to make kimchi, I was also able to meet some good people. The class I took was a beginner class for kimchi and bulgogi. The bulgogi recipe they have is very easy and very good. I'm not a kimchi expert, but I've had a lot of kimchi from different places, but never attempted to make it at home. They made it so simple to make kimchi so now I can confidently make it home. The market tour was a little lacking though I thought. But that could just be because I visited bigger traditional markets prior to the class. All in all we had a great instructor/chef that day so I had a very enjoyable time.
April 2015
Out instructor Yibben taught us a great deal about Korean cooking. I recommend a cooking class to anyone who visits Seoul.
September 2014
Truly enjoyed the cooking lesson!
April 2014
I liked very much.
Everything was shown and explained and at the same time I got to do everything by myself and I loved it!
I ate what I cooked and also a very tasty kimchi pancake made by the chef:)
Thank you!
December 2013
This was a fantastic class; the instructions were clear and straight-forward, and the dishes were delicious!
December 2013
Was able to make delicious kimchi in a very comfortable setting. I am looking forward to taking more classes in the near future!
October 2013
This class was so much fun. My husband and I look for cooking classes when we travel. Each participant had their own cooking station and there were several ladies available to assist. The instructor was excellent, sharing stories of favorite foods (Kimchi) and health benefits. She explained the ingrediants and walked us through the steps for each dish before we each made our own. Once done we sat and enjoyed our creations. We were then taken to a traditional market to get a feel for the "old time" market environment.
April 2013
The chef who taught the class was very friendly.
After cooking, they brought us to the local market to introduce their local food items.
Before dismissed, they also patiently showed us the direction to subway and also recommended nearby attraction places to visit.
Very convenient location as well.
Advertisement
Advertisement