13 Reviews
Location:

Seoul, South Korea

Duration:

2 or 3 hours
Discover the secrets to creating Korea's most popular dishes during this small-group cooking class in Seoul. Your culinary adventure with a professional chef takes place in a modern, spacious cooking school located in the heart of Seoul. Choose from beginning or intermediate-level classes and different menu options depending on the day. At the end of your lesson, enjoy the delicious meal with your instructor and class.
Highlights
2-hour beginner cooking class or 3-hour intermediate cooking class in Seoul
Learn how to make several Korean specialties
Enjoy a culinary experience in a professional cooking school furnished with modern kitchen tools and equipment
Study with professional chefs, trained both internationally and in Korea

Savor the delicious meal at the end of class
Take a guided tour around a local market to experience Seoul's food culture up close (beginner class only)
Recent Photos of This Tour
Experience Seoul: Korean Beginner Cooking Class
What You Can Expect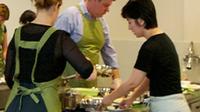 Explore Korea's wonderful food culture with a professional chef as you learn how to prepare traditional Korean dishes. Each class provides a primer on the ingredients and flavors of Korea's diverse cuisine.

To accommodate your culinary skills, two levels of classes are available, each offering different dishes. If you're new to cooking or new to Korean food, then the beginner cooking class is perfect for you. If you're confident about your culinary expertise and wish to learn more complicated Korean dishes, sign up for one of the intermediate cooking classes.

Your expert chefs preface your cooking class with a few safety instructions before delving into the cooking portion of the lesson. For more detailed information about each cooking class, please see the Itinerary section below. If you would like to see the schedule of classes and a map to the school, click on the blue View Additional Info link below. When making a reservation, please ensure that you are booking the correct day and time for your desired class and dish.
Itinerary
Beginner cooking classes:
Four different beginner classes teach you to make two or three dishes during your 2-hour class. After learning how to create these specialties, sit down to a meal that features your dishes, accompanied by rice and a drink. Before the class, take a guided walking tour of a local food market to discover Korea's food and market culture and learn how to pick the highest-quality ingredients.
Bulgogi (marinated barbecued beef) and kimchi (spicy fermented vegetable dish): Tuesdays (lunch) and Thursdays (dinner)
Learn about the fermentation process that gives kimchi its zesty taste before making either cucumber kimchi or napa cabbage kimchi (vegetable varies depending on the season). Then, it's on to the main dish: bulgogi. Your chefs carefully show you how to create the marinade that gives the dish its flavor, and teach you how to grill the meat to make it perfectly tender.
Haemul pajeon (seafood pancake) and sundubu jjigae (soft tofu stew): Mondays (lunch)
In this class, discover the tasty secret of how Koreans prepare seafood. Try to achieve the taste and texture of haemul pajeon, a pancake-like dish made from a batter of eggs, flour, green onions and a variety of seafood like oysters, shrimp, squid and clams. Then, recreate the tantalizing flavor of sundubu jjigae, a hot and spicy stew made with tofu, seafood (oysters, clams, mussels and/or shrimp), mushrooms, scallions and other vegetables. If you prefer non-spicy dishes, simply let your teacher know.
Dakbokkeumtang (spicy chicken barbecue) and japchae (glass-noodle salad): Thursdays (lunch)
Two of the most requested dishes for cooking classes are dakbokkeumtang and japchae. Try your hand in making japchae, a salad dish that mixes a variety of vegetables with colorful glass noodles. Then, discover how to properly use gochujang (red chili paste) to create the perfect flavor for the spicy chicken barbecue dish, dakbokkeumtang.
Bibimbap (rice topped with meat and vegetables) and geotjeori (Korean lettuce salad): Wednesdays (lunch)
Start by learning how to make a fresh lettuce salad, Korean-style. Composed of lettuce, soy sauce, sesame oil and melted syrup, this dish is delicious and simple. Then, make one of the most famous Korean dishes worldwide: bibimbap. Learn how to sauté the vegetables and beef to achieve just the right texture and flavor before arranging it on perfectly steamed rice.
Desserts: bopki (caramel lollipop), hotteok (sweet filled pancake) and patbingsu (shaved ice with toppings): Tuesdays (dinner)
If you enjoy sweets, this class teaches you how to make Korea's most famous desserts. Learn to cook bopki, a caramel lollipop;
hotteok, a pancake filled with cinnamon and peanuts that is one of the most popular street snacks in Korea; and patbingsu, shaved ice topped with sweet red beans, fruit, sweetened condensed milk and various other toppings. Bring the whole family — both kids and adults enjoy this class. This class does not include the market tour.
Intermediate Cooking Class
Two different 3-hour classes are offered that teach you how to make five separate dishes. Your instructor begins by demonstrating how to make the dishes, then lets you try it on your own. You can always count on the assistance of the chefs if you need it. When you have finished preparing all of your dishes, dine on these traditional specialties accompanied by rice and seasonal tea.
Korean Barbecue: Mondays (dinner) and Fridays (lunch)
In this class, learn how to work with three different types of meat – chicken, pork and beef – to make Korean barbecue dishes that are well-known around the world. First, make two starter vegetable dishes like kimchi and either pickled radish or braised tofu (depending on the season). Then, take on the main dish. Your instructor shows you how to marinate the meat and whip up sauces from scratch. You might make a spicy garlic chili paste for example. Then, learn how to grill the marinated meats and braise them with the sauce, giving the meat a mouthwatering and rich flavor.
Vegetarian Temple Cuisine: Wednesdays (dinner)
Prepare a completely vegetarian spread that reflects the cooking methods and lifestyle of Korean Buddhist monks. Begin by making three salads: kimchi, braised tofu, and lotus root or shiitake mushroom salad (depending on the season). Next you cook up a vegan stock from scratch, which you then use to make a vegetable stew. Finally, learn the delicate technique that go into cooking either
kongguksu
, wheat noodles served in cold soy milk broth, or
yeongyang-dolsotbap
, a nourishing dish of steamed rice, ginseng, jujubes and chestnuts, served in a stone pot.
Jeff
United States of ...
June 2015
I truly recommend this cooking class. I am a solo traveler who enjoys lots and lots of food lol. So not only was I able to learn how to make kimchi, I was also able to meet some good people. The class I took was a beginner class for kimchi and bulgogi. The bulgogi recipe they have is very easy and very good. I'm not a kimchi expert, but I've had a lot of kimchi from different places, but never attempted to make it at home. They made it so simple to make kimchi so now I can confidently make it home. The market tour was a little lacking though I thought. But that could just be because I visited bigger traditional markets prior to the class. All in all we had a great instructor/chef that day so I had a very enjoyable time.
April 2015
Out instructor Yibben taught us a great deal about Korean cooking. I recommend a cooking class to anyone who visits Seoul.
Advertisement
Advertisement