Gain insight into Korea's royal and political history on a 3-hour morning tour of Seoul. Travel by coach with an informative guide to Cheongwadae Sarangchae, where you'll tour the Korea Exhibition Center and Presidential Center. Explore the 14th-century Gyeongbokgung Palace — of the Five Grand Palaces — and its National Folk Museum, then visit Jogyesa Temple and the National Ginseng Outlet.
Highlights
Seoul historical tour with a knowledgeable guide
Visit an exhibition center to learn about the past, present and future of Korea's culture and politics
Explore grand Gyeongbokgung Palace and discover Korean folk culture at the National Folk Museum

Learn about the tradition of Buddhism at Jogyesa Temple and visit the National Ginseng Outlet

Round-trip hotel transport by air-conditioned vehicle included
What You Can Expect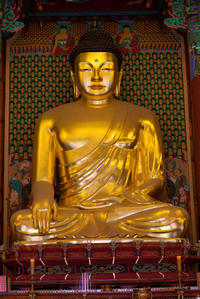 After hotel pickup in the morning, meet your guide for the coach journey to Cheongwadae Sarangchae, which features displays on Korean culture and historical figures at the Korea Exhibition Center as well as insights into past and present politics at the Presidential Center.
Next, visit Gyeongbokgung Palace, built in 1395. Learn about the architectural features of its gates, pavilions and residences as you tour the largest of the Five Grand Palaces of the Joseon Dynasty with your guide. Then browse artifacts on display at the nearby National Folk Museum for a look at Korean life from ancient times to the 20th century.
Re-board the coach for Jogyesa Buddhist Temple, the administrative headquarters of the Jogye Order of Korean Buddhism. Discover the significance of Seon Buddhism in South Korea and view a depiction of an enlightened Buddha inside the 500-year-old temple.
Your final stop is the National Ginseng Outlet, where you'll learn about the important role this plant plays in Korean culture, medicine and cuisine. Around midday you're dropped off at your hotel or Seoul's shopping district, depending on your preference.
April 2015
Very cheerful and knowledgeable tour guide. We thoroughly enjoyed this tour, even though it was a chilly day. The palace was beautiful, and the changing of the guard ceremony was also very cool. I recommend this tour with this guide... well worth it, and he will go out of his way to accommodate your needs.
March 2015
Very good tour and very well informed guide. We feel we covered a lot of ground in the 3 hours we had available. We did not have much time as we were flying out at 15:00 in the afternoon but Lee managed to fit a lot in over the tour and was an excellent guide. We had to move through everything quickly but this was essential given our time constraints, it was just a taste of the city but well worth doing.
October 2014
An excellent tailor made trip for a short visit to Tokyo. We really appreciated the thoughtful planning of this private tour to meet our specific interests and the professional leadership of our guide.
September 2014
Great tour! Our guide was super nice and very accommodating. We learned a lot about the palaces as well as the history behind them. The tour was just the right pace as well. Highly recommend for everyone!
Ann USA
October 2013
This tour was exactly what we expected and what we were looking for. William was our tour guide and we really enjoyed his approach and the information and history he provided. This was a fast pace tour which was good for us as we really don't like to linger in once place for long periods of time. If you want to be able to walk around and take everything in and, read everything, this is not the tour for you as there's a lot of ground covered in the time allocated. The palace is worth seeing and we really enjoyed the museum. We are very happy we decided to do a tour.
April 2016
Very good tour and very knowledgeable guide, Michael.
June 2015
Very good tour of the old royal palace and museum.
The guide was very knowledgeable on the sites and Korean history. I definitely recommend it.
August 2014
Guide was very helpful, and tour was fine, but disable access was limited.
There were wheelchair ramps installed, but the ground around the ramps was uneven or soft making using a wheelchair very difficult.
June 2014
I shall summarize the experiences in two sentences.
The guide William was punctual and is a friendly and knowledgeable guide who explain to us the history of the Palace and the temple.
Unfortunately the Presidential Center was under renovation. The guard changing at Gyeongbokgung Palace is an interesting sight.
Advertisement
Advertisement