Experience Korean history in action when you go on the stage sets at Yongin MBC Dramia, where some of the most famous historical TV dramas in Korea are filmed. Then travel through time at the Korean Folk Village where carefully restored houses and artifacts from the Joseon Dynasty provide a window into the past. Dive into Korea's cultural heritage on this day tour from Seoul!
Highlights
Full day tour of Yongin MBC Dramia TV set and Korean Folk Village, from Seoul
Walk through the sets where Korea's top historical television dramas are filmed

Learn from your knowledgeable guide about the historically accurate buildings recreated at MBC Dramia

Check out interpretive displays of the food, clothing and homes of the Joseon dynasty at Korean Folk Village
A great way to experience Korean history and dive into hands-on exhibits that show the past
Savor Korea's favorite dishes bulgogi or bibimbap during lunch at a local restaurant

Why Our Insiders Chose This Tour
Get up close to TV drama sets which are still being used for historical dramas. Bring your camera as you might encounter Korean TV stars!

What You Can Expect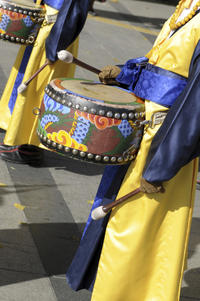 After morning pickup from your Seoul hotel, you'll travel in a comfortable air-conditioned coach one hour to Yongin MBC Dramia, the filming location for popular Korean historical dramas such as Jumong, Queen Seon-deok and The Moon That Embraces The Sun.

Follow your knowledgeable guide into MBC Dramia and marvel at the elaborate sets constructed from historical records, with accurate recreations of buildings from as long ago as the 9th century. You can handle many of the items that are on display and even enter a royal household and sit on the throne! Choose to try on historical costumes for a great photo op (KRW 20,000 extra).

If filming is taking place during your visit, you may be able to ask for a photo with one of the actors. Or snap a fun pic with the life-size posters from scenes filmed here.

Once you have toured the sets at MBC Dramia, you'll drive to a local restaurant. Try classic Korean dishes such as bulgogi (beef in a marinated soy sauce) or bibimbap (steamed rice with assorted vegetables and minced beef or vegetarian). After your meal, get ready to step into history at the Korean Folk Village.

Follow your guide through the Korean Folk Village, which showcases buildings and artifacts from the Joseon Dynasty (1392-1897). In the village as you'll see more than 260 traditional houses that were relocated to the Folk Village and restored to perfection. The buildings represent the dwellings of commoners, farmers, and noblemen from across Korea, as well as a scholars' shrine, a provincial governor's office, a private school, a Buddhist temple and a shaman's house.

You can also pop into workshops and watch artisans make traditional crafts such as pottery, baskets, wooden clogs, straw sandals and musical instruments. Or catch one of the daily performances like tightrope acrobatics, a traditional wedding ceremony or an equestrian show.

Your guide will return you to your Seoul hotel at the end of your tour.
June 2015
We really enjoyed this trip so much and our tour guide was soooooo niiiice..
December 2013
MBC dramia is a must visit for fans of period k dramas- jewel in the palace, dong Yi and the house of gu were shot there. We probably saw half the place on a half day but that was sufficient. The Folk Village was interesting with the many traditional performances, houses and displays.
August 2014
The TV Set Tour was a bit of a disappointment to me at least.
It is not the most interesting place to visit when there is nothing happening there, so for fans of the dramas only. My children are fans and were telling me that which dramas were filmed in each of the sections we looked around. The countryside on the way there and back was a pleasant change from Seoul city.
The Korean Folk Village was exceptional. Our tour guide and tour schedule meant that we arrived at exactly the right time for the shows. The traditional and modern food available was just what I was looking for.
The tour guide was very helpful, beyond what I was expecting
October 2013
STUDIO HAS VERY NICE HISTORICAL SETS TO SEE, GREAT LUNCH, VERY PERSONABLE EXPERIENCE, GREAT FOR THE KDRAMA JUNKIES.
December 2013
It is really a very nice place to visit. However, time is too short and rush when we were at Yongin MBC Drama TV Set Tour. We would prefer to have a longer stay at Yongin to view the site. Tour guide, Ms Erica, was a very nice and friendly lady. She explained and gave us a better understanding of the houses that belongs to different part of the folks from Korea when we visited the Folk Village. Overall, I feel Yongin MBC Dramia TV Set Tour should be allowed as a 1 day tour and Folk Village as a separate tour on a half day basis. As it was snowing at Yongin and the floor was slippery due to the frozen water, both my mum and I fell during the tour as we were rushing through touring the site.
February 2015
It turned out to be the most disappointing trip. We informed Viator when we reserved the tour that we eat everything except beef. The tour guide took us for lunch and charged us extra 6000₩ for pork.
The tour guide rushed us from place to place because he wanted to take us to duty free shop. Awful!!
Advertisement
Advertisement