Uncover Seoul's fascinating history on this 3-hour walking tour of the dynamic city. See old-style Korean houses at the traditional Bukchon Hanok Village, discover the history of rice cake making at the Tteok Museum, tour the UNESCO-listed Changdeokgung Palace and visit Gwangjang Market. Numbers are limited to 12 participants for a small-group experience with your informative guide.
Highlights
Half-day walking tour of Seoul's historical and cultural landmarks

Visit the Bukchon Hanok village area and see traditional Korean houses
Score great deals at the Gwangjang Market

Learn about the culinary history and preparation of tteok, the popular Korean rice cake

Admire the beautiful traditional Korean architecture of Changdeokgung Palace
Small-group tour, limited to 12 participants, ensures a unique experience


Recent Photos of This Tour
What You Can Expect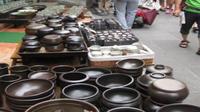 Meet your guide at Seoul Station in the afternoon and start your historical overview of Seoul at Bukchon Hanok Village. Lined with hanok (traditional Korean houses), this residential neighborhood dates back to the Joseon Dynasty (1392-1897). You'll be immersed in traditional Korean culture as you stroll the quiet lanes past hanok that today function as teahouses and quaint local eateries.
When you reach the Tteok Museum, gain insight into the process of preparing the ubiquitous Korean rice cake called tteok. See some 180 varieties with exhibits that detail its history and uses in Korean society.
Continue on to the Changdeokgung Palace for a guided tour of the royal grounds and traditional architecture. The World Heritage site is one of the Five Grand Palaces of the Joseon Dynasty!
Next, browse for high-quality silks and satins at Gwangjang Market. Your guide can help you choose a delectable snack, such as sweet Korean rice balls or pumpkin porridge, from among the market's 200 street-food vendors.
Your tour concludes here, but you can continue exploring further on your own using your newfound knowledge of Seoul.
June 2016
This walking tour is an absolute must for those visiting Seoul! Junie was a wonderful guide, not only introducing us to the history of Seoul and Korea but also letting us in on present-day Seoul and answering any and all questions we had.
Junie showed us around Bukchon Hanok Village and Changdeokgung Palace - it was like walking around with your good friend, the college history professor! And then we walked to Gwangjang Market with all its goods and foods. Those were the scheduled visits - unexpectedly we also saw a movie star, conversed with an artist, had some traditional throat-soothing candy Just had a wonderful day! Thanks Junie!
May 2016
This was a perfect introduction to historical Seoul. I only had an afternoon and June was a perfect guide - interesting and knowledgeable, and able to take me to see textiles - which is my area of interest. I cannot recommend this highly enough - I would never have found these places on my own

May 2016
This tour was fascinating! Ella Song is a natural when it comes to making history interesting and memorable. During the palace tour, she shared stories about the royal families through the years and facts about the palace, it's buildings, and what life been like. The old town and its architecture was amazing! As we were there for the festival, we were lucky enough to see people in traditional dress dancing to traditional music. It was truly lovely. While we expected a small group tour, we ended up being the only participants and we had a fabulous time. Thank you, Ella, for an unforgettable tour. We highly recommend this tour and Ella Song!

March 2016
I would highly recommend this tour for anyone interested in Korean culture and history. Our Korean and English speaking tour guide was Junie. She lived in the US for a long time so it was great to have an English speaking guide who was enthusiastic, warm, and personable. The tour itself gives you a close-up look at Korean culture through the ages which was a nice change from the modern city life that surrounds you around Seoul. You will get to tour an old Korean Village with many opportunities to experience street food you must try the fried dokboogi stand and the chewy pumpkin candy cart, arts and crafts if that is what you want, dress and take photos in Korean clothes, and quaint little shops. Junie is very knowledgeable about the history of the palace you will visit and explain with great detail everything about the Korean dynasties which used to live there which you would not appreciate as much if you went and visited on your time. Her knowledge helps the palace come to life with a greater understanding of how people used to live. Before the tour we had visited the National Korean Museum free which was gorgeous and a must visit place. I recommend taking a day to visit the museum first then do this tour on a separate day afterwards. It will help you to understand the history with greater detail and understanding. But if you can't do the museum first, this tour is a must. I'm Korean American born in the USA and this was the first time I visited Korea. The cultural tour was very helpful and fascinating. I found the rest of my trip of modern Korean cities and neighborhoods to be very much the same one after another. This tour explorers the history of Korean up close and personal. Highly recommend this tour and Junie as a guide. She is fantastic!
October 2015
Excellent. OUr tour guide excellent. Would definitely recommend this tour.

October 2015
This was a small group walking tour, however we did take a local mini bus to our first destination. I found our tour guide Junie to be informative, caring and enthusiastic. She seemed more like a good friend that was taking us around her city than a tour guide. It was fun and I would recommend this to anyone who wants a more personal experience touring around Seoul. Make sure you wear good comfortable walking shoes as there can be a lot of walking and climbing of stairs, but Junie stopped often informing us of the surrounding history and interesting facts making the climbing and walking less strenuous. If you're lucky and you book this tour, you might get Junie to show you her home town!
January 2015
Our guide Ben was very informative and let us take the tour at our own pace (my mother is a slower walker but Ben didn't rush us at all!). One of the things Ben did was take us through the Bukchon Hanok village the opposite way to many larger tour groups so we didn't have to walk with another large group but instead could pass by them in the opposite direction. It was great hearing and seeing so much history and culture. Our guide even walked us back to the train station so we didn't get lost on our way back to our hotel.
December 2014
Mostly positive with only downside finding meeting place and guide at McDonalds as I asked several people until our guide Ben showed up. My wife and us waited 10 minutes for the other client to show up and he didn't so we had a private tour. Ben spoke English well and gave us but an historical as well as modern perspective on Seoul. We took a local bus to the historical district. Then we took a taxi to the palace and he gave us so many details. At the local market he did not try and push any merchandise and even offed to find a dinner place for us. Very good tour and I highly recommend
Rebecca G USA
September 2014
Excellent tour and extraordinarily great guide

August 2014
Sunny was awesome! She picked me up on time and took me where I wanted to go. Very knowledgeable and had strong English! She even shared a local snack with me at the market. Very kind- highly recommend :)
Advertisement
Advertisement