52 Reviews
Location:

Seoul, South Korea

Duration:

4 hours

(approx.)
Experience the fascinating culture of South Korea in one of the most authentic ways possible – through its local cuisine! On this 4-hour food tour, learn all about Korea's culinary customs from your guide, an expert in local Korean food and culture, as you journey through the streets of Seoul. Explore the bustling district of Jongno-gu and visit three different food stalls and restaurants, as well as a market, to try a variety of Korean foods such as Korean barbecue, tofu, savory pancakes and spicy braised chicken. Wash your meal down with traditional beverages, like Korean rice wine, as you mingle with your fellow food enthusiasts for an unforgettable end to your culinary adventure.
Highlights
4-hour guided evening food tour in Seoul
Taste interesting Korean fare like dubu (tofu), kimchi (a spicy fermented vegetable dish), Korean BBQ and savory North Korean pancakes
Try different alcoholic beverages native to Korea like makgeolli (Korean rice wine), soju (distilled liquor similar to vodka) and more
Learn about Korean food culture from your fun, expert guide
Small-group tour ensures a personalized and unforgettable experience
Recent Photos of This Tour
Small-Group Korean Night Food Tour
What You Can Expect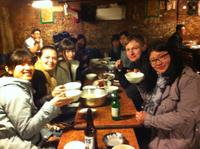 Take your appetite for a ride on this 4-hour journey through Korean food culture! Your night food tour will take place in the popular district of Jongno-gu. Begin in the neighborhood of Nagwon-dong, brimming with food outlets and stalls, and continue to Jongno (Bell Street), one of the most historic and cultural areas of Seoul.
With your culinary guide, an expert in local Korean food and culture, stop at three different restaurants and food stalls, as well as a shijang (traditional Korean flea market), along Nagwon-dong and Jongno-gu. Try traditional Korean eats like dubu and kimchi appetizers and Korean BBQ and spicy braised chicken entrees. Visit a shijang for some savory North Korean pancakes, which closely resembles an egg omelet.
Wash everything down with traditional Korean liquors like makgeolli and soju while enjoying some fun Korean drinking games with your group, your guide and possibly a few new local friends!

To see a map to the school location, please click on the 'View Additional Info' icon.

July 2015
This was a fantastic evening. The hosts leo I believe, and rrona, were incredibly fun and made the experience a memorable culinary experience. they also got a cab for my return to the hotel. 5 stars all the way.
July 2015
Relaxed environment in which to taste new foods and meet new people
July 2015
Great guide showed us the areas we would have never found on our own. Very personalized foŕ the small group. Highly recommended.
July 2015
Very informative and friendly guide. Food that we would not have tried on our own and places we would have been hard put to find, even on a map!
June 2015
A great tour. The guide was eager to cater to the wants of the group. Some can give more historical and factual information. We chose to enjoy the food which was awesome, as well as the drinking if you partake and go down some backroads that I may not have explored since I was traveling alone and don't speak Korean. You will leave satisfied both with the food and the experience.
June 2015
This was the highlight of my trip to Seoul. My boyfriend and I were part of a small, intimate group there was only one other our guide. Our tour guide Leo was fantastic - he was fun, personable and gave my boyfriend and I some wonderful insight into the Korean culture. This tour was especially memorable because we were taken to locations we would never have been able to find on our own. The food was delicious and we were taught some super fun drinking games that we'll definitely bring back home to Australia to try out with our friends. I could not recommend this tour enough, we would definitely do it again if get the chance to visit Seoul for a second time.
May 2015
Brilliant tour. Probably the best food tour
April 2015
As good as I could have hoped. Best thing I did in Seoul
April 2015
We booked this tour at the very beginning of our stay in Seoul to get a handle on the variety of foods Korea has to offer. There was A LOT of food on this tour so you should come hungry. We made four stops in four hours travelling on foot and once by bus because it was raining. In order, we had 1 Korean bbq, 2 Rice bowls big pot of soup with rice cakes, noodles, veggies, 3 Grilled tofu with chicken, and 4 Mung bean pancakes in Gwang-Jang market. To me, it was like eating four main courses so I was stuffed. Not to mention all the different kids of drinks soju, etc that came with each meal. Joon, our tour guide, did a wonderful job explaining each meal, what you're eating, and how it's prepared. He also shared the culture behind Korean dining - how the youngest serves everyone at the table, why it's a sign of disrespect to show the bottom of your glass when drinking, and even obscure things like why chili paste wasn't used for years because it was inappropriate to sweat at the table. Very interesting to learn all of these details. My only recommendation would be to organize the tour into courses so for example, the first course could be a snack at a food stall followed by a small soup or other appetizer at another, then the Korean bbq meal at a restaurant, and concluding with a typical Korean dessert. We spent a small amount of time in Gwang-Jang market and I would have preferred to see more of that area - the place was buzzing with all kinds of food stalls. We did stop to try bite size little crabs that you ate whole which was interesting. I'm glad we decided to take this food tour at the beginning of our stay because it enabled us to make more informed decisions during the rest of our trip. And Joon followed up with recommendations for other places to try. My hats off to Joon - he was an amazing tour guide, host and story teller and he made the entire evening very enjoyable!
April 2015
Very friendly Guide and I have received a very deep Look into Koreesn Food, which all Tasten very good and spicy.
Advertisement
Advertisement