Learn about Korea's culinary culture on this 4-hour night tour of Seoul. Stroll through the streets with an expert in local cuisine, stopping at three food stalls and eateries plus a food market. You'll sample a variety of foods including Korean barbecue, tofu, savory pancakes and spicy braised chicken. Wash it all down with alcoholic beverages such as Korean rice wine and soju (distilled liquor). Your guided small-group walking tour covers plenty of ground in the bustling district of Jongno-gu, with numbers limited to 12 people.
Highlights
4-hour guided evening food tour in Seoul
Taste interesting Korean fare like dubu (tofu), kimchi (a spicy fermented vegetable dish), Korean BBQ and savory North Korean pancakes
Try different alcoholic beverages native to Korea like makgeolli (Korean rice wine), soju (distilled liquor similar to vodka) and more
Learn about Korean food culture from your fun, expert guide
Small-group tour ensures a personalized and unforgettable experience
Recent Photos of This Tour
Small-Group Korean Night Food Tour
What You Can Expect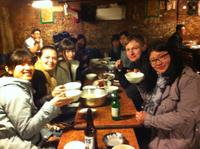 Start your culinary night tour in the popular district of Jongno-gu of central Seoul — just a 5-minute walk from Anguk station. Gather with your small group as your expert guide leads you on a 4-hour journey into Korean food culture.
In the neighborhood of Nagwon-dong, you'll find food stalls and eateries brimming with mouthwatering selections to whet your appetite. Sample traditional Korean fare such as dubu and spicy kimchi appetizers followed by Korean barbecue and spicy braised chicken.
Continue your introduction to Korean cuisine at a shijang (traditional Korean flea market) where you'll bite into savory North Korean pancakes. These tasty treats are accompanied by soju and makgeolli — rice wine and distilled liquor best washed down with typical Korean drinking games.
Conclude your night out with newfound friends at Jongno (Bell Street), one of Seoul's most historical areas.
To see a map to the meeting location, please click on the 'View Additional Info' icon.
June 2016
and #39;T and #39; was an amazing host; he took us to places we would not have otherwise had the opportunity to visit. We have been in-country for over a week already, touring and eating. This 4 hours was a HUGE highlight for us. Lisa isn and #39;t and #34;all about the food and #34; like I am. She acquiesced and absolutely loved it.
June 2016
This tour is amazing. The guide is extremely knowledgeable and friendly and all of the food is delicious. After the last stop on the tour our guide went out of his way to show us a nearby market which wasn't 'included' with the tour and was totally out of the kindness of his heart. After we finished he helped one of our group hail a taxi, helped the rest of us find a subway and when one of our tour members dropped her glasses in the rain he had her wait under an alcove while HE went to go find them for her which he did!. 10/10 I highly recommend this tour to anyone considering it, it was easily one of the best parts of my entire trip and the tour guide is a really awesome guy.
May 2016
April 2016
Amazing food and wonderful guide! Highly recommend.

February 2016
Excellent tour, we went to 4 really great places that were extremely varied and touched on different cultures of the Korean eating and drinking scene. The guide was extremely friendly and easy to converse with, and the whole experience was very enjoyable.
Margaret D USA
January 2016
A very good tour and a good sampling of Korean food. The Korean barbecue was delicious.
December 2015
WONDERFUL tour. Hands-down, our favorite. The tour guide was very knowledgeable and friendly... and we had awesome food that we wouldn't otherwise have tried. MUST do!
December 2015
A lovely guide called Soy. Great to visit the local eateries with an insider. Recommended.
November 2015
Fantastic experience! I would absolutely recommend the tour to anyone who wants to try the unique cuisine of South Korea in an authentically local milieu. Bring your camera and your appetite!

October 2015
We liked the tour very much. The guide took Us to small restaurants in areas were we would not find it our selfs. We was a small group from Sweden and Mexiko. A nice mixture of cultures.
Advertisement
Advertisement