Visit locations made famous by Juan Pablo Galavis in the 2014 season of ABC Television's 'The Bachelor' on this romantic 7-hour tour in Seoul. This Viator Exclusive — that can't be booked anywhere else — shines a light on Seoul's history and offers the perfect afternoon's adventure with your special someone. Indulge in a little retail therapy in Myeongdong, sightsee to your heart's content at historic Gyeongbokgung Palace and enjoy tea and French dessert at the Korea Furniture Museum. Upgrade to enjoy a delicious evening meal with traditional performance at Korea House.
Highlights
Romantic 7-hour tour of sites made famous in ABC Television's 'The Bachelor', in Seoul
See a hidden side of the South Korean capital on a Viator Exclusive!
Shop till you drop in chic Myeongdong and visit Joseon-era Gyeongbokgung Palace with a guide
Stop off for tea and a French dessert at the Korea Furniture Museum
Enjoy an afternoon's adventure with your loved one
Upgrade your tour to include dinner with a traditional performance at Korea House
Tour includes pickup and drop-off from your hotel in Seoul
What You Can Expect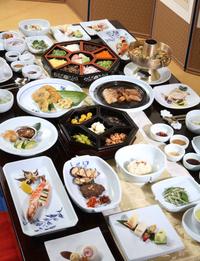 After pickup from your hotel, set out for an afternoon in Seoul visiting the romantic hot spots featured on the 2014 season of The Bachelor. Whether you're a fan of the ABC show or simply enjoying Seoul with someone special, this Viator Exclusive gives you a glimpse into the most gorgeous attractions in Seoul — a tour that can't be booked anywhere else! Your local guide shares insight into the history and culture of South Korea as you move around the city. And if you love Juan Pablo Galavis, you will enjoy the trivia about the filming locations where he wooed his dates!

First, depart for the stunning Gyeongbokgung Palace, established during the Joseon Dynasty (1392-1910) — Korea's last kingdom. As you walk through Gwanghwamun Gate, the main entrance to the royal palace, learn about the harmonious architectural principles of the buildings on the 98-acre (40-hectare) complex, which once constituted a small city. Destroyed during the Japanese invasion of 1592 and reconstructed in 1868, the royal living quarters and other areas have been restored to their original glory.
(Please note that on Tuesdays you'll visit Changdeokgung Palace instead. Designated a UNESCO World Heritage site, it is the best preserved of the 'Five Grand Palaces' of the Joseon Dynasty. Enter the massive gate to explore the grand pavilions, several halls and the Geumcheongyo Bridge — the oldest bridge in Seoul.)
Next is a trip to the Korea Furniture Museum, which showcases traditional Korean furniture design and production from the Joseon Dynasty. Inside this unique museum, situated atop a hill in Seongbuk-dong, cabinets, wardrobes, tables, and beds, among other artifacts, are arranged to resemble 10 traditional hanok structures.
You'll gain insight into 500 years of Korean interior decoration and culture from the displays and your guide. Chat about what you learned over afternoon tea at the museum.
After this romantic respite from the bustle of urban life, arrive in Myeongdong, one of the primary shopping districts in Seoul. Luxury stores line the streets and alleys, where you'll find everything imaginable on sale, including many designer brands not available at the nearby Namdaemun or Dongdaemun markets.
After sightseeing, shopping and splurging on your loved one, your guide will return you to your hotel. Or continue the romance on this Viator Exclusive tour with fine dining and a performance at the Korea House. (See description in Itinerary below.)
Itinerary
Optional Upgrade: Dinner and Performance at Korea House Located in central Seoul, Korea House promotes Korean culture with traditional court cuisine and cultural performances. Inside the elegant Korea House, superior chefs bring the tastes of Korean foods to your table. Dishes are prepared using the freshest seasonal ingredients and are based on the royal cuisine of the Joseon Dynasty.
You'll feel like a king or queen as you watch eight different performances combined into a 1-hour show. Soak up the romance with selections like 'Love,' a dance that compares the feeling of love with moonlight, or the Korean fan dance, performed in royal formal dress while holding elegant fans. At the end of your evening, you'll be returned to your hotel.
Advertisement
Advertisement