'Winter Sonata' fan or not, you'll love strolling the tree-lined paths and scenic lakeshore of Nami Island — filming site of the popular Korean television drama featuring two star-crossed lovers. Your informative guide points out places of interest where romantic — or melodramatic — scenes from the 2002 TV series unfolded. Afterward, visit the French-themed village of Petite France brimming with French food and architecture. Be sure to snap a photo with the charming statue of 'The Little Prince,' memorialized from the favorite French story by Saint-Exupéry.
Highlights
Full-day tour to Nami Island and Petite France, from Seoul
See nine filming locations used in Winter Sonata, one of Korea's most popular TV dramas
Learn from your knowledgable guide about behind-the-scenes action while filming Winter Sonata on Nami Island
Stroll along Nami Island's scenic lakeshore and tree-lined walking paths
Snap great photos of sites where Winter Sonata's stars once walked
Visit the French-style village called Petite France where you get a taste of French culture
Why Our Insiders Chose This Tour
Located 37 miles (60 km) away from Seoul, Nami Island is famous for its beautiful pine trees and as the location for the Korean television drama 'Winter Sonata.'

Recent Photos of This Tour
What You Can Expect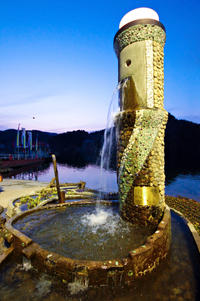 After hotel pickup, depart Seoul for a short coach ride to Nami Island, where your guide will lead you on a tour of filming sites for Winter Sonata (Gyeoul Yeonga), a popular Korean TV series released in 2002.
On arrival at Nami Island —aka Namiseom — you're introduced to the Naminara Republic, which declared its cultural independence from the Republic of Korea with its own currency, stamp and passport. Then set out on a walking tour along tree-lined paths and see where Winter Sonata's starring couple, Yu-jin and Jun-sang, shared the screen and won the hearts of their fans.
Create plenty of photo ops at a statue of the star-crossed lovers or make a memorable souvenir of the life-size posters found throughout Nami Island. Soak up winter views of snowy landscapes — like the scenic backdrop to Yu-jin and Jun-sang's first kiss — or be mesmerized by the falling leaves of autumn or sunlight on the shoreline in summer, depending on the season you visit.
After lunch at a restaurant on Nami Island (own expense), return to your coach for the journey to nearby Petite France, a French-style village set in the Korean countryside. Enjoy time to browse the boutiques and galleries including a building dedicated to Saint-Exupéry, author of the beloved French book The Little Prince (Le Petit Prince). You'll even find a human-size sculpture of the Little Prince himself!
After taking in the charms of Petite France, return to your coach for the drive back to Seoul, including drop-off at your hotel.
Please note: A minimum of two people per booking is required.
September 2015
Highly recommended tour! The tour guide was extremely helpful and we had a lovely time at Nami Island and Petite France
September 2014
It was a wonderful tour. the tour guide was very prompt and the trip to Nami Island was very interesting and awesome to say the least. My daughter and I truly enjoyed every moment and they will be memories we will surely cherish and treasure. The tour guide was very considerate and attentive to our demands. Thank you Viator for the memorable experience
June 2015
I wish we had more time at nami island but our tour guide was great.

Samsiah A Malaysia
January 2014
On the second day, we visited Nami Island. The tour bus arrived right on time, 7.30 am on the dot. Our tour guide was Jenny. We were lucky because she was not only knowledgeable of the places, but also friendly, funny and thoughtful. We enjoyed the tour, the trip and the company tremendously.

November 2013
I had an awesome time. My guide, I think his name is Mr Ho is funny, knowledgable and sings for us! He snapped pictures for us, assisted restaurant staff when they were busy so that we could enjoy our food. Mr Ho brought us the areas on the island where he thought we could take nice pictures.
September 2014
Pickup was again punctual. The land transfer to the jetty to catch the ferry was rather long. Ferry ride was a non event, took us all of 5 minutes. The Nami island is nice and scenic, and if you're a Winter Sonata K-drama fan, you'll like it even more.
Quite a number of quaint shops and eating places: recommend that you try the "topoki" and vegetable pancakes. Oh, the guide did give us each 10,000 KRW as lunch money.
After lunch, we took ferry back to the 'mainlland' and went to see the residence of the 2 Winter Sonata stars. However, this residence is no longer opened to public (the owner apparently got pissed with too many tourists visits hehe) so it was only a photo stop. After this, we went to Chun Meon (the little Myeongdong) - lots of street food for us to sample. We also were brough to see the scenic path which the 2 lovers from Sonata ride bicycles on during the K-drama.
After that, it was a long drive back to hotel.
December 2014
The tour guide was not very professional. I was expecting the tour to be a little more organized.

Peter F Malaysia
November 2014
what was to be a 90 minute drive became a 3 1/2 hour crawl on the clogged up highway to nami island from seoul! take the train,especially on weekends! had to walk the last km as the traffic was simply crazy! on nami island,it was really too crowded.island is beautiful but the amount of people around,many seemed to be koreans,was unbelievable! as our tour bus has to pick the 16 of us from various hotels around the city,we spent way too much time stuck in the bus crawling along! maybe on a weekday it would be better.
Advertisement
Advertisement