See the best of Cordoba on this 2-day trip from Seville, which includes skip-the-line admission to Cordoba Synagogue, Christian Kings Alcazar and the eye-catching Mezquita cathedral-mosque. You'll also discover the timeworn Jewish Quarter and Medina Azahara on a guided walking tour, and take in the views from the hilltop city of Carmona. Overnight accommodation in a 3- or 4-star hotel is included, as is round-trip hotel transport.
Highlights
2-day trip from Seville to Cordoba
Enjoy skip-the-line entrance to the UNESCO World Heritage-listed Mosque-Cathedral of Cordoba, Cordoba Synagogue and Christian Kings Alcazar
Stroll through the Jewish Quarter and see the 14th-century Alcazar fortress of King Don Pedro

Explore Medina Azahara, a former city-palace and one of Spain's most important archaeological sites
Take a walking tour of Carmona, a hilltop city offering amazing panoramic views
Overnight accommodation and round-trip hotel transport included
What You Can Expect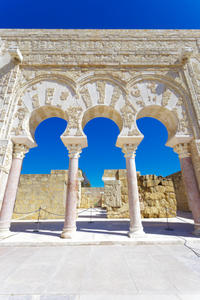 On this 2-day trip to Cordoba from Seville, skip-the-line entry to the UNESCO-listed Mezquita (Mosque-Cathedral) and a guided tour of the Medina Azhara awaits you. Alongside your guide, you'll explore Cordoba's charming Jewish Quarter (Juderia), visit the 14th-century Cordoba Synagogue and marvel at the palatial beauty of Alcazar de los Reyes Cristianos.
Spend the night in 3- or 4-star accommodation — depending on your budget and preference — and enjoy priority access to three of Cordoba's top attractions. Round-trip transport from your Seville hotel is included.
See the Itinerary for further details.
Itinerary
Day 1: Seville – Cordoba
You'll be picked up from central Seville or your Seville hotel in the morning and taken on a comfortable 1.5-hour drive to Cordoba, passing the beautiful cities of Carmona, La Luisiana and La Carlota along the way.

With your skip-the-line ticket, discover the city's cultural, historical and religious legacy at the UNESCO World Heritage-listed Mosque-Cathedral, once named the Great Mosque of Cordoba until it was converted to a cathedral in the 13th century. Learn from your guide how this is considered one of the most important monuments in Islam, and see its shimmering golden mosaics and an endless row of striped arches.

Continue with your skip-the-line ticket to the Christian Kings Alcazar in the Jewish Quarter, with its narrow streets lined with flowers and white-washed houses. Visit Cordoba Synagogue; see the Alcazar fortress of King Don Pedro, built by the Moors in the 14th century; and stroll along the lovely Calle de las Flores, which still upholds Cordoba's traditional way of life from long ago.

Then, your guide will bring you to the city center, where you'll have free time to shop and enjoy a Spanish meal (own expense).

Overnight: 3-star Maimónides Hotel or 4-star Macia Alfaros Hotel in Cordoba or similar

Day 2: Cordoba – Seville
The next day, head to Medina Azahara, the ruins of a 10th-century Arab-Muslim palace-city that's one of the most important archaeological sites in Spain. Learn how this site was designed to be the capital of a new province of the Caliphate of Cordoba.

Head to the underground visitor's center to begin your tour. Browse extensive exhibits to learn about the history of this incredible place and see bronze statues of griffins, lions and horses pouring water into thousands of marble fountains.

Relax in the shade of cypress trees and palm trees and be awed by the huge reception halls and gardens. Then, pass through a terrace and enter the ruins of a fascinating mosque.

Continue your tour to the beautiful city of Carmona, located strategically on a hill offering breathtaking panoramic views. Follow your guide through charming streets to several important monuments, like the convent of La Madre de Dios and Las Descalzas. End your tour by catching gorgeous views of the city and stop for coffee and refreshments before arriving back in Seville.
December 2014
Tour was very interesting. Guides were knowledgeable and took the time to thoroughly explain in English though the share in the audience of English speaking participants was of the order of 10%. We were picked up at our hotel and dropped off at our hotel. A small mishap is that, in Cordova, the taxi that was to pick us up and take us to the train station for the trip back to Sevilla wanted to be paid contrarily to the contract. It was a limited amount of cash but points to some miscommunication in the operation
March 2015
Our tour to Corcoba was not without its problems. We were picked up at our hotel at the correct time and had a nice trip to Cordoba by tour bus with a very good guide. In Cordoba we were dropped off at a tour office were we met our guide for Cordoba. She was excellent and the tour went smoothly. After the tour things stared going down hill. We asked where our hotel was and she told us to head east or take a taxi. It was raining so we couldnt tell where east was. We were given an envelope at the begining of the tour so we assumed that that was our hotel. It actually was the meeting place for the next days tour. When we got to that hotel of course they never heard of us. Also our luggage was taken earlier to our unnamed hotel. They called different hotels in Cordoba trying to find where we were registered to no avail.We then took a taxi back to where we were dropped off. Of course everything was closed as it was siesta time. I then called viator in the US. I was finally given our hotel which was different than the one on our itinary. When we got to the hotel it was late so we just stayed in our hotel and missed walking around Cordoba. The next morning our hotel had plumbing problems. All the toilets overflowed flooding the breakfast room and all of the first floor which our room was located. The hotel had to be evacuated.
We then proceeded to our meeting point for our tour to Medina Azahara. When we arrived we were informed that out trip was to be cut short, so we would not be going to Carmona. There was not enough people for the tour company to come back from seville. We were given train tickets and told to meet a taxi at a designated time to take us back to seville. We were met in Seville by a bus that took us back tour hotel..All the tour personel was very nice and helpful. We enjoyed the sights with knowledgable tour guides but our trip was filled with glitches.
Advertisement
Advertisement