Learn to dance flamenco under the guidance of a private instructor during a 1.5- or 3-hour class in Seville. From 'palmas' (hand clapping) to body posture and foot sequences, you'll master the basics of this fiery dance, which is said to have originated in Andalusia. If you've opted for the 1.5-hour class, you'll earn a well-deserved drink (sangria, wine, soda or beer) at the end of your session. If you selected the 3-hour experience, you'll break halfway for refreshments. 'Olé!'
Highlights
Learn flamenco in the city where it was born, Seville!
Enjoy one-on-one coaching from your private dance tutor
Discover the intricate moves and rhythms of an authentic flamenco dance
Learn how to convey your emotions and energy through this passionate form of art
Relax in the bar after your class with a drink
Choose from a 1.5-hour or 3-hour private flamenco class

Recent Photos of This Tour
Experience Seville: Learn How to Dance Flamenco
What You Can Expect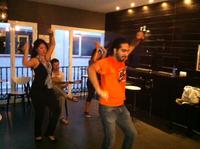 Head to the venue in central Seville and take to the floor for your 1.5-hour or 3-hour class. Whatever level you are, you'll learn at a pace that suits you best with patient coaching from your instructor. Partners aren't necessary as the dance lets you express your individual personality to the music, and your instructor will spend most of your session dancing one-on-one with you if you come alone.
The essence of flamenco is the emotions, energy and expressions of the dancer. After mastering the basics of
palmas
(hand clapping), learn how to perform fiery flamenco moves in time to the recorded music. Follow your instructor's lead as you
hold your body posture in a confident stance like the Sevillanos, and practice the energetic hand, arm and foot sequences that flow together to build the dance's
compás
(rhythm).
All 1.5-hour classes end with drinks (beer, sangria, soda or wine) at the bar, where you can chat and mingle with other travelers. If you've opted to hone your skills with the 3-hour class, you'll enjoy your drink break halfway through.

January 2014
This was a fun activity in Seville! My friend and I enjoyed it very much. Our teacher, Chel, was very passionate about flamenco dance and culture, and taught us all about the history of flamenco in Spain. We learned how to keep the rhythm and mastered some saucy dance moves! The drink afterwards was cool, too, because we got to chat with locals and young travelers.
December 2013
Lots of fun, loved the flamenco.
September 2013
Had lots of fun. A bit of trouble finding the teacher as when we got to the address listed on the voucher, there was a sign sending us to a different address (a bar). When we got to the bar's address, it turned out to be a hostel. Some people might have been turned off by this or not been able to make it to the new address in time. Once there, however, it was great.
September 2015
The instructor was very pleasant but was reasonably young and Greek rather than someone from Seville who really understood Flamenco. For the kind of money, I found it quite expensive
June 2015
This experience was simply put, awful. While the instructor was very passionate about Flamenco dancing, he was not passionate about teaching beginners. He was more interested in performing than teaching us how to really flamenco dance in a way that a beginner could learn. My husband and I love to dance and enjoy lessons, but this was the worst experience on our entire trip to Spain and was a complete waste of money.
October 2014
I paid for a private lesson only to be joined by another person who had paid a fraction of what I had. The lesson was very expensive and even finished 10 mins early. I complained via the website when I got home and no one has ever got back to me. I would not recommend this service at all.
October 2013
Arriving 35 minutes late we had to ask our instruction his name after introducing ourselves. Chel is passionate about flamenco dancing but impatient with novices. The lessons were held in the lounge area of a bar making it rather uncomfortable, as well as embarassing, for us. Patrons turned their stools or stood to get a better view of us, one even took pictures. Continuously being referred to as "girls" in a demeaning manner Chel showed his irritation. Out of frustration we ended out 1 1/2 hour session 1/2 early.

June 2013
We did not get the included drink. For non dancers the instructor was too hard. He could use some classes in how to teach very beginning students. He tried to teach us elementary movements but then demonstated in advance movements. He was too quick for beginners. We had to walk the bar where we met to a hostel on the other side of town in the heat. That walking time was part of the "lesson" The living room area of the hostel where we danced was not air conditioned. The couple with us said they had paid for private lessons but got us included (four women). This was not even close to worth the money.
Advertisement
Advertisement