Let yourself be allured by the raw emotion and captivating choreography of a traditional flamenco show at the esteemed Tablao Flamenco El Arenal in Seville. Sink into a comfortable seat in a venue considered one of the best in the world and watch an electrifying performance that expertly demonstrates the flair and fire of Spanish flamenco. Watch a talented troupe of award-winning dancers move to melodious guitar music and enjoy complimentary drinks, traditional tapas or a gourmet 3-course meal.
Highlights
2-hour flamenco show at Seville's famous Tablao El Arenal

Soak up the atmosphere inside a traditional Andalusian flamenco bar in Seville's old El Arenal district
Choose from three different packages: show with drink, show with tapas or show with dinner
Watch up to 15 of Seville's best flamenco dancers perform to live guitar music and singing
See Spanish gypsy culture expressed through extravagant choreography
Recent Photos of This Tour
Flamenco Show at Tablao Flamenco El Arenal in Seville
What You Can Expect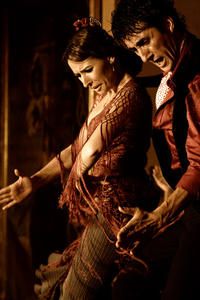 Make your own way to Seville's Tablao El Arenal, an acclaimed flamenco venue that attracts world-class dancers with its esteemed reputation. Take a seat at perfectly positioned table before the stage and feast upon a selection of beverages and specialties depending on the option selected at booking. Select from a refreshing drink, a selection of Spanish tapas or a gourmet 3-course dinner while you watch the show. Please see the Itinerary section for a sample menu.
Hear an expectant hush descend over the audience, as dancers take to the stage in a vibrant array of outfits. Be hypnotized by the 2-hour performance of flamboyant flamenco and marvel at the fine-tuned choreography that articulates the emotion and passion of Spanish gypsy culture. Clap to the rhythm of guitar music and melodious singing and applaud raucously when the show reaches its dramatic conclusion.
Feel free to enjoy more drinks at your own expense after show finishes and then make your own way back to your accommodation.
April 2016
It was wonderful . I don't know anything about flamenco of course but I found the experience hugely satisfying . The coordination of sharp staccato movements with the fast beats was fascinating .
April 2016
We had the Tapas and Show package: good and planty food, nice settings and the show was just fantastic!
April 2016
A must do when in Seville

April 2016
Love the show and Tapas together!!!
March 2016
Wow! Very intense, but amazing. The guitar players, the singers, the dancers -- all fabulous. And the tapas were abundant and tasty. Overall, great experience.
November 2015
on time,exellent tapas,easy access to and from location,intense and sensual flamenco.absolutley reccommend this show and all of seville. boro
November 2015
Simply stunning performances!
November 2015
Awesome show! Well worth the price of admission.
November 2015
Fantastic experience the moves and the sounds of the dancers were extraordinary and the intimacy of the place was great. We booked tapas with our show. The tapas turned out to be quite substantial and at 7.00 s bit early to eat. Great evenings entertainment.
November 2015
The flamenco was excellent and the venue was lovely.
Advertisement
Advertisement