Let yourself be allured by the raw emotion and captivating choreography of a traditional flamenco show at the esteemed Tablao Flamenco El Arenal in Seville. Sink into a comfortable seat in a venue considered one of the best in the world and watch an electrifying performance that expertly demonstrates the flair and fire of Spanish flamenco. Watch a talented troupe of award-winning dancers move to melodious guitar music and enjoy complimentary drinks, traditional tapas or a gourmet 3-course meal.
Highlights
2-hour flamenco show at Seville's famous Tablao El Arenal

Soak up the atmosphere inside a traditional Andalusian flamenco bar in Seville's old El Arenal district
Choose from three different packages: show with drink, show with tapas or show with dinner
Watch up to 15 of Seville's best flamenco dancers perform to live guitar music and singing
See Spanish gypsy culture expressed through extravagant choreography
Recent Photos of This Tour
Flamenco Show at Tablao Flamenco El Arenal in Seville
What You Can Expect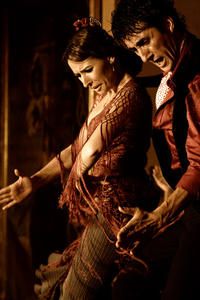 Make your own way to Seville's Tablao El Arenal, an acclaimed flamenco venue that attracts world-class dancers with its esteemed reputation. Take a seat at perfectly positioned table before the stage and feast upon a selection of beverages and specialties depending on the option selected at booking. Select from a refreshing drink, a selection of Spanish tapas or a gourmet 3-course dinner while you watch the show. Please see the Itinerary section for a sample menu.
Hear an expectant hush descend over the audience, as dancers take to the stage in a vibrant array of outfits. Be hypnotized by the 2-hour performance of flamboyant flamenco and marvel at the fine-tuned choreography that articulates the emotion and passion of Spanish gypsy culture. Clap to the rhythm of guitar music and melodious singing and applaud raucously when the show reaches its dramatic conclusion.
Feel free to enjoy more drinks at your own expense after show finishes and then make your own way back to your accommodation.
June 2016
Great venue, meal, and show.
June 2016
This tour was amazing! What a phenomenal experience we took our 5 daughters age (18,16,14,5 and 4) they all raved about it, as did we. This is a MUST! The artists in this show are the real deal. The emotion they displayed left me speechless and with tears in my eyes. Thank you
June 2016
the dancers were WONDERFUL, the food, unexpectedly, was also very very good.
highly recommend it!
June 2016
An astounding,powerful flamenco experience. My second visit and it just gets better. Ilive in Spain but would only watch flamenco here. I wouldn't recommend having dinner as it detracts from the show. You need to enjoy every second of the emotion and sounds of this amazing performance.
June 2016
This was one of our highlights in Spain. The waiters were amazing, old world service with bow ties and incredible food. The show was outstanding. We highly recommend this booking.
June 2016
June 2016
Fantastic show! Attended by wife and 6yr old son.
What we liked:
1 Performance - the footwork, singing and music playing
2 The intimate setting
3 The tapas there is a lot of it. a group of 2 can get away with just 1 tapas attendee
4 Staff is very friendly
Tips:
1 Drinks outside of what your ticket states are expensive. About 6 Euro per glass of wine or beer
2 It's really loud so bring earplugs if very loud noises bother you
June 2016
June 2016
The performance was very good. The singers poured forth their passion and most of the dancers were excellent. We were surprised that the tapas were as good and plentiful as they were. We would never have found the building if we had not taken a taxi, but walked back to our lodging after the show. We were pleased with the experience. No photos allowed during the performance.
May 2016
This is a hugh value for the price. The meal was excellent and the program very interesting. There are many people in Seville trying to book you into a show. I would highly recommend this one.
Advertisement
Advertisement