Special Offer
Book and travel by September 2nd save 10% compared to the local supplier's prices!
Explore the ancient city of Ronda on an enriching full-day excursion from Seville. Immerse yourself in the authentic Spanish culture of the city as you visit legendary landmarks like the Plaza de Toros and the dramatic El Tajo River gorge. Gain fascinating insight into the history of impressive monuments with a knowledgeable guide and embrace the opportunity to upgrade your tour to include a visit to Pueblos Blancos. Famed for its picturesque assortment of whitewashed houses, the region is home to Andalucia's first and most fascinating natural park, therefore demands a visit from the curious traveller.
Highlights
Full-day tour to Ronda from Seville
Visit Plaza de Toros, a traditional Spanish bullfighting ring

Admire views of El Tajo River gorge and visit several bridges, monuments and churches

Tour the Wine Museum of Ronda and taste some local wines at the Sangre de Ronda winery

Enjoy free time in Ronda to explore more on your own
Take an optional tour of picturesque Pueblos Blancos, home to Sierra de Grazalema, the first natural park in Andalusia

Round-trip hotel transport included
Recent Photos of This Tour
Ronda Day Trip from Seville: Wine Tasting, Bullfighting Ring and Optional Pueblos Blancos Tour
What You Can Expect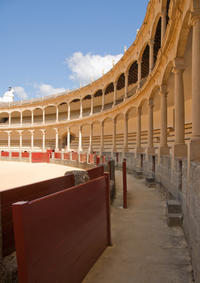 Depart from your centrally located hotel in Seville and climb aboard a comfortable, air-conditioned minivan. Absorb the scenic sights of the journey then stretch your legs in the beautiful Alameda del Tajo gardens upon arrival.
Venture to the culturally significant Plaza de Toros to learn about the city's bloody bullfighting history and take a tour of the atmospheric ring. Continue to several of the beautiful bridges Ronda is famous for, admiring the dramatic architecture of each structure; gaze at spectacular views of the El Tajo River Gorge from the vertiginous vantage point of Puente Nuevo before strolling to the architecturally diverse San Juan Bosco House.
Next, meander through the serpentine streets of the city's historic center to discover sacred structures like the Church of Santa Mari. Note the distinct styles of the buildings then enrich your knowledge of winemaking with a tour of the Wine Museum of Ronda. Savor the refined taste of signature wines then enjoy a relaxed afternoon of independent exploration before returning to Seville.
Upgrade: Pueblos Blancos Tour
Depart from Ronda and travel to the picturesque province of Pueblos Blanco, a charming region in which whitewashed house tumble over undulating green hills. Gain insight into the intriguing past of the pueblo with your guide, discovering the secret as to why all houses are painted white. Capture photographs of the distinct landscape then visit Sierra de Grazalema, a natural park replete with fascinating flora and fauna. Marvel at rugged limestone cliffs and observe the sky for rare birds before returning to Seville by comfortable coach.
June 2016
Joining this tour made everything really easy, from figuring out where to meet in the morning to actually getting to Ronda. Even though we ran into many obstacles along the way with road closures due to the 101km bike tour going through, we ended up still going to all the sights we were supposed to, albeit in different order.
Once getting to Ronda, we met with a local guide who gave us a 2 hour tour of the city, including Spain's first circular bullfighting ring, the cathedral and Casa del don Bosco, now a home for the elderly but represents a mix of Arabic and Christian culture typical to all of Andalusia. After the tour, we had about 1 hour to explore the city for ourselves.
But the views! The bridge of Ronda, the view from Zahara de la Sierra the Pueblo Blanco, and the view from Casa del don Bosco, WOW WOW WOW.
May 2016
Great day out! Long tour but stopped for breakfast of churros on the way not included in price. Zahra was lovely.
Great day, with good tour around the town and visit tot he Bull ring I'm not sure about Bull Fighting but to see the museum and to learn about this huge part of the culture was a great expereince. Not sure I'll book to watch a bull fight in the future though.
Our Guide Ramon was really nice and informative and looked after the group well.
Ronda is a lovely place and the views are stunning. A busy town though, so I was glad I went with a small group to make the visit easier to navigate.
March 2016
Worth the money! A great tour guide, an enchanting place!
November 2015
Wonderful guides and very beautiful countryside

October 2015
Beautiful place! We enjoyed everything except the bullring tour. We went to one the previous day, and I find act of bullfighting atrocious, so I didn't want to experience the validation of this so called sport again. So we hung around in the facing plaza until that was done. The rest was great, amazing views, stunning really.

September 2015
This tour was good , we were only four in a comfortable van and the drive wasn't to long, the driver was good who gave us a short tour in Pueblos Blanco, after the tour we then continue and meet by the local guide in Ronda. After the tour around the city and the Bullring we went for wine tasting. We had about an hour of free time to have lunch and spend by ourselves before going back to Seville. We took two tours with Andalsur and both enjoyed the tours and would be happy to recommend this tours company.
August 2015
THIS IS A BILINGUAL REVIEW -- ENGLISH FIRST, THEN SPANISH:
FANTASTIC!!! EXCELLENT!! We had Alicia as our guide and Juan Jose as our driver, from Andalsur and we couldn't have been more pleased with this tour. There's alot to cover but Alicia was not only knowledgeable, but had a warm personality. She actually had us singing on the bus!!! Our guide in Ronda was equally knowledgeable and was fantastic. We wish more guides were like them. The Pueblo Blanco we visited was Zahara de la Sierra and speechless is how you are left with the views!! This tour is a MUST for those who want to see Ronda...which we highly recommend as you cover some of the MAIN sites. After going on this tour and seeing what Ronda has to offer, we decided that next time around, we will spend a full day there or even make two trips...next time we are in Malaga. Our thanks to Alicia and Juan Jose for a wonderful day...you really made our trip to Ronda special.
Que podemos decir...este viaje fue magnifico!!! Alicia fue nuestra guia y Juan Jose el chofer, ambos de Andalsur, y estamos sumamente complacidas con este viaje. Mucho que cubrir en este viaje pero Alicia es toda una profesional que conoce la materia y en varios idiomas, ademas de tener un caracter placentera..pues hasta nos tenia cantando canciones en el autobus!!! Nuestra guia en Ronda era igualmente profesional y con pleno conocimiento de su pueblo, Ronda. Ya quisieramos que todos los guias fueron como ellas... El Pueblo Blanco fue Zahara de la Sierra y uno se queda sin palabras con las vistas!! Recomiendo este viaje a Ronda porque cubre mucho de los sitios que uno, como visitante, quiere ver. Para nosotros, despues de pasar un dia fantastico en Ronda y disfrutar de todo lo que Ronda tiene que ofrecer, hemos decidido hacer uno o dos viajes para ver mas de Ronda, mientras estemos en Malaga en nuestro proximo viaje. Queremos darles la gracias a Alicia y a Juan Jose por hacer este viaje a Ronda muy especial!!!
August 2015
We had a brilliant trip. Only six people which made it better. Both guides excellent and driver
June 2015
Our tour guide Carlos was super!! He was extremely knowledgeable about everything he showed us.This tour delivered so much more than was advertised . From an old castle in the middle of no where,the white villages Zahara and Graselema that I didn't expect to see .. also a small olive oil producer where we got to see how the oil was extracted.Carlos also directed us to the best place to eat in Graselema , that had the best gaspachio I've ever had !!! The tour of Ronda was great ,,as it was on my bucket list I was so happy to have such a wonderful guide to walk us through it. This tour really gives you bang for your buck.Did this tour May 7th so the weather was perfect .
May 2015
Amazing tour with pur best Guide we had. Sylvia!!
Special Offer
$136.46 Save $13.64
Advertisement
Advertisement