Immerse yourself in the majestic charm and cultural heritage of Seville with a fantastic Seville Card. Enjoy priority access and free or discounted entry to all of the city's legendary landmarks, including the colossal Cathedral and the Museum of Fine Arts. Stroll through the narrow streets of colorful neighborhoods on comprehensive guided tours and enjoy discounted dining in some of the city's most exquisite eateries. Get reduced priced tickets to cultural highlights such as flamenco shows and spend less in Seville's sophisticated shops with this concessionary card. Choose between a 24-hour, 48-hour, or 72-hour card depending on your Spanish schedule.
Highlights
Seville Card for discounts across the city

Free admission to more than 15 city monuments and museums
Free guidebook and map of Seville

Discounts at restaurants, shops and flamenco shows

Recent Photos of This Tour
What You Can Expect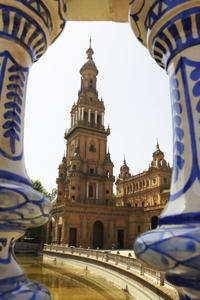 With your Seville card, enjoy completely free admission to selected attractions in the city. Sail past long lines with priority access passes to some monuments and enjoy discounts on more than 30 tours, including idyllic river cruises and informative walking tours. The entry price to some attractions is included free-of-charge and others come with excellent discounts. Please see the Itinerary section below for a comprehensive guide to the monuments and museums that are included.
Itinerary
MUSEUMS AND MONUMENTS:
Acuario de Sevilla
Basílica de la Macarena y
Museo-Tesoro
Casa de Pilatos
Casa de Salinas
Centro Andaluz de Arte
Contemporáneo
Cruceros Torre del Oro
Hospital de la Santa Caridad
Hospital de los Venerables
La Noria de Sevilla
Museo Casa de la Ciencia
Museo de Carruajes
Museo del Baile Flamenco
Museo Pabellón de la Navegación
Palacio de la Condesa de Lebrija
Plaza de Toros y Museo Taurino
TOURS:
Isla Mágica / Only seasons (72h, 120h) / Admission uncluded after 2:30pm
Really Discover / 10% discount
Sevilla Walking Tours / 10% discount ‐ 15% discount Alcázar‐Catedral
Bici4City / 20% discount
Toros Tours / 10% discount
Aire de Sevilla / 5% discount9. Seville Aquarium / Admission included10. Torre del Oro cruises / Admission include
SHOPPING:
1. Blasfor Juan Foronda / 10% discount
2. Coco Sevilla / 5% discount
3. Embrujo Sevillano / 10% discount
4. Extraverde / 10% discount
5. Iconos / 10% discount
6. La Caja de Pintura / 10% discount
7. Oh!riginal / 10% discount
8. Tienda Universitaria / 10% discount
RESTAURANTS:
1. Antigua Taberna de Las Escobas / Welcome drink
2. Asador Salas / 10% discount
3. Cervecería Macarena / 10% discount
4. Don Fadrique / 10% discount
5. El Cairo Sorbete / Gift of a special sorbet
6. El Corral del Agua / A free drink (aperitif)
7. El Rey Moro / Welcome drink
8. Extraverde / 10% discount
9. Hostería del Laurel Restaurante / 10% discount a la carte
10. La Alicantina / 10% discount on a la carte dinners
11. Puerto Delicia / 10% discount on a la carte dinners
12. Robles Placentines / 10% discount on a la carte dinners
13. Sevilla Bahía / Gift of a special sorbet
14. Tapas Robles / An aperitif with the desserts
FLAMENCO SHOWS:
1. Auditorio Alvarez Quintero / 10% discount on tickets
2. El Palacio Andaluz / 15% discount
3. El Patio Sevillano / 15% discount
4. Los Gallos / 10% discount at the box office
October 2015
This card was excellent and was well used whilst I was in Seville
October 2015
August 2014
Fantastic idea more cities should take up this idea. Was difficult to find the shop in the city to collect but all ends well!
July 2014
Must have and use the benefits, we saved double what it cost us. We went to the head of the line in many places and discounts on restaurants. Pick the hop on hop off bus for a great tour of the city.
July 2014
May 2014
Highly recommend getting a SevillaCard. We were able to bypass long lines and go right in at the most popular sites. The discounts were nice (Spain is so expensive, probably due to its conversion from peseta to euro), particularly the flamenco show (Los Gallos), which was authentic and beautiful. There is so much to see and do in Sevilla - the extremely narrow cobblestoned streets, the opulent churches, the Moorish architecture and gardens, the Plaza de Espana, the gorgeous colors, the harsh sun and heat (lots of contrasts and shadows), the bullfights at Plaza de Toros, the cooling river tour, the hop-on-hop-off buses, the tapas restaurants and late, late night dining, flamenco shows, etc., etc. Be prepared to be on the go, non-stop, and even then there's so much you'll have missed. I found a working knowledge of Spanish to be essential (although one could get by with less, I guess!) Spend a week in Sevilla, get a SevillaCard, and see the sights!
Michaelanne G USA
December 2013
Great value for the items received. Well worth investing in this card.
Louis M USA
October 2013
Don't go to Sevilla without one!!

Blanca United Kingdom
January 2013
Great value for money, we visited quite a few attractions including the cathedral and Giralda, and also took the Guadalquivir river cruise. Well worth it!
April 2012
The Seville card got us out seeing sights we probably wouldn't have seen otherwise. We saved money on the card, and it was so convenient to use, rather than digging around for money at each site.
Advertisement
Advertisement