Take the family out for an all-you-can-eat dinner buffet on this scenic cruise from Seward to Fox Island. As you cruise along the picturesque shores of Resurrection Bay, watch for whales, otters, puffins and sea lions while learning about Alaska's native wildlife from your guide. Indulge in a scrumptious buffet dinner of wild Alaska salmon and prime rib at a private lodge on Fox Island before your breathtaking ride back to Seward.
Highlights
3.5-hour dinner cruise from Seward to Fox Island
Admire scenic views of glaciers and mountains as you cruise along Resurrection Bay
Spot otters, whales, falcons and other Alaskan wildlife with the help of your naturalist guide
Enjoy a scrumptious buffet dinner of Alaska salmon and prime rib at a private lodge on Fox Island
Upgrade to include a half-pound of mouthwatering king crab with your meal
What You Can Expect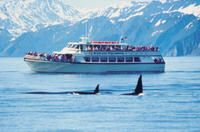 Board your cruise at Seward Small Boat Harbor in the evening for a scenic, relaxing journey along Resurrection Bay to Fox Island.
Sit back, relax and enjoy views of glaciers, including Bear Glacier. Your naturalist guide will teach you all about Alaska's native wildlife and help you spot wildlife such as otters, whales and sea lions, with puffins and falcons flying above. Beer, wine and snacks are available on board for you to enjoy while you take in the sights.
When you arrive at Fox Island, you'll understand why this is such a revered Alaskan destination. A magical mix of temperate rainforests, sculpted cliffs, secluded coves and pebble beaches, Fox Island is a sight to be seen.
Step ashore and enter a private lodge, where you'll sit down to a luscious buffet dinner of freshly grilled wild Alaska salmon and prime rib paired with vegetables, salad and bread rolls and topped off with dessert. For an even more decadent dining experience, upgrade your meal to include a half-pound (.22 kg) of king crab.
After your meal, hop back on your cruise and head back to the Seward harbor, where your 50-mile (80-km) round-trip cruise ends.
August 2015
Food was excellent. Crew was professional.
July 2015
This dinner tour had the BEST upclose whale sightings i have ever experienced. They were in groups creating bubble nets over and over. AMAZING. The dinner on fox island was excellent. crab etc... the views were Alaska Perfect throughout the cruise and i would not hesitate to do it again on a future trip!!
June 2015
saw whales breaching, seals, puffins, an otter eating an octopus
June 2015
Dinner was very good. Prime rib and salmon were excellent. The crab legs were served on ice, I prefer freshly steamed but they tasted fine. We saw several whales and were able to watch 2 of them breach. Loved watching the sea lions basking in the sun while hundreds of birds soared nearby.
July 2014
The tour was great and we saw lots of wildlife PLUS the dinner at Fox Island was truly First Class. The crab legs were huge and the prime rib tender - lots of fun.
June 2014
The cruise was fabulous and the captain quite knowledgeable about the area and wildlife. Dinner was good. The crew was very friendly. We were a group of five and loved it.
Advertisement
Advertisement