Immerse yourself in the captivating culture and spectacular scenery of China on a 3-day private tour of Beijing and Xi'an from Shanghai. Absorb the ancient majesty of the UNESCO World Heritage-listed Forbidden City; walk alongside the World Wonder of the Great Wall of China; discover the mysteries of the legendary Terracotta Army; and pleasure your palate with the delicious delicacy of Peking duck in Beijing. Enjoy the undivided attention of your private guide, airport transfers and hotel accommodation on this enriching excursion.
Highlights
Private 3-day Xi'an and Beijing tour from Shanghai by air
See the UNESCO World Heritage-listed Terracotta Warriors
Stroll through Xi'an's Muslim Quarter
Take a guided walk along the Mutianyu section of the Great Wall of China
Enjoy a traditional Peking duck dinner in Beijing
Tour the UNESCO World Heritage-listed Forbidden City and the historical Tiananmen Square
Airfares from Shanghai to Xi'an and from Xi'an to Beijing included
Stay in deluxe hotel room suites in Xi'an and Beijing
What You Can Expect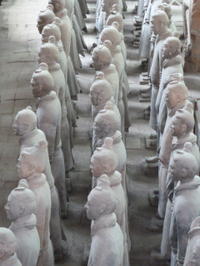 See some of China's most spectacular sights on this 3-day private excursion from Shangahi. Enjoy the freedom and flexibility of a private guide and be mesmerized by some of the world's most impressive ancient monuments; see the Great Wall of the China, the mystery-shrouded Forbidden City and the legendary Terracotta Army on this incredible adventure.
Enjoy comfortable hotel accommodation, private airport transfers and transportation and all meals indicated by the Itinerary. Please see the Itinerary section below for more detailed information on each day.
Itinerary
Day 1: Shanghai – Terracotta Warriors – Xi'an Muslim Quarter (L, D)
After pickup from your Shanghai hotel, your three-day private excursion begins with a short drive to the airport, followed by your two-hour flight. Upon landing, be met at Xi'an airport by your private tour guide and driver.

See one of China's most famous attractions for your first stop in Xi'an – the world-renowned, 2,200-year-old Terracotta Warriors. The four main burial pits are filled with the awe-inspiring sight of 8,000 life-size figurines of soldiers, 130 chariots and more than 650 terracotta horses, depicting the armies of the first emperor of China. Afterward, enjoy a lunch of traditional Chinese specialties in a nearby local restaurant.

After lunch, enjoy a scenic drive to Xi'an, where you'll have free time to explore the ancient city walls by either bicycle or on foot (bike rental at own expense). Take a guided walking tour through the local Muslim Quarter, where you will also see its landmark bell tower. At the end of the day, enjoy dinner in a local restaurant in the quarter before checking into your 5-star hotel standard room for the evening.

Overnight: 5-Star Grand Metropark Hotel Xi'an with buffet breakfast

Day 2: Xi'an - Beijing - Mutianyu Great Wall - Olympic Stadiums - Temple of Heaven (B, L, D)
Have breakfast at your Xi'an hotel, after which you'll be driven to the Xi'an airport to catch your flight to Beijing. Upon arrival, your private driver will be waiting to take you to the Mutianyu section of the Great Wall.

Admire Mutianyu's Ming Dynasty turreted watchtowers and walls that are fully intact, proving that it is one of the best-preserved sections of the Great Wall. Enjoy the spectacular views of the surrounding forest from this ancient section of wall, which is also older and less busy than other sections.

After your amazing visit to the Great Wall at Mutianyu, enjoy a yummy lunch at a local restaurant. In the afternoon, the drive through Beijing's outskirts takes you to the famous Bird's Nest and Water Cube, built for the 2008 Beijing Olympics.

Arriving in Beijing, visit the immense grounds of the Temple of Heaven. Beijing's principal temple, it was built in the 1400s by the Ming Emperor Yong Le, who also built the Forbidden City. At the complex you can admire the circular, triple-gabled Hall of Prayer for Good Harvests and the circular Mound Altar, with its marble dragons.

In the evening, enjoy a traditional Peking roast duck dinner, the famous dish that's been prepared in Beijing (formerly called Peking) since imperial times. Afterward, you'll be driven to your Beijing hotel, where you will enjoy a good night's rest in your deluxe suite room.

Overnight: Dongfang Hotel in Beijing

Day 3: Tiananmen Square – Forbidden City (B)
Have a final breakfast at your hotel, followed by a visit to Tiananmen Square. Enter the mysterious world of the Forbidden City, built for the emperors in the Ming Dynasty. The huge complex is home to the Palace Museum and nearly 1,000 buildings with 10,000 rooms, and is made up of a succession of courts, towers, gates and lakes.

After your visit to the Forbidden City, your private driver will drop you wherever you wish – a location in the Beijing city area, at your hotel or the Beijing airport to catch your onward flight.
June 2015
This tour was amazing. It was extremely well organized and everyone from the guides to the locations and experiences were wonderful. Starting in Shanghai, we traveled to Xi'an where we were met by Sunny at the airport. We spent a fabulous day visiting all around Xi'an and especially the Warriors. Sunny was very knowledgeable and fun to be with. Next morning we were off to Beijing where we met Cris and continued our adventure. Cris was also a wonderful guide and really taught us so much. Never did I anticipate walking on the Great Wall. I know both these young ladies really made this trip so special for us. I just wish we could have had more time with them. If you get the chance to take this trip, do it. Fabulous.
March 2015
This tour was amazing! Every detail was accounted for! From picking me up from my hotel, help checking me in on my flights! Worth every penny as I was a single female traveling alone. I felt safe! The tour guides Sonny in Zi'an and Daniel in Beijing were friendly and very knowledgable. A+++
Anonymous
December 2014
We write to tell you what an excellent guide Robert was to us. Of the guides that we had while in China and in India, he was easily the best. He interested in us, he talked to us frequently, he knew plenty of historical information. He knew when to let us take our take and when to move us along. He made sure that all of our needs were taken care of and offered exceptional customer service. We would recommend him wholeheartedly to any person looking for a great tour guide in Beijing.
October 2013
This tour was seen fantastic and all the places were great. Terracotta Warriors, Great Wall and Beijing are places that can not miss in the book if you visit China.I highly recommend this tour.
April 2013
Wonderful. Care to everything in ita mimimal details and knowlegeable guides !!!
December 2014
We had a very good experience over the three days. We got to see all of the sites and we found our guides to be very accommodating. We did not think that the driver who picked us up in Shanghai to the airport knew what he was doing, he took us on a long back route and simply left us at the airport terminal with little or no direction. Mr. Dong (Allan), in Xi'an was good and took us to all the sites, but he was distracted by his phone and seemingly disinterested. He also took us to a Terra Cotta factory were we felt very pressured to buy at. We bought a figure which we later saw at the airport for 1/5th of the price at the factory. In comparison, Robert (in Beijing) was an exceptional guide. He took great interest in us and was always eager to engage in conversation. He adjusted our schedule as necessary because of a delayed flight, but still made sure that we got to see everything that we wanted to see. He also asked us in advance weather we wanted to do any shopping and when we told him "no" he adjusted the tour so that we could spend more time in the sites that we wanted to see. We cannot recommend him highly enough to others who might take this tour.
April 2016
We booked this tour with a pre arranged delayed pick up from a cruise ship. This tour included two different locations, the first part in Xian and the second in Beijing, both with different guides. This really is a tale of two halves. The second half of this tour was excellent in every way and was carried out by a professional guide which we found exceptional and covered all on the schedule. The first half of the tour was the let down and was left very wanting in time given to us. Our main purpose of this visit was to the terracotta army which we arrived into the exhibition at 08.30 and we departed the site at 09.30 to allow time to go to the airport as an flight was pre-arranged. The overall tour schedule was to be delivered over 3 days/2 nights, however 1/2 day was lost at the beginning due to a late start, which they new and agreed to deliver the original tour, Overall a very good package but not enough time given to the first half of the tour, therefore affecting the value for money issue.
Advertisement
Advertisement