Tour code:
2052PVGAPTHTLMAG1
When your plane touches down at Shanghai Pudong International Airport (PVG), eliminate the stress of finding ticket booths and the expense of a private cab with an arrival transfer by Maglev train. Travel to your accommodation in Shaghai city on the super-speed Maglev train for an easy and efficient start to your sojourn. Greet a courteous representative at the airport, board the train then travel to your accommodation in a private vehicle on arrival at downtown Shanghai.
Highlights
One-way transfer from Pudong airport to your Shanghai hotel

Travel up to 300mph (500 kph) on the Maglev train
Stress-free way to start your vacation

Recent Photos of This Tour
Arrival Transfer by High-Speed Maglev Train: Shanghai Pudong International Airport to Hotel
What You Can Expect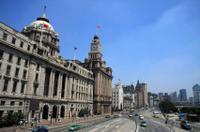 Begin your vacation in Shanghai with comfort and convenience with this arrival transfer from Shanghai Pudong International Airport (PVG). Greet your courteous representative in the arrivals lounge then venture to the proximately located train station. Climb aboard an incredible Maglev train, whose super speeds transport you 19.8 miles (32 km) in only 8 minutes, and venture to downtown Shanghai.
Disembark the train and greet your private driver for the drive to your Shanghai accommodation. Enjoy the ease and economy of this arrival transfer when you get to Shanghai.
May 2016
As a lone traveler, having someone waiting on me and accompanying me until I reached my husband was absolutely priceless. My guide was patient, knowledgeable, and assured me that he had everything under control. I would definitely recommend this if travelling to a foreign country, especially if alone and for the first time.
April 2016
The guide was outstanding and very helpful. We got to the hotel quickly compared to taking a taxi to the airport. Tour very recommended
CLAYTON F USA
November 2015
Was met just outside of customs and escorted to the Maglev and then the driver met us at the train station in Shanghai to take me to my hotel. Very well run
January 2014
Very good . The guide was there even though the flight was delayed. Reached hotel fast. Only need to travel light as have to carry the baggage to train station on escalators.

December 2013
SUch a help never would have figured out how to get on this train then to the hotel. Very personal and simple service. Highly recommend Jennifer very knowledgeable and very good english and soo helpful
Gill S New Zealand
August 2013
What a way to get to the city, hassle free and very smooth. Met at the door from the train, luggage taken for us, and followed the guide to the train station, where we boarded the bullet train, in the city within 15 minutes. Then met by our taxi driver who transferred us to our hotel. Totally recommend, takes the stress away, also a plus when you don't know where to go. A great experience and will do again when we next visit Shanghai.
June 2013
This was a perfect beginning to our holiday. The service was perfect and the experience was amazing. Thankyou
June 2013
Great experience at such a speed
June 2013
This is the only maglev train in the world. We arrived at 9 pm exhausted and were quite happy to not have to think - just follow the tour guide who was informative about the train and then the Bundt as we took a taxi to go to our hotel. The maglev is very convenient if you are staying in Pudong (the new convention area) and it wouldn't take much brainpower (lots of signs) and it would take much less money (8 yuan per person) if you did without the guide. If you do need a taxi, you should be mentally sharp and forceful in fending off the "black" taxis.
June 2012
Met on arrival and helped with my baggage to train. Comfortable drive from station to hotel. Guide very helpful, knowledgeable and efficient - recommended. This trip can be done much cheaper on your own, but if, like me, you've had a long flight and it's your first time to Shanghai it takes the stress and anxiety out of the transfer.
Advertisement
Advertisement