12 Reviews
Location:

Shanghai, China

Duration:

14 hours

(approx.)
If you're spending time in Shanghai, take a day trip to Beijing by air to make your visit to China complete. While you're in China's ancient capital, visit the Forbidden City and the Great Wall of China, two of Beijing's most famous landmarks.
Highlights
Day trip by air from Shanghai to Beijing

Visit Beijing's iconic sights - the Forbidden Palace and the Great Wall of China

Explore the ancient residence of emperors at the Forbidden Palace

Enjoy a delicious Chinese lunch

Climb up the Great Wall of China at Badaling for scenic views of the wall

All expenses included

Recent Photos of This Tour
Beijing in One Day: Day Trip from Shanghai by Air
What You Can Expect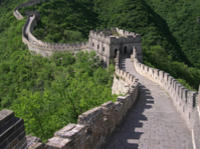 If your time in China is limited and you want to see more of China, take a day trip from Shanghai to Beijing by air! Embark on a plane from Shanghai to Beijing to explore the most iconic sights of Beijing – the Forbidden City and the Great Wall of China.

Begin your day in Beijing at the Forbidden City, the largest and best preserved group of ancient buildings in China. The Forbidden City served as the imperial palace and political center of government from the Ming Dynasty to the end of the Qing Dynasty. Inside, discover the 980 surviving buildings with a total of 8,707 rooms. The palace is an excellent example of traditional Chinese architecture, including elements such as enclosed courtyards and horizontal design.

Enjoy a traditional Chinese lunch, then drive out to the Great Wall of China. This amazing feat of architecture stretches 5,500 miles (8,850 kilometers). You'll visit the Great Wall at Badaling, built during the Ming Dynasty (1368 - 1644) and famous for its impressive scenery of the wall snaking off into the distance. As you ascend up the wall, you'll see the hills undulating into the distance.

After you finish hiking the Great Wall, you'll be driven to Beijing International Airport for your return flight to Shanghai.
November 2015
This was a fabulous trip. Our tour guide, William, really took the time to make it a special experience. We had crazy weather with snow so our plans were deterred and our return flight to Shanghai was cancelled. We felt no stress and William and the tour company took care of everything. Even down to him running around the airport and staying with us until we were completely set on our new flight. He asked us what was a must so we did get The Great Wall and it was magnificent covering in snow. Despite low temperatures we had an awesome experience and would highly rec this tour if you only have one day to get to The Great Wall Don't miss it!
July 2015
A long day but well worthwhile. The Forbidden City, Tiamen Square and the Great Wall all live up to the high expectation I had. Thee guide was excellent - Friendly , informative and professional. Air delays into and out of Shanghai mar the tour.
November 2014
I booked this tour for my 15 year old daughter and me not really knowing what to expect. However, from the Lobby call to the pre-processed airport checkin we were surprised how smoothly everything went. The meeting at Beijing continued the flow and we were continually surprised and delighted the day ahead. The history of Beijing combined with the hospitality if our English speaking guide and his capable driver made this one of the most memorable days of our trip. If you love history and want to make the most if a wonderful day out we certainly recommend this tour. A fantastic day that will stay in our memories for a long time to come.
April 2013
If you only have a day, take this tour! We were very lucky with the weather and our guide was really fantastic. Be prepared to walk, we covered a lot of territory in one day. The only weak point was lunch at the Jade shop. If you're a foodie, this is disappointing. However, I'll bet you can get your guide to go to a more interesting stop for lunch if you have an adventurous appetite.
December 2012
It was AMAZING to see so much of Beijing in such a short time! My guide was very professional and friendly. I've learnt so much about Chinese culture and local life from him. Everything went smoothly and I highly recommend this trip!
December 2012
It was well worth doing and Jason was an excellent guide and so was his driver.
November 2012
Excellent organization. Great guide and driver. Pick up from hotel on time. Superb itinerary. Highly recommend.
Anonymous
November 2012
It was amazing to see all the top attractions in Beijing in one day and back to Shanghai at night. It was super organized and one of the best experiences I've ever had around the world. I mean, what a brilliant idea! btw the lunch was superb as well!
June 2015
My tour went well. The tour guide and driver were nice people and made the day interesting android ex me with a great insight into every day life in Beijing. The Great Wall was amazing and I recommend that every one does the climb for as far as they can. It is truly a magnificent piece of Architecture and history. The slide cars were a fun way to come back down the Mountain. I will use viatoura again when I travel.
February 2014
The trip was perfect for my needs. I only had a day, and I didn't want to leave China without seeing the Great Wall. Transportation was convenient: A driver picked me up from the hotel, had my printed plane ticket, then the tour guide and driver for the day picked me up from the airport, and the same driver picked me up at the airport at the end of the day. The tour guide was very nice and easy to understand. I enjoyed the Forbidden City and the Great Wall the most. I was also shown a tea shop, jade shop, and silk shop which were good to see, but also encouraged buying and haggling a bit... I didn't mind much, but by the end of the day, I was tired and just wanted to go back to the airport (I was the only person on the tour). I recommend this tour if you're on a tight schedule, but it would be more fun with someone else too.
Advertisement
Advertisement