Feast your senses on the enticing aromas and explosive flavors of Shanghai's culinary scene on a 3-hour evening food tour of the city. Accompanied by an expert gastronomic guide, visit lively night food streets that each specialize in a different delectable dish; sample the sublime seafood snacks of Shouning Lu, famed for its crayfish and barbecued skewers; and stroll to another destination that specializes breaded pork chops and authentic Sichanese specials. After sampling up to 15 different dishes, bid your guide and small-group farewell in the center of Shangai.
Highlights
3-hour Shanghai street food tour at night
Stroll around Shouning Lu and through a classic Shanghainese neighborhood
Taste 12 to 15 samples, including stewed crawfish, grilled lamb & eggplant, late-night wontons, and classic Sichuanese dishes
Small-group tour with a maximum of 14 guests ensures a personalized experience
Recent Photos of This Tour
What You Can Expect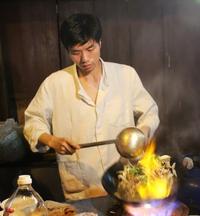 Greet your guide at a central, pre-arranged location and embark upon your exploration of Shanghai's street food scene. Stroll to Shouning Lu, a bustling street market replete with seafood stands and desert stalls and spend an hour sampling the vibrant enclave's specialties, pleasuring your palate with exotic bites like stewed crayfish, grilled eggplant and vegetable skewers. Sip a local beer for a refreshing after taste then venture to the second foodie spot.
Digest your delicacies on the walk to a cosmopolitan district influenced by Shanghai's small Muslim population. Taste succulent grilled lamb and sip a rare regional beer at a local restaurant before heading to the evening's culinary conclusion.
Take a seat in an authentic Sichuanese restaurant and awaken your senses to the region's renowned spicy dishes; try a selection of local favorites and feast on bites your guide collected from the street stalls along the way during your banquet.
Bid your guide and group farewell in another central Shanghai location at the end of your tour.
April 2016
Lee is an excellent guide. His knowledge, enthousiasme, genuine interest in the sustainability of the area and the foodstalls and vendors. His service is fantastic and made this tour the best I have ever experienced, doing these all over the world. Please let this excursion life forever.
March 2016
Loved it!!!! David was great, learned so much not only about food but also history and culture of Shanghai. This was highlight of our visit to Shanghai.
March 2016
We had a fantastic evening at the night markets in Shanghai with our guide David! Interesting stories about Chinese food and Shanghai. Lots of food of all kinds of course. Take this tour in the beginning of your trip so you can go back and it more!
February 2016
THIS was the best thing that we did in Shanghai - we highly recommend. Chahin was a great guide. We couldn't believe that we had spent 3 1/2 hours walking around, tasting, viewing, and enjoying foods at places that we would have NEVER have found otherwise. It was great to share a little history along the way too. We had 6 people in our group plus Chahin - and it was easy walking through the streets. I can't recco enough. We went BACK and ate again at the dumpling place.

Andrew Singapore
December 2015
Couldn't have asked for a better local food tour experience. Our tour guide, Rose, was wonderful, charming, and absolutely a pleasure to talk to. Even as a Brit, would almost say she has a better knowledge of the Shanghai food culture than even the Shanghainese, though this point is debatable. But anyway, regarding the main point of food - trust me, Rose, or the tour, will not disappoint. There was such a vast variety of dishes, and in such huge servings, that I was close to passing out at the end of it from being so stuffed. I think Rose mentioned there were about 26 dishes to try in total, and at around the fifth dish, she was telling us: Guys, you should only be at about 25 right now. But inside, I was thinking: No... no more. I'm already at 90. So to wrap things up, yes I highly recommend taking this tour. It's completely worth your time and you'll be feeling stuffed and happy as a lark by the end of it.
By the way Rose, if you're reading this, just a small caveat. The subway closes at around 11 - plenty of time to spare from the end of our tour!
November 2015
Great guide, great food, highly recommended!

October 2015
Great introduction to night markets. Good value and really valuable experience.

August 2015
Go hungry, it was amazing! We ate so much good food. And nothing was gross or weird crawfish was the most 'weird', and it isn't.
The tour guides were friendly, knowledgeable expats that speak fluent Chinese.
There was some walking involved between places, which helped with digestion.
No xiao long bao, but it was perfect and authentic.
May 2015
Very interesting taste and see of foods not usually on a Chinese menu. Guide was excellent - knowledgeable and convivial. Well recommended for a walking experience around Shanghai night markets tasting the unusual.
April 2015
This tour was the highlight of my Shanghai trip. You see so much more when walking around than from the inside of a taxi. The food was spectacular - I would never have been brave enough to eat street food otherwise. The pace was good - just enough walking between markets to work off the last round of eating! Our tour guide, Mitch, was fantastic. There wasn't a question he couldn't answer. I would and have recommend this tour to anyone travelling to Shanghai, whether it's your first or tenth trip.
Advertisement
Advertisement