10 Reviews
Location:

Shanghai, China

Duration:

3 - 3.5 hours
Dumpling lovers unite: Taste fried pot stickers, wontons, and Shanghai's famous 'xiaolongbao' (soup dumplings) during this half-day culinary adventure that includes a one-hour cooking class. You'll taste samples of the best dumplings the city has to offer at street stalls recommended by your knowledgeable guide. After your walking tour, try your hand at making your own 'shengjianbao,' Shanghai's classic pan-fried buns, in a cooking lesson taught by a local chef. Numbers are limited to 10 people, ensuring an intimate experience with a small group of fellow food lovers.
Highlights
Chinese dumpling culinary tour and cooking class in Shanghai
Taste a variety of dumplings at Shanghai's street-side stalls and family-owned spots
Learn to make shengjianbao from scratch under the guidance of an expert chef
Sample your own creations before another tasting stop — enough to fill you up for lunch!
Venture into the wet market with your guide to see how the locals shop
Small-group class with a maximum of 10 people ensures a personalized experience
Recent Photos of This Tour
Experience Shanghai: Dumpling-Tasting Tour and Cooking Class
What You Can Expect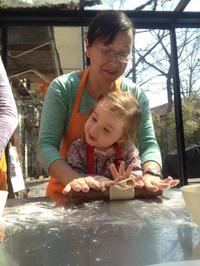 Meet your guide and small group in front of the Hengshan Picardie Hotel for a walking tour of the former French Concession, a beloved tree-lined neighborhood, to find some of Shanghai's best dumplings.


Stop by street stalls and casual local eateries to watch the experts cook the fresh dumplings that you get to try. Depending on what's available, your eight samples may include typical guotie (deep-fried dumplings); jianbing (pancakes); jiaozi (northern-style dumplings); qian li xiang (wontons); and Shanghai's renowned xiaolongbao (steamed soup dumplings). Along the way, your guide talks about the differences in taste, texture and cooking techniques of China's bite-size snacks.

It's food for thought as you continue on a short walk to the venue where your 1-hour cooking class takes place. During your lesson, a local chef introduces you to shengjianbao, another Shanghai classic. Following a demo, try your hand at making these pan-fried buns. Start by creating the dough that makes the dumpling wrapper. After rolling out the sticky shells, you'll blend minced pork with other ingredients such as gelatin-based soup stock, soy sauce, green onion and ginger. Then it's time to put it all together and arrange the buns in a frying pan. Throughout the steps, you gain valuable tips from your master instructor.

Once the work is done, sink your teeth into your creation and sip the flavorful broth; the treat is similar to steamed soup dumplings, but with a heartier texture. Wash it all down with complimentary soft drinks and water.
After you've had your fill, head out once more on foot and follow your guide to the nearby wet market to see where the locals shop. This two-story market offers just about everything: pork, live fish, fresh fruit, tofu products and noodles, all of which are sold by local vendors under one roof.
Following your brief visit, you'll make one final tasting stop (if you still have room to eat!) before your culinary walking tour concludes. From the corner of Xiangyang Nan Lu and Nanchang Lu, your guide can assist you in boarding a taxi or the subway back to your hotel.
October 2015
Can't wait to cook dumplings in Melbourne Australia fir my friends. Learnt heaps and tour set me up well for the following week in Shanghai.
June 2015
Worth every penny! Jamie, our guide, took us around to eat real Chinese food and also taught us how to eat it properly! We heard a little history about the food we were eating. And the cooking class was excellent! Would highly recommend.
June 2015
Worth every penny! Jamie, our guide, took us around to eat real Chinese food and also taught us how to eat it properly! We heard a little history about the food we were eating. And the cooking class was excellent! Would highly recommend.
June 2015
Our tour was wonderful. Love the combination of trying the best dumplings of the area, hearing history of the area , going to a market and then making our own dumplings. Everyone on the tour was friendly and our guide was fantastic. I would highly recommend this tour.
June 2015
See my review on Trip Adviser. Alice could not have been better and each stop was more interesting than the last. The wet market is not to be missed. I'd do this tour again just for the heck of it and can wait to try others in the Untour play book.
VGA
April 2015
Fantastic! Great day of dumpling tasting on the streets, then fun with Chef Michael learning to make the delicious fare. Guides were GREAT
October 2014
A very different and fascinating tour with expert guides who were very knowledgeable about Shnaghai in general as well as the focus of the tour - dumpling tasting and cooking. The tour incuds visits to 5 different dumpling shops as well as a cooking class with a master dumpling chef - a difficult art to learn quickly but amazin to wiach how its done by an expert. There was also a visit to a wet market to see the variety of local produce available. The handouts, including receipes, are also very useful. Would certainly recommend this tour to foodies.
October 2014
Loved this tour. Tried food from street stalls I would not have even thought of trying on my own. The explanations of what I was eating was excellent. The tour guide was excellent and went out of his way to accommodate our questions and requests. The cooking class was outstanding. I can now make dumplings!
September 2014
Tons of fun, wonderful guide and a good way to see the French Concession. Go with an empty stomach!
Bev
United States of America
October 2015
A family with 3 children 8 yrs. and younger were with us on this tour.....for the remaining three female adults, it was very annoying. Suggest families have their own separate tour and keep the adults on a different tour time. The children were always interrupting and thus the adults could not enjoy the tour as much as we should have. Also there is a lot of walking, this should be indicated in the tour info. I had no problem doing the walk, just kept getting tripped by the children.
Advertisement
Advertisement