Enjoy an authentic cultural experience during a small-group tea ceremony in Shanghai. Alongside a respected master of tea, succumb to serenity as you relax with melodious music, fragrant incense and soothing tea made from rare tealeaves. Learn about the cultural significance of the beverage with your English-speaking guide and educate your palate to the delicate and distinctive flavors of different tea types. Sample varieties of black, oolong, Pu-erh and green tea then perform the tea ritual to cement your newly acquired skills.
Highlights
2-hour small-group tea ceremony in Shanghai with an English-speaking guide

Learn about Chinese tea culture and discover the evolution of tea in China from your tea master

Listen to soothing music and enjoy fragrant incense while sipping rare, high-quality teas

Discover traditional methods of storing, preparing, steeping and drinking tea
Taste and learn about a variety of tea such as green tea, oolong tea, black tea and Pu-erh tea

Small group limited to 10 people ensures a more personalized experience

Recent Photos of This Tour
Experience Shanghai: Small-Group Tea Ceremony
What You Can Expect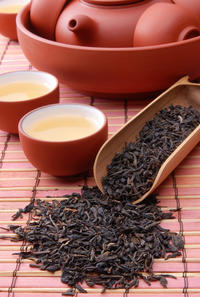 Greet your guide and small-group at a local Shanghai teashop and venture within to begin your 2-hour tea ceremony. Listen as your knowledgeable guide explains the history and cultural significance of tea in China; discover which occasions warrant tea drinking and gain an understanding of tea's evolution, medicinal properties and reputed spiritual powers.
Watch your accomplished tea master sip tea in the correct manner and enjoy the ritual of smelling and tasting cups of aromatic brewed leaves. Pleasure your palate with purifying green, black, oolong and Pu-erh tea then learn the tools and techniques integral to brewing the perfect cup.
Finally, perform your recently learnt tea ritual to impress your guide and tea master then emerge from the tea shop with enriched cultural knowledge of China and the significance of tea.
Anonymous
August 2012
I learnt so much about tea during the tour. Love my tea master!

Cat USA
August 2012
Really great tour! The tea ceremony was very interesting to learn about from the tea master, and was great to be able to taste so many different teas. The tea master and the guide were so friendly and excited for us to be there which made the whole experience even better. I'd definitely recommend it, especially if you're a big tea drinker.
Advertisement
Advertisement