Discover the rich cultural tapestry of Hangzhou, a city shrouded in history and natural splendor, on a full-day tour from Shanghai. Accompanied by an accomplished guide, gain fascinating insight into China's most esteemed tea at Meijiawu Tea Village; cruise on the idyllic and inspirational West Lake; and marvel at the alluring architecture of the Six Harmonies Pagoda. Explore the historical highlights and cultural delights of the UNESCO World Heritage-listed city on this all-inclusive tour, during which lunch, round-trip transportation and entrance fees are complimentary.
Highlights
Full-day tour of Hangzhou, from Shanghai
Visit the iconic Six Harmonies Pagoda (Liuhe Pagoda)
Watch a traditional Chinese tea ceremony at Meijiawu Tea Village
Take a boat cruise on Hangzhou's magnificent West Lake
Walk around Flower Harbor and admire Red Carp Pond
Enjoy the informative commentary of your knowledgeable guide
Includes lunch, boat cruise, entrance fees, transportation, and hotel pickup and drop-off
Recent Photos of This Tour
Hangzhou: Heaven on Earth Day Trip from Shanghai
What You Can Expect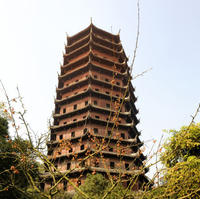 After pickup from your Shangahi hotel in a comfortable, air-conditioned coach, relax during the scenic 3-hour drive to the splendid city of Hangzhou. Listen as your knowledgeable guide sets the historical scene and offers insight into the 2,000-year history of the city.
On arrival, begin your exploration at the Six Harmonies Pagoda (Liuhe Pagoda), a majestic masterpiece that towers at a height of 196 feet (60 meters). Admire the distinct architecture and the picturesque surroundings before visiting an informative museum beside the pagoda.
Next, venture to Meijiawu Tea Village to discover some of the world's finest tea varieties; capture photographs of the verdant sprawl of plantations then experience the art of a traditional tea ceremony for important insight into Chinese culture. Revitalize with a traditional lunch then head to the luscious landscapes surrounding West Lake, a beautiful body of water that has inspired poets and artists from around the world.
Board a boat and cruise the shimmering surface, admiring the temples, pagodas and mountains that pepper the shores. Disembark at Red Carp Pond to absorb the botanical beauty of the gardens, and then trace a picturesque trail through an area named 9 Creeks and 18 Gullies. See meandering streams and quaint refuges while listening to an engaging narrative about the region's rich heritage.
When your enriching excursion draws to a close, relax during the smooth journey back to your Shanghai hotel, where the tour concludes.
April 2016
Beautiful city. Well organized tour
September 2015
Excellent tour. Very beautiful lake, boat tour was stunning, pagoda was interesting and miss joy was very informative. Would be good if the tour was slightly longer as its a 3 hour drive each way but worthwhile nonetheless.
Jennifer M USA
September 2015
The lake in Hangzhou is very beautiful and on the day I was there it was misty and gave the impression of a Chinese painting. The tour was well-designed, and the travel agency you use is excellent with very well-informed guides and very safe drivers. The only downside is the long time sitting in a bus - it takes 3 hours there and 3 hours back.
June 2015
This was the first time I took a tour anywhere. The tour was great. Our guide, Rita, was full of great information and incite. We were able to see various sites in one day but never felt rushed.
I would recommend this tour for anyone who wants to see a glimpse into green tea growing, West Lake, and a neat Pagoda.
April 2014
We had rain, but this did not make this tour any less beautiful. I would highly recommend this tour, especially for a change of pace from Shanghai.
January 2014
Our tour guide for the day was Frank. A very interesting and comical guy. Very knowledgeable as well. Got to know very interesting people doing this tour. Love the tour even though our tour van broke down just outside the toll gate. We had to wait for another mini van to pick us up and the guys had to help push the broken down vehicle to the side of the highway. But none of us mind for the people on this tour were just wonderful. Full of life! Can't remember much of Hangzhou though but I really enjoyed the trip.

January 2014
I had an awesome time on this trip, Frank our tour guide was superb- very knowledgable (not just about the tour but you can ask him anything about Shanghai!) and great to chat to. There were 7 of us on the tour and Frank somehow managed to pace the tour to suit all our needs, including toilet breaks etc. We had an unfortunate mishap when our minibus broke down on the highway- it was clearly a one off and no one's fault and the driver and Frank were really apologetic. By the time we had got out of the minibus, Frank turned round to us and said he has already spoken to the tour company and another minibus was on its way. Really impressed with the service, and even though we arrived late, we still did the whole trip fully and it did not spoil the tour in the slightest. West Lake was beautiful and I enjoyed the tea ceremony. Although it was quite a hard sale on the green tea, which I succumbed too, I now actually wish I bought more: when I got back, I spoke to my Shanghainese friends about the tea and whether it was worth it, and they said the superior grade Longjing tea from Hangzhou is renowned and the best. Great tour and tour company.

vivi United States of ...
July 2013
March 2013
JENNIFER R Philippines
December 2012
The tour was great! It turned out to be a private tour. My guide Catherine was simply the best. She took care of me and explained all the things that I need to know about Hangzhou, West Lake, Lingyin Temple, Meijiawu, etc. I definitely recommend this tour to everyone!
Advertisement
Advertisement