Visit the UNESCO World Heritage Sites of Shandong on a private 2-night tour from Shanghai. You'll see the Temple of Confucius, Cemetery of Confucius and the Kong Family Mansion after riding the world's fastest railway to Qufu. Then, ascend Mt Tai (Tai Shan) by bus and cable car to explore its many gates and temples. Your knowledgeable private guide will enlighten you about Confucius, the great philosopher of ancient China, whose system of belief still shapes Chinese culture today.
Highlights
2 -night private tour of Shandong from Shanghai
Hop aboard the world's fastest bullet train to Qufu
Explore the Temple and Cemetery of Confucius and the Kong Family Mansion, a UNESCO World Heritage Site
Head to the top of Mt Tai by cable car to view South Heaven Gate and Sun Viewing Peak
Return to Shanghai or continue to Beijing by bullet train – it's up to you!
Enjoy personalized attention and commentary from your private guide
Why Our Insiders Chose This Tour
This is a wonderfully flexible private tour for those who want to see Shandong and zoom on to either Shanghai or Beijing.
What You Can Expect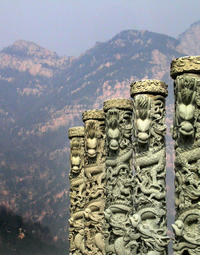 Discover elements of Chinese culture through the eyes of Confucianism, Buddhism and Taoism on this private 2-night tour of Shandong Province. Visit UNESCO World Heritage Sites in Qufu along with sacred places at the summit of Mt Tai. Take a high-speed train round-trip from Shanghai or continue to Beijing – it's your choice – with pickup and drop-off at the train stations by private vehicle. Your tour includes two nights' accommodation at the Qufu Queli Hotel plus breakfast and lunch.
Itinerary
Day 1: Shanghai – Qufu
Make your way to the Shanghai railway station and ride the bullet train for 3 hours to Qufu aboard the world's fastest high-speed rail! You will be picked up by private vehicle upon arrival at Qufu East Station and driven approximately 30 minutes to your hotel. After check-in, spend your free evening at your leisure.
Overnight: Qufu Queli Hotel in Qufu
Day 2: Qufu (B, L)
After breakfast at your hotel, meet your guide for a 4- to 6-hour private tour of the Temple and Cemetery of Confucius and the Kong Family Mansion that make up one amazing UNESCO World Heritage Site.
Your first stop is the Temple of Confucius (Confucius Temple), the largest historical building complex in China. Originally built in 478 BC to commemorate Confucius, the temple has been reconstructed over the centuries and today includes 104 buildings dating from the Jin to Qing dynasties. As you explore the 34-acre (14-hectare) site with your guide, admire the structures, whose architecture resembles that of Beijing's Forbidden City. Learn about their symbolic significance, built according to Confucian philosophy and design, including the complementary hues of red walls and yellow rooftops.
Walk through several courtyards adorned with small gates and surrounded by tall green pines, just some of the more than 1,250 ancient trees planted here. Your guide will point out the impressive stelae, Han stone reliefs, carved pictures and stone dragon carvings.
Next, visit the Kong Family Mansion, located a short distance from the temple. Kong is the family surname of Confucius, and this landmark is where many of his male descendants lived and worked. Initially constructed as a small family house linked to the temple, the mansion was rebuilt east of the temple in the late 19th century and developed into an aristocratic residence, of which 152 buildings and 100,000 collections from the Ming and Qing period remain.
Enjoy lunch before a drive to Confucius Cemetery, located about 1 mile (2 km) north of Qufu in the Confucian Forest. The family cemetery contains the tomb of Confucius and the remains of more than 100,000 of his descendants. After your tour, you'll have free time to explore some of the 452 acres (183 hectares) on your own.
Overnight: Qufu Queli Hotel in Qufu
Day 3: Qufu – Tai'an – Shanghai or Beijing (B, L)
Enjoy breakfast at your hotel before a full-day excursion to Mt Tai, a mountain of cultural and historical significance. Considered one of the Five Great Mountains in China, the natural monument has been a Buddhist and Taoist ceremonial center of worship for 3,000 years due to its association with birth and renewal.
After transferring from Qufu to Tai'an, an approximate 1-hour drive, arrive at the foot of Mt Tai, located just north of the city. From here, board a tourist bus with your guide to the halfway point on the mountain, and complete the journey to the summit by cable car. View Mt Tai's tallest peak, Jade Emperor Peak, which reaches 5,029 feet (1,533 meters) above sea level.
Your guide will take you to view the gates, grandiose temples, stone tablets and inscriptions located between the Taishan Temple and the Azure Clouds Temple. Visit the South Heaven Gate, situated at the top of some 7,000 stone steps that wind up the slopes, each offering a different view. Admire Heavenly Street (Tianjie Street), White Cloud Cave, Gongbei/Tanhai Stone and Sun Viewing Peak before lunch on the mountain or back in Tai'an.
After your tour, your guide will transfer you to Tai'an Station by private vehicle. Here, board the bullet train and either head back to Shanghai or continue on to Beijing (depending on which option you select).
August 2015
Absolutely fantastic. Our guides were knowledgable and took great care of us.
January 2015
Six family members all enjoyed the historical sites in Qufu and Taian. We especially liked Annie (sp) our tour guide who was very helpful at explaining the historical significance of the sites. She did everything to make sure we all enjoyed the tour. The sites were amazing and would be enjoyed by anyone interested in Chinese culture. There is a good bit of walking and stair climbing and may be a bit challenging for older folks like me. The hotel Queli is conveniently located near the Confucius Temple and is clean and comfortable. My one problem with the tour was that the six tickets that were purchased for us for the bullet train trip back to Shanghai were for assigned seats scattered around one car. Since the train was filled to capacity we were not able to sit together for the three hour trip to Shanghai. We booked this tour many weeks ago so there was no excuse for making the six of us ride in different places around the car. Since two of our party are children this presented a big problem. We have been on several Viator tours and we certainly didn't think it would be necessary to specify that the six of us wished to be seated together on the train. One benefit of using tour companies is to have knowledgeable professionals anticipate problems. If I had booked the tour on my own I surely would not have taken the trip if I could not get adjacent seats on the train.
David Schneider
Advertisement
Advertisement