Discover the charming delights of Zhujiajiao, a wonderful water town with an ancient origin, on this full-day private tour from Shanghai. Relish the freedom and flexibility of a private guide and tailor the itinerary according to your interests; gain insight into the town's 1,700-year history and admire antiquated architecture, tranquil canals and crumbling bridges. Pleasure your palate with local specialties at authentic restaurants and enjoy convenient round-trip transportation from your Shanghai hotel in a private vehicle.
Highlights
Full-day customizable private tour of Zhujiajiao
Plan the perfect day in Zhujiajiao, based solely on your interests, with the assistance of your expert local guide
Explore the ancient water town at your leisure and gain a unique insight into small-town life
Glide along picturesque waterways on a boat; visit small shops; taste interesting delicacies; and take part in age-old local traditions
Your guide will help you interact with the village locals, ensuring you get an authentic experience
Recent Photos of This Tour
Private Tour: Zhujiajiao Water Town from Shanghai
What You Can Expect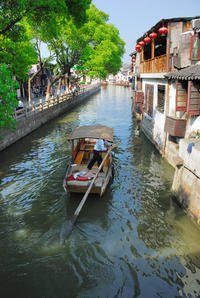 Greet your knowledgeable guide at your Shanghai hotel and depart in a private, climate-controlled vehicle to the ancient city of Zhujiajiao. Admire the stunning scenery as you approach the enchanting enclave, which is characterized by secluded cobblestone streets and picturesque canals. Listen as your guide sets the historical scene and informs you of antiquated architecture dating back to the Qing and Ming dynasties.
On arrival, disembark and enjoy a leisurely stroll over quaint stone bridges and see locals sailing the canals in rickety boats. Capture fantastic photographs at Fangsheng Bridge (Setting Fish Free Bridge), where live fish are sold by street vendors and returned to the waterways for good luck.
During the day, tailor an itinerary that suits your interests with your expert guide. See the architectural majesty of North Street, commercial lanes backed by historical bridges and buildings, and board a boat in order to cruise the calming canals and weaving waterways.
Revitalize with some delicious local dishes at rustic restaurants recommended by your guide (own expense) then absorb the botanical beauty of Ke Zhi Yuan, a large manicured garden, when you set out in search of the Moon View Pavilion, which boasts the accolade of being one of the town's tallest structures.
When your time in Zhujiajiao comes to an end, return to your vehicle and relax during the journey back to Shanghai, where the tour concludes.
March 2016
Very good guide, good tour
January 2015
Mary was our tour guide. She picked us up at our hotel and travelled to the water town. We had a lovely time there. Mary told us lots of information about the town, she was super friendly and made the day lots of fun. We had lunch at a lovely restaurant looking out at the water. On the way back as we still had time so Mary took us to the Bund for a walk along and to a Confucius temple. A very enjoyable day!

April 2014
Our guide was very helpful and friendly. She spoke good English.
My children enjoyed several activities on this tour.
1. Releasing fishes and turtles into the river and praying for your wish to come true!!!
2. Aiming coins into the Tall Collection Bowl at the Goddess Temple.
3. The boat ride.
4. Feeding and taking photos alongside the Pet Macau birds.
You can bargain and buy a few really artistic masks and trays from the street shops.
If you have about four to five hours to spare, this trip is definitely worth the time. Our guide also told us some native stories and some local politics!!!!
October 2013
Our tour guide was a local girl who was very knowledge of Shanghai. She showed me everything I wanted to see in Shanghai in 8 hours. Granted I did not have much time to shop, but I was able to see where I need to go back to and shop on my own. She was a lovely guide and took us to a local place for lunch which was excellent. She suggested for us not to eat the street food. I would recommend this private tour to anyone going to Shanghai for the first time. I wish I could of spent my whole time with her showing me around.
April 2013
was a brilliant day - our guide Mary was superb, knowledgeable, had a great sense of humour brilliant English and went at our pace, nothing was too much trouble for her. Zhujiajiao is well worth a visit but Mary told us best to avoid the weekend when the Chinese go for a day out! we went on a Monday and it was easy to walk around. boat ride essential to get the feel of the town - lots of crafts to be seen and bought at reasonable prices - better than Shanghai.
January 2014
Thanks for the opportunity to get to visit this historical and interesting village. An amazing history and beautiful, gentle locals. Our guide Mary was excellent, particularly local knowledge. We had an amazing lunch and the travel to and from the village so perfectly arranged. Thanks Mary and Viator
November 2013
Our tour guide Annie was great!
There really wasn't much to see in the town, it was interesting, but very commercialized. Lots of souvenir vendors it you like that kind of thing. We were through the town and had lunch in a couple hours. By no means a full day tour, so when we got back to Shanghai, Annie took us into the Old Town district and a tour of the Yuyaun Garden. Great place and Annie knew it well. She made a 1 star tour into a 5 star and we got the full day we had paid for. Only givng this a 2 star rating, because that's how we felt about Zhujiajiao, but would highly reccomend Annie for tours in Shanghai.
Advertisement
Advertisement