Enhance your experience of Shanghai regardless of time constrains on a morning or afternoon half-day sightseeing tour. See the best of Shanghai with a knowledgeable guide as you discover historical highlights like The Bund and the Jade Buddha Temple. Learn the complex process of pearl cultivation at the Fresh Water Pearl Gallery; absorb the antique charm of Shanghai Old Street; and delve into the city's rich historical heritage at Shanghai Museum. Convenient round-trip transportation from your Shanghai hotel is included on this tour.
Highlights
Choice between morning or afternoon departure
Morning tour includes Jade Buddha Temple, Shanghai Musuem, People Square and Pearl Gallery
Afternoon tour includes Yuyuan Garden, Silk Factory, entertainment district including the Bund

Plenty of photo opportunities

Friendly and informative guide

Includes hotel pickup and dropoff

Recent Photos of This Tour
What You Can Expect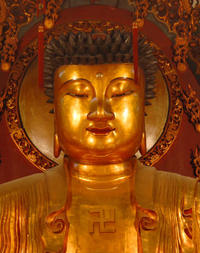 Depart from your Shanghai hotel in a comfortable, air-conditioned vehicle to begin your enriching exploration of the city. Select a morning or afternoon tour to suit your schedule, then see a selection of spectacular sights that vary according to the time of day.
If you choose the morning tour, absorb the sacred majesty of the Jade Buddha Temple; see how precious pearls are cultivated in the Fresh Water Pearl Gallery; enrich your knowledge of Shanghai's history at the Shanghai Museum; and wander amid the verdant beauty of People Square.
On the afternoon excursion, see the gorgeous greenery of the Yuyuan Garden; admire the antique charm of Shanghai Old Street; marvel at the symbolic structure, The Bund; and see how silk has been produced for hundreds of years at the well-established Silk Factory.
Please see the Itinerary section below for detailed information on each attraction.
Itinerary
Morning Tour itinerary:
For any visitor to China, perhaps the most attractive thing about Shanghai is just how fashionable it is. Museums, galleries, restaurants, etc. have emerged in the past few years. The heydays of the 1920s and 30s and the newfound wealth in the city are making Shanghai a place with a fabulous and optimistic style and attitude.
Your tour begins with Jade Buddha Temple. It was built during the Guangxu period of the Qing Dynasty (A.D. 1875-1909) with its priceless collection of jade statues from Burma. The construction of the temple is in the magnificent architectural style of the Song Dynasty. There are monks currently living in the Temple and the Temple houses the Shanghai Buddhist Institute.
Next stop is Fresh Water Pearl Gallery. We may see the process of pearl cultivation. One lucky participant will be presented with a single pearl from a mussel.
People Square is a spectacular space in the heart of the city. It is a vast green area including plants and trees, and surrounded by great buildings on all sides, where you may feed the lovely doves to pray for the world peace.
The visit to Shanghai Museum is a real highlight. The museum design is in keeping with Feng Shui principles. It houses a great permanent collection and hosts various exhibitions with over 120,000 pieces including bronze ware, ceramics, paintings, calligraphy, sculpture, ancient Chinese coins, jade carving, ancient furniture, and western art, which shows you 5000 years history of China. We recommend you to rent an audio phone (USD 5) to make 1.5 Hours' visit more splendid.
Afternoon Tour itinerary:
The tour begins the classic sights from the Ming and Qing dynasties, and you will visit the enchanting Yuyuan Garden and Shanghai Old Street. The garden covers a significant space and includes many halls, springs and other buildings of interest. The visit brings you back to Ming Dynasty (A.D. 1368-1644)
Then, the tour stops at the Bund on Shanghai's waterfront, a showcase of pre-1949 architecture. The symbol of old and new Shanghai, Bund is Shanghai's most famous landmark. Four kilometers long, the Bund has long been one of the most important areas in Shanghai, and a must to visit to every visitor. In the 1930s, the row of buildings was host to the city's financial and commercial centers and the world's greatest banks and trading empires established a base here.
The silk factory in Shanghai is not only an interesting place to see how Chinese silk has been produced since the 14th century, but also a desirable site to purchase in low price.
After a drive along the former French Concession District, characterized by beautiful, tree-lined streets and weathered European architecture, you will visit the Finally, you'll be able to stretch your legs in Shanghai's hottest new entertainment district, Xin Tian Di. The brick buildings on these two-square blocks have been preserved and transformed into trendy clubs, restaurants and boutiques. You will have time on your own here, or can go back to your hotel with the group.
June 2016
Excellent guide and very interesting tour.
May 2016
January 2016
My guide was nice, and we enjoyed the afternoon.

December 2015
This was an awesome tour! It was smaller so it was very personal. Joy had all sorts of interesting things to tell us about the history of Shanghai and she was a great tour guide. Very fun! THANK YOU!
August 2015
This tour was excellent. The tour of the Shanghai museum was great and so was the visit to the Pearl store
and one of the famous temples. The tour was just for the morning so not too long. Just gives you a taste and if you want to come back to the sites later by yourself you can.
June 2015
Took the full-day tour - both morning and afternoon sessions. Our guide Rita was excellent.
The combination of sites visited in one day really enhanced my understanding of the historical Shanghai and the modern city. Very glad I chose to stay an extra day after my work ended to take this tour.
June 2015
We recommend our tour guide Rita, interesting and enjoyable hours
May 2015
Our tour guide, Joy, was very good. She was very informative and spoke English well. It was not rushed and we saw everything that was stated in the itinerary.
March 2015
This was a very well-organized tour. In particular, I would like to comment on the services of Zhao Ye, my guide for the half-day tour on Saturday, March 7th. Zhao Ye is a superior tour guide. She exemplifies all of the qualities of an excellent tour guide. She speaks very good English, she is very kind and considerate, she has a very enthusiastic personality very important!!, and she is very knowledgable. Because of my positive experience with Zhao Ye, I booked additional tours through this service while in Shanghai. All were excellent.
I will recommend your services and, in particular, Zhao Ye, to all of my friends and colleagues who are visiting Shanghai.
December 2014
I was the only person on this tour so it was a very personalized morning. Our driver was very safe by Shanghai standards and I felt comfortable in his car. The guide, Fiona, is a local from Shanghai and filled the tour with great snippets of information - she knew all the interesting little things that you are not likely to read in a tourist guide. Like, which taxi companies are more likely to scam a tourist etc. Fiona is well traveled herself and spoke excellent English. She was also very interested in my home country (Australia) which was quite sweet. I did the morning tour and was not expecting a visit to the silk factory but Fiona managed to squeeze it in. If you are thinking of doing this half day tour make sure you do the afternoon one to ENSURE a visit to the Silk factory (It is very clearly stated in the booking info that the Silk factory is NOT included in the morning tour so DO NOT be disappointed if you book the morning tour and don't go there). The silk factory really is amazing and very worthwhile. Rainbow was the name of the tour guide there and she also spoke very good English. The pearl museum really is just a pearl shop with a snippet of interesting info in the foyer. At the silk shop I was able to wander on my own a bit and look at the merchandise. So I was able to make my own mind up about purchases. However at the pearl shop the sales attendant really shadowed me which made me slightly uncomfortable. We also had an hour at the Shanghai Museum which was perfect for me. Four floors of Chinese antiquities - very interesting, but for me, any more than an hour and I would loose interest. The Jade temple was also interesting but a little sad that it has become such a commercial enterprise. Each temple had a shop in or next to it. I guess the Vatican in Rome does the same thing so..... Definitely try this tour if you only have half a day to spare as I did. It is not rushed, nor is it too slow. I had a great morning.
Advertisement
Advertisement