After your plane touches down in Shanghai, recharge and revitalize amid the fabulous facilities of the VIP lounge during this luxurious 2-hour respite. Freshen up with a steaming shower; use the super-speed wireless network to communicate with friends and family; and enjoy a selection of delicious food and refreshing beverages in stylish surroundings.
Highlights
Lounges at both Shanghai Pudong and Hongqiao International Airports

Convenient locations in departures at each airport

Two-hours of access to lounge

Enjoy amenities such as hot food, beverages, wireless internet connection and shower facilities (selected locations)

What You Can Expect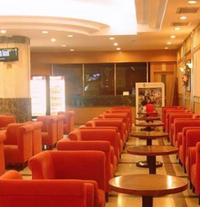 Escape the hassle of the airport and rejuvenate in stylish surroundings at Shanghai Airport VIP lounge. As soon as your plane touches down, head to the luxurious lounge to recharge before your connecting flight. Enjoy attentive and courteous service, premium comfort and the fantastic facilities of the lounge.
Satisfy your appetite with hot food, fresh sandwiches and sweet treats; relax your muscles on lavish seating; read international newspapers and magazines, and watch international TV channels; shower with complimentary amenities in selected locations; and enjoy free local calls, wireless internet access and flight information.
Please note that the VIP lounge has several locations throughout the airport. Entry to restricted areas requires passing through security and presenting your boarding pass before entry.

Bing USA
October 2014
Totally worth it. I felt rejuvenated after the lounge use

July 2014
It seemed like the receptionists weren't sure how to process my voucher. Nice facilities though.
March 2016
A bit disappointing. The food was not quite what we were looking for. The seating was okay but not as relaxing as I would want enabling us to fully relax. It seemed a bit impersonal.
December 2014
Sorry. Did not get to enjoy the lounge as it was located in Terminal 2
October 2015
Limited variety of food, uninteresting decor and not enough reading material to cater for all markets. Only one shower which was locked.
December 2014
Not happy at all.advertises hot food, sandwiches,cookies, free wifi
We had 1 seafood option with the sandwiches, no hot food, no cookies, only fruit available was bananas which were green and sour,only thing that was as advertised was the cold drink.we basically paid $44AUD per person for a shower
Advertisement
Advertisement