Gain a deeper insight into local Shanghai life on a 2-hour tour with an expert guide who shows you the city's hidden alleyways and older districts known as 'nontangs.' Learn about the distinctive design and architecture in the nontangs; meet some long-time residents who invite you into their homes; then explore a local food market and sample some tasty street food (own expense). Numbers are limited to 10 participants on this small-group tour, allowing for an authentic experience of old Shanghai, far from the usual tourist haunts.
Highlights
2-hour walking tour of the Shanghai's nongtangs - historic backstreets and alleyways
Explore the old lanes and districts of the city for an authentic, exclusive Shanghai experience
Visit the home of long-time local residents and hear their interesting stories
Discover small, hidden markets and stores owned by locals
Expert and knowledgeable local guide ensures an informative and entertaining tour
Small-group tour limited to 10 people ensures a personalized experience
Recent Photos of This Tour
Small-Group Shanghai Lanes and Alleyways Walking Tour
What You Can Expect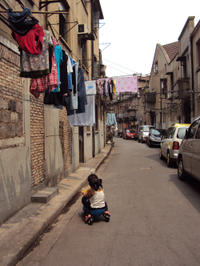 If you have already visited Shanghai's Bund, City God Temple and Yuyuan Garden and wish to go beyond the popular tourist spots, you'll get a new perspective on this walking tour that explores Shanghai's courtyard alleyways, known as
nongtangs
. The nontangs are back passageways that combine traditional building design with modern Western architecture, offering a unique urban atmosphere not found in other places. The nongtangs were established in the 1920s and many of the original inhabitants still live there and retain elements of the old ways despite the pace of change in other parts of Shanghai.

As you meander through the nongtangs with your experienced guide, listen to fascinating anecdotes that reveal the cultural norms in the nongtangs. Your guide also introduces you to some of the local elderly residents who welcome your into their homes to socialize and learn about their daily life and their past. History comes alive when you hear their stories, and you can learn how the changes in modern Shanghai have affected their lifestyle.

Small food markets operate along the alleyways, often owned by local residents who supply their neighborhood with fresh produce and other goods. Your guide takes you to some of these tucked-away shops and wet markets where you can meet the owners and learn about their livelihoods. You can also purchase some local delicacies such as tea eggs, which are hard boiled eggs cooked in tea and a marinade sauce. Sampling street food makes perfect complement to this unforgettable experience of authentic Shanghai.

June 2016
We loved this tour and Mary, our guide. She was excellent and did a great job of just giving us a great look at life in one of the older areas of Shanghai. We slowly strolled through some commercial and residential areas, she guided us through some of the shops, did local things like stopping to pick up a bag of local candy, etc.
March 2016
We loved this tour and Mary, our guide. She was excellent--very well prepared, very familiar with the area we toured, and a very friendly and charming personality. This is a very interesting view of every day life in Shanghai.
November 2015
The tour was excellent and very informative we enjoyed it very much.
Would highly recommend your company to friends and family
Thank you
Michael
September 2015
Our tour guide, Zoe, was great! I've spent a lot of time in Shanghai on business and even took time to 'tour' during previous visits. BUT, this was the first tour where I felt I learned, in detail, about how those who live and work in Shanghai actually live. We walked the communities different income levels, visited a realtor to learn about prices/space/location for apartments and homes, visited a variety of food stores to learn about the different types of food locals eat, learned about eastern medicine herbs and other sources for healing and health and even learned about how different people come to live in Shanghai school, work, government-incentives. Zoe not only explained everything that we were seeing, she was also able to answer any questions we presented. I took two 17 year olds on this tour with me and Zoe kept their attention. If you can request a tour guide for the morning tour, request Zoe!
June 2015
excellent tour we loved every thing about it, our guide Zoe was the best she explained everything so clear.
loved it so much and would use your company again if we come to Shanghai again.
April 2014
Excellent tour from start to finish. Thoroughly enjoyed seeing and hearing about the lives of the Shanghai residents. Tour guides pitched it right and kept me and my husband enthralled. It's a must to get off the tourist route and experience the real city.
March 2013
A personal tour around the alleyways with someone who has lived there, very informative although we felt intrusive to the people who lived there at times
January 2013
A really great opportunity to see part of Shanghai life that isn't usually accessible.Janny is an excellent guide.
Anonymous
September 2012
It was a great tour to experience the local Shanghai life. We are glad you took this tour - very off the beaten track and a must do!
Robert M USA
September 2012
Of all the tours we took this really explained the life and living conditions of the local people. We were right in the lanes and alleyways talking to the local residents. We did not want the tour to end. Don'T miss this tour.
Advertisement
Advertisement