Discover the historical heart of Shanghai's ancient Jewish quarter on a 2-hour tour of the Hongkou District. Accompanied by a knowledgeable guide, delve into the captivating history of Chinese Judaism; visit the verdant splendor of Huoshan Park and browse intriguing exhibitions in the Jewish Refugees Museum (Ohel Moishe Synagogue). Catch a rare glimpse of daily life in a historical local neighborhood and gain fascinating insight into the culture from your passionate guide. Enjoy an intimate atmosphere on this small-group walking tour, where numbers are limited to 10.
Highlights
Small-group walking tour of Shanghai's Jewish Ghetto
See hidden areas of the city through the eyes of a Shanghai local
Gain an understanding of the lives of Jewish refugees on a visit to the Jewish Refugees Museum (Ohel Moishe Synagogue)
Hear enlightening stories about Jewish history in Shanghai while walking past the Joint Distribution Committee and Huoshan Park
Visit a local neighborhood and discover daily life in the Jewish Ghetto
On a visit to Xiahai Temple, known as the fish man's temple in the past, discover the role a Buddhist temple plays within the Jewish Ghetto
Small-group tour limited to 10 people ensures a more personalized experience
What You Can Expect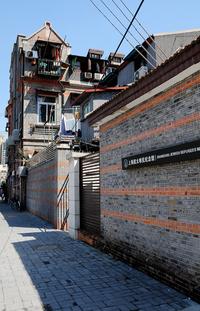 Greet your guide at a pre-arranged location in Shanghai and set out to explore the historical highlights of the Jewish Ghetto. Listen as your guide shares intimate knowledge of the area and weave your way through the winding streets of the historical enclave. First, head to the Shanghai Jewish Refugees Museum, constructed on the site of the Ohel Moishe Synagogue, a place that attracted refugees during turbulent times.
Learn about the significance of the sanctuary then venture to the American Jewish Joint Distribution Committee to hear about the help offered to refugees by the center. Absorb the verdant beauty of the Huoshan Park and enjoy a moment of reflection at the monument that memorializes Jewish immigrants.
Next, immerse yourself in the authentic ambience of a local neighborhood to meet its inhabitants; learn about daily life and traditional customs then venture the thriving center to see local craft shops, fresh seafood stalls and rustic restaurants. Conclude your tour with a visit to the sacred Xiahai Temple, a remote location off the tourist trail; learn about the significance of this Buddhist temple then bid your guide and group goodbye at the end of your tour.
August 2015
This was an excellent tour. The tour leader was very well informed about the history of Jewish settlement in Shanghai and the events which led up to that settlement. His knowledge was outstanding.
We were honoured to be invited to our leaders home where he showed us typical accommodation made available to Jewish people during the war years . We were also show a most interesting collection of pictures collected by our leader.
I recommend this tour to those who want to really understand the Jewish occupance of this small part of Shanghai in the war years and to experience how good the Chinese people were to them.
December 2014
We enjoyed seeing and hearing about the history!
December 2014
The tour worked well. The guide was excellent.
December 2014
I brought a few friends and they were so glad they came!
November 2014
Tour was first class! Zoe, the guide, was extremely knowledgeable, and went above and beyond to give details about the area, show us around, answer questions and make sure we had a fabulous experience. It exceeded my hopes for the couple of hours.
October 2014
The guide was very knowledgable and friendly. A very interesting tour.
May 2014
We were delighted with our guide Annie, and if anyone wants a reference we cannot speak highly enough of her. Her English and enthusiasm were excellent and she even emailed us photos. Annie made this tour one of the highlights of our trip! Len and Deanna Levin.

April 2014
Walking around the area of Hongkou is so interesting because of it's history in relation to Jewish refugees and because it gives you an insight into life in the suburbs in Shanghai today. Prior to meeting our tour guide, Annie, we had some time to spare so we wandered around the area a little by ourselves. The people of the area are friendly and didn't seem to mind us stopping and watching them go about their daily lives. When we met Annie, we knew we had hit the jackpot! Annie is everything you want in a tour guide. She was knowledgeable about the area and it's history, interested in us as her clients and willing to fit in with what things we were interested in seeing.
We loved the Jewish architecture of Hongkou, the beautiful park Annie took us to and the Jewish heritage Museum. Annie also took us to a temple and explained many aspects of the Buddhist faith while we were walking through it.
The professionalism of the company who runs the tour was also to be applauded. When i contacted their office in Shanghai the day before the tour, they forwarded to me by e-mail, detailed directions to get to the meeting place and even called Annie at the end of the tour to speak with us and find out our thoughts. I would highly recommend this tour. It demonstrates a side of Shanghai and it's people that I don't think many people are aware of.
October 2013
Annie was our guide for this tour. She gave us explicit directions as to where to meet her, She was prompt and provided a great tour of the area.Her english is excellent and the information helped us to see the ghetto, its history, different ethnic groups from Iraq, Iran, Russia and others who were provided asylum during very dark periods in history. She is very knowledgeable and took us not only to the complex which houses the Jewish history in Shanghai, but the old synagogoue and was even able to bring us into homes where they lived. I would highly recommend this tour! rj freeman, salem, ma
July 2013
The tour guide - Annie - was terrific. She was very knowledgeable and her English was terrific. She also gave us an interesting tour around the neighborhood. We were even invited into someone's home, an elderly Chinese couple invited us into their room and spoke through Annie. It was a very unique experience!
Advertisement
Advertisement