15 Reviews
Location:

Shanghai, China

Duration:

14 hours

(approx.)
While you're in Shanghai, take a day trip to Xi'an, famous as one of the birthplaces of ancient Chinese civilization. You'll learn about the history of the Chinese dynasties that rose and fell in Shaanxi Province, and visit the famous 2,000-year old Army of Terracotta Warriors, one of the most spectacular archaeological excavations of the 20th century. Then take a walk on the city walls of Xi'an, built during the Ming Dynasty (1368 - 1644).
Highlights
Day trip to Xi'an from Shanghai by air

Visit the famous Army of Terracotta Warriors

Walk along Xi'an's City Walls, one of the best preserved city walls in China

Chinese lunch included

What You Can Expect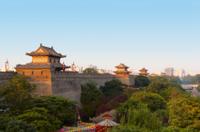 Discover the rich history and archaeology of ancient China on your day trip to Xi'an from Shanghai. Xi'an served as the center of Chinese civilization, with 13 dynasties basing their capitals here.

After arriving in Xi'an, you'll visit the impressive Army of Terracotta Warriors. Emperor Qin Shi Huang built this mausoleum starting at the age of 13 (in 246 BC) to prepare for his afterlife. See the 6,000 terracotta figures of warriors and horses, lined in three rows of 210 soldiers. This impressive archaeological discovery is a sight not to be missed!

Feast on a traditional Chinese lunch and then head to the Xi'an city walls. The Xi'an city walls were first built in the early Ming Dynasty and are one of the most complete city walls to survive in China. The walls also serve as one of the largest ancient military defenses in China, measuring 36 feet (12 meters) high.
July 2015
Xian is a fascinating city. The Terra Cotta warriors are stunning and well worth visiting. The highlight of my trip to China. The city of Xian was very beautiful and still has the 13th Century walls intact and a number of other interesting buildings from the 13th Century. A long day but very worthwhile. Air delays into and out of Shanghai Airport make the day even longer
December 2014
We had trouble working a visit to the warriors in our itinerary so took advantage of this one day trek. It was a very long day and expensive but we would not have missed the opportunity to see the site. It was breathtaking to say the least. Pictures cannot convey the magnitude of the pits. The fact that each warrior is different is mind boggling and the exacting detail of each warrior is truly spectacular. We also were very impressed with the tour of the city walls of XI'an.
October 2014
Our trip to Xian was overwhelming!! The terracotta warriors are absolutely worth to see, even it meant for us to get up at 4 a.m. to be at the airport in time and to come back to the hotel late at night :) The excavations in Xian – they are 3000 years old – are in an incredibly good shape and impressive in many ways. Our friendly and funny guide Chin took a lot of time to explain everything and to made this a day we will not forget. The cherry on the cake was the visit of the old city wall of Xian. We took a bicycle and had a wonderful ride into the sunset on top of the wall. Absolutely recommendable!
October 2014
A must see and an easy way to do it if you only have a day. The guides made it easy - from the hotel pick up to the flights to the tour itself - and were very knowledgeable. Not even the constant rain that day took away from the experience.
May 2014
Trip of a lifetime. Great service from driver and previous night's guide. Jennifer was extremely concerned about our arrival at airport and successful navigation of airport. She wrote detailed directions for us and gave us her phone number in case of emergency. Very caring.
October 2013
Sara our guide was fabulous. This was a long trip but the best one we did. The warriors are just awe inspiring. An amazing piece of history. Good driver, good lunch and highly recommend this tour even though it's quite expensive. Well worth it.
Anonymous
June 2013
I went to Shanghai for a conference and had one day free day to check out some other cities. Xi'an was my first choice because of those Terracotta warriors. The day turned out to be perfect! My guide was very fun and informative. Food was great! Highly recommended if you are on a tight schedule.
November 2015
Long long day, but the tour of the site was great, I did not realize it was so massive, well worth the trip
April 2015
Great but very short on time to get to airport. Bit stressful! Also we had a factory visit and had no time to visit old walls of X'ian
October 2014
A great trip to see an amazing part of China's history. Our guide Sally was outstanding and very accommodating. Would loved to have stayed in this city longer but time was against us. Unfortunately our day ended up being extremely long ( 22hrs) as our departure from Xian back to Shanghai was delayed 4 hrs due to bad weather in Shanghai, certainly no fault of Viator.
Advertisement
Advertisement