Discover the ancient attractions of Xi'an, a city considered the birthplace of Chinese civilizations, on a full-day tour from Shanghai by air. Disregard time constraints and travel to the captivating region on a plane; gain fascinating insight into the rich heritage of Xi'an with a knowledgeable guide and visit historical highlights guaranteed to impress. See the 2,000-year old Army of Terracotta Warriors in their regal mausoleum and stroll beside the impressive city walls of Xi'an, built during the Ming Dynasty. Enjoy a delicious Chinese lunch and convenient round-trip transportation from your Shanghai hotel on this enriching and time-efficient tour.
Highlights
Day trip to Xi'an from Shanghai by air

Visit the famous Army of Terracotta Warriors

Walk along Xi'an's City Walls, one of the best preserved city walls in China

Chinese lunch included

What You Can Expect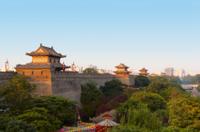 Depart from your Shanghai hotel in a comfortable, air-conditioned minivan and venture to the airport to board your flight to Xi'an. On arrival, greet your knowledgeable guide and head straight to the Army of Terracotta Warriors, a magnificent mausoleum housing Emperor Qin Shi Huang, whose reign began in 246 BC. Hear of the incredible archeological excavation's rich history and capture photographs of the 6,000 warriors.
Revitalize with a traditional Chinese lunch then head to the Xi'an city walls, ancient structures that date back to the Ming Dynasty. Tour the well-preserved walls with your guide and learn about how they functioned as impenetrable military defenses.
When your tour comes to a conclusion, return to the airport in a spacious vehicle and board your return flight to Shanghai. On arrival, travel back to your hotel with impressive memories of your sightseeing experience.
June 2016
Great fantastic tour I had a private tour in shanghai as I was only one booked for that day. Kimi my tour guide was very pleasant, and very knowlegable. I enjoyed the day, which was VERY long ,tremendously. Day began with pickup at hotel at 530 AM , flight to Xian, and return to my shanghai hotel at midnite. The warriors were highlight of day,or maybe even my entire stay in China. Kudos
July 2015
Xian is a fascinating city. The Terra Cotta warriors are stunning and well worth visiting. The highlight of my trip to China. The city of Xian was very beautiful and still has the 13th Century walls intact and a number of other interesting buildings from the 13th Century. A long day but very worthwhile. Air delays into and out of Shanghai Airport make the day even longer
December 2014
We had trouble working a visit to the warriors in our itinerary so took advantage of this one day trek. It was a very long day and expensive but we would not have missed the opportunity to see the site. It was breathtaking to say the least. Pictures cannot convey the magnitude of the pits. The fact that each warrior is different is mind boggling and the exacting detail of each warrior is truly spectacular. We also were very impressed with the tour of the city walls of XI'an.
October 2014
Our trip to Xian was overwhelming!! The terracotta warriors are absolutely worth to see, even it meant for us to get up at 4 a.m. to be at the airport in time and to come back to the hotel late at night :) The excavations in Xian – they are 3000 years old – are in an incredibly good shape and impressive in many ways. Our friendly and funny guide Chin took a lot of time to explain everything and to made this a day we will not forget. The cherry on the cake was the visit of the old city wall of Xian. We took a bicycle and had a wonderful ride into the sunset on top of the wall. Absolutely recommendable!
October 2014
A must see and an easy way to do it if you only have a day. The guides made it easy - from the hotel pick up to the flights to the tour itself - and were very knowledgeable. Not even the constant rain that day took away from the experience.
May 2014
Trip of a lifetime. Great service from driver and previous night's guide. Jennifer was extremely concerned about our arrival at airport and successful navigation of airport. She wrote detailed directions for us and gave us her phone number in case of emergency. Very caring.
October 2013
Sara our guide was fabulous. This was a long trip but the best one we did. The warriors are just awe inspiring. An amazing piece of history. Good driver, good lunch and highly recommend this tour even though it's quite expensive. Well worth it.
Anonymous
June 2013
I went to Shanghai for a conference and had one day free day to check out some other cities. Xi'an was my first choice because of those Terracotta warriors. The day turned out to be perfect! My guide was very fun and informative. Food was great! Highly recommended if you are on a tight schedule.
CLAYTON F USA
November 2015
Long long day, but the tour of the site was great, I did not realize it was so massive, well worth the trip

April 2015
Great but very short on time to get to airport. Bit stressful! Also we had a factory visit and had no time to visit old walls of X'ian
Advertisement
Advertisement