Explore the picturesque perimeter of Shanghai during a cultural full-day tour to rural Chinese villages. Explore the architectural jewels of Seven Treasure Town, a traditional town famed for its rich textiles; travel back in time amid the historical landmarks and ancient bridges of Zhuilaiiao, renowned for its Ming monuments; and enjoy an idyllic boat ride to visit an archaic Silk Mill. Convenient round-trip transportation from your Shanghai hotel is included in this tour.
Highlights
Explore quaint Chinese villages, including the water town of Seven Treasure Town and Zhujiajiao

Learn the art of silk making

Relax on a sightseeing boat ride

Lunch is provided

Informative and friendly guide

Includes hotel pickup and drop off

What You Can Expect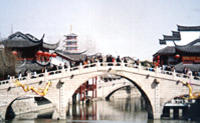 Depart from your Shanghai hotel in a comfortable, air-conditioned minivan and travel to the first of your rural Chinese villages. After admiring the spectacular scenery, arrive at Seven Treasure Town, a place replete with attractions as alluring as its name. Hear about the town's prosperous past and how its name conjures associations with exquisite materials like cloth, yarn and carpentry. See a unique wedding hall used for modern marriages within a textile mill; visit a shop producing traditional rice wine; and learn of other indigenous trades like bamboo craft and blacksmithing.
Next, travel to another of Shanghai's fascinating suburbs to visit the ancient water town of Zhujiajiao. Boasting a picturesque position upon the Dianpu River, the town is renowned for its perfectly preserved Ming and Qing Dynasty architecture. Weave your way through a tangle of streets thronged with ancient bridges and quaint courtyards during your comprehensive tour.
Enjoy an authentic cultural experience as you see local go about their daily lives and labors in the center then climb aboard a boat for a leisurely ride on the Dianpu River. Admire gently swaying willow trees then enjoy a fulfilling lunch before returning to Shanghai in your comfortable vehicle.
May 2010
This is another experience of Chinese culture. We experienced the daily chores of people living in these villages as they did many years ago. The architecture of the ancient bridges and houses are all so eye-catching. The leisurely boat ride was very enjoyable and the taste of the local food is yet another experience not to forget.
January 2016
July 2015
A good tour with very good guide. The water town is interesting and the Gondola ride a highlight
June 2015
Very Interesting day visiting two water towns close to Shanghai
October 2011
Beautiful tour and a must see.

Violet Singapore
March 2011
nice experience.. but do either the zhouzhuang or this.. not both as they are pretty much the same thing..
Craige P Australia
May 2010
I had a private guide who was very good although he explained nothing about the history of the villages to which we went which was disappointing. The villages themselves, while quaint and 'old world' are real tourist traps, unfortunately, although this is not a criticism of the tour. Just don't expect what the promotional descriptions suggest!
July 2012
the town was peaceful. However, lunch was horrible!
JESUS B Jordan
July 2010
The guide focused in one aspect of the visit of Zhujiaojiao the visit to a house and beautiful garden but did not take us to the other main points yemples, Pharmacy to be visited in the water village. Then... we really do not know what is the 7 treasure Town, we were just taken to a market neighborhood of Shanghai and then directly taken to a SILK factory, obviously for us to spend money. Very disapointing.
Advertisement
Advertisement