Taking a camel ride is a classic part of the Egyptian experience. So make sure you don't miss out with this camel safari and optional dinner experience from Sharm el Sheikh. Head into the desert by air-conditioned vehicle, and enjoy a ride on one of these hardy herbivores — the trusty transport of the Bedouin peoples. Afterward, relax with a cup of Bedouin tea made with 'habak,' a local mint-like herb. If you wish, upgrade to include a delicious Bedouin dinner in the desert before your return to Sharm el Sheikh.
Highlights
3.5-hour camel ride experience from Sharm el Sheikh
Take a 1-hour camel ride in the rugged desert
Enjoy a cup of traditional Bedouin tea made with minty habak
Upgrade to a 5-hour experience to include a delicious Bedouin-style dinner in the desert
Enjoy a tasty meal of Bedouin specialities such as hummus, meat stew and flatbreads
Hotel pickup and drop-off included
Recent Photos of This Tour
Camel Safari with Optional Bedouin Dinner
What You Can Expect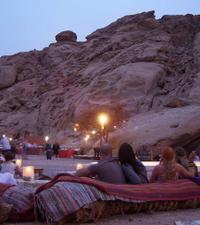 Choose your tour option when you book. Then, on the day, leave your Sharm el Sheikh hotel and travel by air-conditioned vehicle into the rugged desert surrounding the resort.
As you travel, hear how the Bedouin peoples of the area have depended for centuries on single-humped dromedary camels and how they are perfectly evolved for life in the desert. The humps store fat that's then broken down into water and energy, so giving the camel their legendary ability to travel long distances without water.
On arrival at the camel farm, receive a safety briefing and instructions for riding trusty desert steed. Then, climb up onto your camel and enjoy a ride across the sandy terrain. Learn how to master the rolling gait and enjoy the views from your elevated perch.
After your roughly 1-hour ride, return to the camel farm and enjoy a Bedouin tea, made with mint-flavored habak. Sip on the refreshing brew and relax as you chat over your camel ride adventures.
If you've upgraded to enjoy an optional Bedouin dinner, sit down to a delicious meal. Traditional Bedouin meals usually consist of small plates of food shared between everyone, so expect to dig into tasty dishes such as hummus, meat stew, salads and pickles, all served with fluffy Bedouin flatbreads.
As you eat, absorb the torchlit setting and desert surroundings — it's a magical experience!
Afterward, relax on your ride back to Sharm el Sheikh where your trip ends with a hotel drop-off.
Please note: Due to demonstrations currently taking place in Egypt, some tours may be slightly impacted. This is not expected, but in such cases, alternative attractions may be visited for our customers' safety. We are in frequent contact with our local suppliers and guides all over Egypt, and they report that all tours are operating as scheduled. Should the situation change, we will update this information and customers will be notified of alterations or cancellations to tours.

July 2011
Amazing trip, we took our little girl who is only three and she sat on the camel with me - the whole experience was just out of this world. Dinner was amazing, people were so welcoming! Would recommend its no cheaper in Egypt!
Julie R United Kingdom
February 2011
Fantastic from start to finish! Private pick up and private camel ride just our family of 3. We were then took to a camp where my 7 year old made bread and the Bedouin's had prepared some dinner for us. Really worth the money and the view of the stars at night was brilliant. I have used Viator for previous trips and as usual, was not disappointed. Thumbs up and good value for money. Our driver Hathim was very knowledgeable and spoke very good English - thanks Viator.
January 2011
Great fun, a little uncomfortable maybe...lol. We went as a family and found the young Bedouin children enchanting as they led us through the desert. Family members had camels according to their place in the family so my husband was up in the clouds somewhere!!!! ( as we were a family of 6) If you are in Egypt this is a must. Our tour guide also had some great info on camels and how they are used in the deserts.
Sue P USA
December 2010
The Private Camel Safari with Bedoin Dinner excursion was fantastic! It was a real thrill to ride the camels for about an hour and then go to the Bedoin camp to make bread, watch sunset from a cliff, enjoy tea and a wonderful dinner, smoke shisha and conclude with some traditional Bedoin dance. My only complain is that the time went by too fast! Great time!
Linda D United Kingdom
July 2010
Really enjoyed the trip. Our guide was excellent, he looked after us really well and gave us lots of interesting information about Egypt and the bedouins on the way to the experience. He was happy to answer all our questions as well throughout the trip. We would have liked a bit longer on the camels and to have been given more photo oppertunities. Otherwise all really happy overall.
Charlotte K United Kingdom
November 2008
Brilliant, this really is a must for anyone. We had a driver and guide all to ourselves. The guide was very informative and stayed with us at all times. My youngest son made bread in a Bedouin tent and we drank tea. We then watched the sun set over the mountains. It was well worth the money and an unforgettable experience. You do need a visa for this trip, as you are taken out of Sharm.
Anonymous
November 2008
It was very exciting and we loved it! Our guide and driver were very polite and knowledgeable. Thank you and we will recommend this to all our friends.
Pierre Y D USA
January 2012
Overall, it was very good.
December 2011
Me and my fiancee really enjoyed the camel ride and spend time with bedouin. The guy from Aviator (apologise can't remember his name) was really friendly and kind. He gave us lots of information about the beouins' s life style. We took some amazing photos while we were there. I really recommend a trip a like that.
Benjamin K USA
May 2010
Fun evening, beautiful sunset.
Advertisement
Advertisement