Explore Cairo's monuments, museums and markets with an Egyptologist on a private, full-day tour from Sharm El Sheikh. Travel to Cairo in an air-conditioned vehicle, then learn Egypt's fascinating history as you discover the Giza Plateau. Take in iconic views of the sphinx and pyramids, add an optional tour of the Solar Boat Museum or a pyramid interior, then take in gleaming arifacts and priceless relics at the Egyptian Museum. Visit Khan el Khalili bazaar and visit the Papyrus Institute before beginning your return trip to Sharm El Sheikh.
What You Can Expect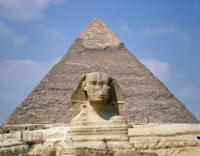 Depart from your Sharm el Sheikh hotel and drive to Cairo, home to the Great Pyramids and Sphinx. Your Egyptologist guide will introduce you to each of the pyramids from the outside and you will have time to enter inside one (additional cost).

Continue across the plateau for a photo opportunity of the pyramids rising from the sands with the Cairo skyline in the background. A short drive across the plateau finds you standing at the feet of the Sphinx. Also in Giza you may visit the Solar Boat Museum (optional), home to the funerary boat of Khufu.

Housing 165,000 Egyptian artifacts, the Egyptian Museum in Cairo attracts millions of visitors a year. The highlight for most are the rooms containing the priceless treasures of King Tutankhamun. Here you can see the mummies of many great Egyptian rulers, including Ramses II. Your guide will introduce you to the most important pieces in the museum before allowing you free time to explore.

Continuing to Khan el Khalili bazaar, your guide will introduce you to the famous markets. Enjoy free time to stroll through the maze of streets and try your luck bargaining for a souvenir of your trip to Egypt.

This is a private tour allowing you to determine the amount of time spent at each site during the tour. In addition you will have the chance to visit a Papyrus Institute to see how this famous artwork is made and to purchase genuine items if you wish.
Jill B United Kingdom
October 2010
This tour was absolutely superb. The minibus (for our party of 4) was clean, modern and safe; the driver also drove safely and carefully, which admittedly made the drive 8 hours each way but I'd prefer that to some of the kamikaze driving of the local taxi drivers. The guide, Ayman, was friendly and happy to chat about his life and give us a fantastic glimpse of real Egyptian life. The Cairo guide (Nadr?) was knowledgeable and made sure we fully appreciated what we were seeing. Lunch was on a Nile riverboat (moored), and was delicious. Only slight negative would be that we were taken to a perfume shop where we were basically trapped into a hard sell, but we were able to leave without buying anything. Overall a brilliant trip. The drive is long, but you see the real Egypt on the way. Not to be missed.
MUBEEN S United Kingdom
November 2008
We enjoyed this excursion alot and our tour guide was very intelligent and friendly. We really had fun with her.
Mandy N United Kingdom
November 2008
Don't do Cairo by coach. It would be better to pay the extra money and fly. The people we met were fairly nice esp our driver, the minibus we were on broke down and he was so sorry. We had a good day and our tour guide was nice, the main prob was the distance and on way back we had a large coach with just 5 of us in. Unfortunately this meant the bus moved around a LOT and the driver was going way to fast. We left Cairo around 5:30pm and got back to the resort at 1:35am. Needless to say i was very ill. It was the longest bus ride of my life! I remember waking up to squealing brakes as we went so fast through a corner it felt like the bus was going to go over. I felt we were also rushed around, especially after the bus broke down.
Advertisement
Advertisement