Discover the starry magic of the desert and enjoy a traditional Bedouin dinner with this 4-hour private stargazing trip from Sharm el Sheikh. With a private guide, travel into the desert at sunset and, as darkness falls, enjoy a private, guided stargazing session. Use long-range telescopes to scan the twinkling heavens as your guide points out the different stars, planets, constellations and galaxies. Then, finish with a refreshing Bedouin tea and scrumptious dinner of Bedouin specialities as you soak up the sheer romance and beauty of the desert at night.
Highlights
Private star-gazing and Bedouin dinner tour from Sharm el Sheikh
View the desert stars by telescope and the naked eye
Authentic Bedouin dinner
Enjoy privileged, personalized attention from your guide on this private tour
Pick-up and drop-off from most central Sharm el Sheikh hotels
Recent Photos of This Tour
Private Tour: Egyptian Stars and Bedouin Dinner
What You Can Expect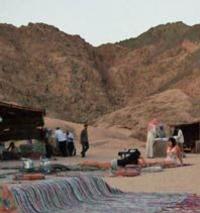 Depart your Sharm el Sheikh hotel by comfortable, air-conditioned vehicle with your informative private guide.
As you travel, hear how the night skies over the surrounding desert are completely free of the reflected glow of city lights, making them ideal for stargazing.
After a short journey, arrive at a Bedouin-style camp and settle down for a guided stargazing session, with your own private guide to show you the essentials and point out the stars and sights above.
Make use of the supplied long-range telescopes to observe the moon and skies and, depending on the planetary alignments, look for celestial bodies such as the rings of Saturn, as well as faraway galaxies and starry constellations.
Because you're far from any light pollution — a rarity in today's world — you can expect wonderfully clear views of the heavens.
After your stargazing session, sip on a refreshing Bedouin tea and sit down to a mouth-watering Bedouin dinner.
Traditional Bedouin meals usually consist of small plates of food shared between everyone, making them not only delicious but sociable affairs.
Dig into goodies such hummus, meat stew, salads and pickles served with fluffy Bedouin flatbreads, and soak up the enchanting desert setting as you eat.
When the time comes, hop back inside your private vehicle and travel back to Sharm el Sheikh, where your trip ends with a hotel drop-off.
Please note: Due to demonstrations currently taking place in Egypt, some tours may be slightly impacted. This is not expected, but in such cases, alternative attractions may be visited for our customers' safety. We are in frequent contact with our local suppliers and guides all over Egypt, and they report that all tours are operating as scheduled. Should the situation change, we will update this information and customers will be notified of alterations or cancellations to tours.
July 2015
First Class, personal service. Outstanding and flexible. Made the trip memorable.
December 2010
We had the most fantastic evening thanks to our hugely knowledgeable guide.The Bedouin people were hugely hospitable, the scenery was amazing and the company of my favorite person in the world just finished it off perfectly. I will only ever use viator to book my excursions abroad. Very well organized. Not a single hiccup over 6 excursions!!! Outstanding!!!
December 2010
Our tour was amazing! Our guide was professional and informative, yet casual enough to have fun with us. The Bedouin community was incredibly welcoming. The entire experience was a highlight for our stay in Egypt. I would recommend to anyone.
August 2008
Very pricey, you can do it cheaper buying in Egypt. BUT there was just the two of us on the tour so we got our own tent, rather than sharing with 20 other people. We were treated like stars, excuse the pun, and it was so romantic -- my boyfriend proposed to me! Fantastic night!
December 2010
The view of the stars was amazing !
Robert D United Kingdom
March 2010
This makes a nice relaxed evening out and surprised how much those Bedouin know, you cannot beat the Egyptian dessert for a true look at the milky way
Lisa M United Kingdom
August 2008
This was a great trip and well worth doing. I even had the opportunity to make some Bedouin bread. My only negative would be that after looking through 3 telescopes at Saturn, the Moon, and one other, a guide tells you about the stars and tries to point out various constellations with the naked eye. This part wasn't so good. None of my party could see, and after a while it made you feel quite dizzy looking up at the sky for so long.
June 2012
First off, Viator and the tour company they hired provided a great service on this tour. However, there were a few things I did not like:
We paid a much higher rate through viator for a private tour. While we did have our own tour guide, Mohsin, who was fantastic, our "private" tent was really a shared tent separated from the other groups by cushions. To make it more private, our guide kept us at the tents while the other groups used the telescopes. However, doing this meant we missed most of the explanation of the constellations provided by the astrologist.
I still very much enjoyed the tour, but I think I would prefer a less expensive group tour, to the not-so-private tour we received.
July 2010
The private tour was good as it was just the four of us. We were taken to the meal point and had our own private guide so we weren't subject to waiting with the other coach loads. The problem came when it was time for the star gazing as there were a number of other groups meaning the waiting time for the telescopes was longer and a couple arrived late so we had to wait. The advantage of the private tour was that we were able to leave when we wanted when we heard others complaining about the length of waiting time. I'd suggest smaller groups for this tour. The meal was lovely, the sunset was beautiful and our guide was informative and attentive.
Rodrigo M Brazil
December 2009
It could have been a real Bedouin dinner, which was not! We could of had more time to watch the stars also!
Advertisement
Advertisement