Visit Ras Mohamed National Park on a 6-hour private tour from Sharm El Sheikh, and explore a stunning landscape where the Sinai Desert meets the sea. Soak up the sun on unspoiled beaches, walk over rippling sand and take in jagged, sandstone cliffs in in Egypt's oldest and most distinctive national park.
What You Can Expect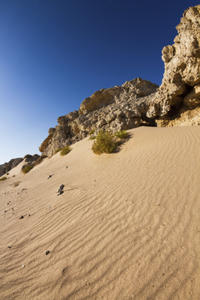 You will have the whole morning exploring the contrasting areas of the park, including beaches, cliffs and desert.
Diane P United Kingdom
July 2010
Unfortunately, this was not as spectacular as we'd expected. We have more beauty in England at these sort of places.
John W United Kingdom
July 2010
Beware! We took this trip with great expectations, but were turned back at the entrance as we did not have visas! The site does not mention any need to have a visa, and the only place you can get one is at the airport. The tour guide asked us if we had our passports but did not ask if we had visas. Fortunately, the tour guide put himself out to get us transferred to the boat tour of Ras Mohammed, and this was brilliant. So do the boat trip, but beware as you may need a visa for this one as well.
Advertisement
Advertisement