Go deep into the Sinai for a desert Jeep safari, snorkel Abu Galum and learn to ride a camel on a full-day adventure tour from Sharm El Sheikh. Watch for desert wildlife as you navigate rugged terrain to the Colored Canyon, whose fantastic formations are shaped by desert winds; slip into the waters of the iconic Blue Hole and mount a camel for a trip into the sand. Relax over a Bedouin lunch, then browse for souvenirs in the seaside village of Dahab before returning to Sharm El Sheikh.
Highlights
Full-day private tour from Sharm el Sheikh to Abu Galum's dive sites and shopping at Dahab
Perfect day trip for families
Scenic jeep ride through the south Sinai
Dive one of Egypt's most famous dive spots at the Blue Hole
1.5-hour camel ride
Traditional Bedouin lunch
Bargain shopping for traditional souvenirs in Dahab
Enjoy privileged, personalized attention from your English-speaking driver and guide on this special private tour
Pickup and drop off from central Sharm el Sheikh hotels
Recent Photos of This Tour
What You Can Expect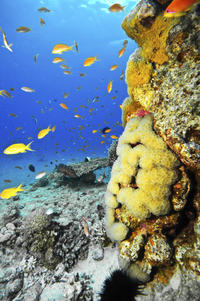 Start your day with a two-hour jeep safari from Sharm el Sheikh to the amazing Colored Canyon. Along the way, keep your eyes open for the local wildlife, including Nubian ibex, red foxes and striped hyenas.

Then it's time to snorkel the reef gardens of the Blue Hole, arguably Egypt's most famous dive spot. You will have around 30 minutes of snorkeling time. Then dry off with a camel ride through the Egyptian desert before enjoying a traditional Bedouin lunch. The camel ride lasts for approximately 1.5 hours.

In the afternoon, you'll travel to the Bedouin village of Dahab for some shopping. Here you will find a large selection of souvenirs such as papyrus prints, brass lamps, jewelry, perfumes, leathers and inlaid boxes, all at prices generally cheaper than in Sharm el Sheikh. You will have 45 minutes to an hour to search out some bargains.

Please note the order of the activities is subject to change as required by local conditions.
Fabio S United Kingdom
March 2010
An unforgetable experience!
Leilani S USA
June 2009
You should probably be fairly adventurous for this! But insist on skipping the shopping.
Mara H Switzerland
June 2010
This is definitely worth doing especially if you are lucky enough to have an excellent guide as we did. If you stop at the perfume shop, please make sure you watch while the perfume you selected is being put in the bottle as I bought one specific fragrance and when I got home I realised it was something else! The snorkeling was very good but if you are not an excellent swimmer make sure you wear a life jacket and remember to bring your own equipment if you do not like surprises!
Samantha C United Kingdom
June 2009
We were expecting to go in an open top 4 x4 jeep over sand not in the back of a closed jeep. Loved the snorkeling and camel ride. Was surprised to find that we had to hire equipment for snorkeling at additional cost, and to be taken to places where we were being sold to and felt pressured into buying. Overall the trip was good and so was the guide.
Adrian M United Kingdom
February 2010
It was ok until we got to the snokeling as we had already paid a lot of money for the trip and it wasn't stated that you have to pay a lot of money to do the snokeling by hiring the wet suits, etc. I think details like that should be stated. If we'd known we wouldn't have gone. I would never go again.
Advertisement
Advertisement