Witness sunrise from Mt Sinai and visit St Catherine's Monastery on this private trip from Sharm el Sheikh. Leaving in the evening and traveling with a private guide, head into the southern Sinai desert as your guide shares the biblical history of this sacred mountain, where it's believed Moses received the Ten Commandments. Climb to the summit to experience a spectacular sunrise and then descend for a guided tour of St Catherine's Monastery's church and treasures. Afterward, return to Sharm el Sheikh, with a stop for lunch along the way.
Highlights
Full-day private tour to Moses' Mountain and St. Catherine's Monastery from Sharm el Sheikh
Watch the sun rise over the Sinai Mountains
Walk in the footsteps of Moses to the place he received the 10 Commandments
Visit the historic St. Catherine's Monastery, believed to have been built on the site of the Burning Bush
Greek Orthodox chapel with its icons and famous Mosaic of Transfiguration
Early-morning start means you miss the afternoon desert heat
Enjoy privileged, personalized attention from your expert Egyptologist guide on this special private tour
Pick-up and drop-off from central Sharm el Sheikh hotels
Recent Photos of This Tour
Private Tour: St Catherine's Monastery and Moses' Mountain at Sunrise
What You Can Expect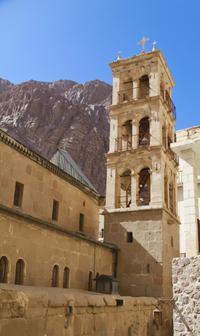 Begin your experience with a late evening pickup from your Sharm el Sheikh hotel. Meet your friendly private guide, and hop inside your comfortable, air-conditioned vehicle for your journey to Mt Sinai in the southern Sinai desert.
As you travel, hear about the history of the mountain, known as the Mountain of Moses — the place where, according to the bible, Moses received the Ten Commandments, and a place of religious pilgrimage down the centuries.
On arrival, start to climb the steps to the summit, led by your guide. If you wish, ride a camel part of the way (additional cost), before climbing the final stairs to the top in time to witness a stunning sunrise.
Drink in the jaw-dropping views as the dawn illuminates the peaks, and take photos as you revel in the setting. Once you've taken in the scenery and atmosphere at the top, descend back down to below the mountain.
Next, continue with your guide to St Catherine's Monastery. Built in the 6th century, this walled Orthodox complex is believed to stand on the site of the Burning Bush, where Moses is traditionally held to have spoken to God.
Head inside and tour the highlights of this venerated building. Explore the icon-coated 6th-century Basilica of the Transfiguration, and view treasures such as the Mosaic of the Transfiguration as your guide explains their religious significance.
Afterward, settle back into your private vehicle and stop for lunch in the seaside town of Dahab before your
trip finishes with an afternoon hotel drop-off in Sharm el Sheikh.

Please note: St Catherine's Monastery is approximately 142 miles (230 kilometers) from Sharm el Sheikh, and the journey takes approximately three hours.
rasgui United Kingdom
February 2015
Tour is highly recommended. I done a tour only to myself. Best guide was who climb up the Mountain with me. There is a good breakfast as well. Amazing view!
January 2013
What can I say ... it was AMAZING!!!!! The guide and driver were awesome and made me feel safe the whole trip. The Bedouin guide up the mountain was absolutely charming and so supportive - it is not the easiest of climbs but so worth it! THANK YOU so much Viator - the trip was truly EXCELLENT!
June 2012
Viator was more expensive than booking at the hotel, but it's worth it! Our Bedouin guide for the climb, Ahmed, and the tour guide for the trip, Mohsin, were noticably more professional, friendly, and honest than all the others we observed during the tour.
Make no mistake, this is a physically demanding climb, but it is doable for reasonably active people. If you are quite sedentary, or overweight, hire a camel. However, keep in mind that the camel will only take you to the steps at the top of the mountain. These you will have to climb, and they are rustic and challenging, meaning they are not so much "steps" as strategically placed rocks.
The sunrise at the top was beautiful and well worth the journey. The view was inspiring. I could have done without the "pilgrims" who kept walking around to different spots on the summit, singing (badly) hymns at the top of their lungs. But, there isn't much to be done about that.
All in all, the tour was wonderful, Viator provided a fantastic service, and I'm glad to have done it... But, it's one of those tours I will only do once!
May 2012
An amazing experience! Very friendly and knowledgeable Egyptologist and Bedouin guides. The great advantage to a private tour is being able to ask questions and gain information that you possibly wouldn't ask on a 'group' tour. I went up the first part of Moses' Mountain by camel (an hour and a half on a camel is a LONG time - I literally couldn't feel my legs when I had to get off it again!) I recommend wearing long trousers - not just knee length shorts as I did! Then there are 750 'steps' to climb - very sandy and can be slidy - particularly when going up at night. We had a gorgeous moonlit night an the starts were amazing! At 4.45am we reached the summit and it was COLD!! Sunrise was 5am and it was as though someone had instantly turned on the heat - and WHAT a sight! Wouldn't have missed it for the world - worth all the exersion of getting to the top!! As you're climbing pretty much all night you are exhausted by the time you reach the bottom of the mountain again (unless I'm more unfit than I think!) and I was half falling asleep over breakfast at St Catherine's monastery. Bring a sarong or something to cover your legs if not wearing long trousers - if you don't have one, they'll supply a sheet type thing, but you must wear it! All in all the trip was WELL worth the price and effort - a real 'once in a lifetime' experience! I loved it and can't say enough about the Egyptologist and the Bedouin guide, they were fantastic - and both spoke fanstastic English! A brilliant trip by Viator - would definitely book excursions through them again!
August 2011
Excellent tour, the bedouin guide made it great! It's a fantastic and unique experience.
Very happy with the guide and the driver as well.
August 2011
The whole tour was incredible! Our tour guide, Ahmed was great. He and my husband hit it off immediately. Within 30 minutes they were joking and laughing ... and it didn't stop the entire way! He was very knowledgeable and even accompanied us up the mountain. He helped with the negotiation with the Bedoiuns for our camels. Our Bedouin guide, Mohammed was excellent as well. He was very quiet at first, but as he loosened up, he was joking around with the other guys too! I was really impressed with how many languages he spoke! This was by far, the best part of our trip to Egypt!

Jenny K USA
December 2010
This was an amazing trip with amazing views and I fully recommend it to people who enjoy hiking. We were picked up from our hotel in Nama Bay, Sharm El Sheikh, at about 10pm and it took about 3 hours to get to the base of the mountain. We started hiking at about 2am, got to the top at 5am and the sun came up at about 5:45am. The night I went happened to be a full moon, but otherwise I would have needed a flashlight for sure. Also, dress warmly! I wish I had worn warmer pants, gloves, and a hat. Luckily, there were some people who rented blankets at the top, otherwise I would have frozen! Again, highly recommended for people who enjoy hiking. It was fun to hike at night and the views are amazing during your hike down when you can see everything.
Philomena M Ireland
August 2010
A unique experience- Magical- Excellent guides - A memory to be treasured forever. Organisation and timekeeping excellent. Dont miss this trip if you are in Egypt!!
Deane T Croatia
March 2010
The guide was perfect, the venue was great, although crowded at the monastery due to a small entry and exit. Trip to the top of the mountain, recommend take camel, as it is a long way to the top. The views are worth it though. It is easier to walk down the camel path instead of the steps. Lunch was not so good, as it was a food fest! All in all a great tour, but a lot of time driving. 5 hours all in all from Sharm El Sheikh.
Stuart H United Kingdom
October 2008
The trip is great fun, but only suitable for the fairly fit. We walked, but camels can be hired to ease the jounrey seven kilometers, but you will still have to walk the last seven hundred steps. This was well worth the effort and, as usual for Viator, we had an excellent guide and great service was provided.
Advertisement
Advertisement