Special Offer
Book by December 31, 2015 to save 10% off our previously offered price!

Visit St Catherine's Monastery, the most important religious site in Sinai on a private day trip from Sharm el Sheikh. Travel in air-conditioned comfort with your own personal guide who will introduce you to the history and religious significance of the monastery and its surrounds.
What You Can Expect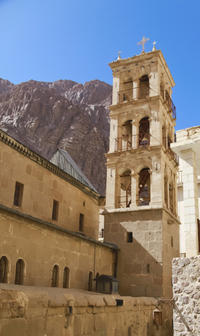 Situated at the base of the mountain where Moses received the ten commandments, St Catherine's Monastery is one of the most famous in the world. Built between 527 and 565 AD, it is believed to be built around Moses' Burning Bush. The Monastery is named after St Catherine who was tortured and beheaded for her Christian beliefs. During your visit you will see chapel Greek orthodox church, the icons of worship and the famous Mosaic of Transfiguration and enjoy a lunch in a local restaurant in Dahab.

Please note, St Catherine's Monastery is approximately 230 kilometers from Sharm el Sheikh.
September 2015
very good tour from a very good company
February 2014
We want you to know how much we enjoyed our tour of St. Catherine's Monastery on Thursday. This was due solely to our wonderful guide, Allam, and our excellent driver, Atef. We always felt we were in capable hands and we learned a great deal about Egyptian history and culture. Thank you again for enriching our time here in Sharm el Sheikh.
January 2013
amazing and awesomeeeeeeeeeeeeeeeeeeeeeeee
the happiest time for me in ma life really
May 2011
The trip was first class from beginning to end. The vehicle was roomy, and the guide was excellent. The meal was excellent and the restaurant setting could not have been better, especially as the sun was shining as we sat almost overlooking the sea.
August 2008
Excellent excursion. Thanks again.
May 2010
Definitely recommend seeing St Catherine's with a guide. Very busy place with several checkpoints on the way there.
Anonymous
October 2008
Guide was helpful and informative, monastery was crowded.
August 2008
Well worth a visit. We're glad we did it.
November 2010
What can I say? We got to St. Catherine's, looked at the church and left. That was it. My wife and I were very disappointed. We were then taken to Dahab to "shop" We didn't want to shop, we wanted a tour of the monastary which is what i though we paid for. And our "Egyptologist" was a young man who spoke Emglish and attended some history classes in University. It seems the only history he knew was history according to the Koran or the Egyptian government. I'm also not sure if the police escort we rode with was there to protect us or watch us. We were picked up promptly at our hotel and dropped off again without issue. The driver and vehicle were good.All in all, not a tour I would recommend if you actually want to see the monastary. If you just want to be able to say you were there then it works just fine.
Special Offer
$67.00 Save $6.70
Advertisement
Advertisement