Witness one of the world's most beautiful underwater sites on a cruise day trip to Ras Mohammed National Park from Sharm el Sheikh. Admire the scenery as you sail to the protected Ras Mohammed marine reserve, famous for its glorious coral reefs, marine life and crystal-clear waters. On arrival, use your own snorkeling gear or the supplied equipment to explore the spectacular undersea world, swim in the warm waters or simply sunbathe on deck — your choice! Your cruise includes an onboard buffet lunch and complimentary sodas and mineral water throughout.
Highlights
Day trip to Ras Mohamed National Park from Sharm el Sheikh
Snorkel one of Egypt's most popular sites
Lunch and drinks included
Snorkeling gear available to hire
Suitable for beginners and families
Pickup and drop off from most central Sharm el Sheikh hotels
Recent Photos of This Tour
Ras Mohamed Red Sea Cruise and Snorkeling
What You Can Expect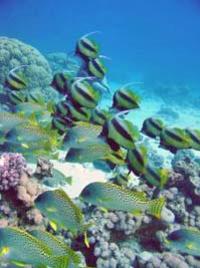 Leave your Sharm el Sheikh hotel or central Sharm meeting point by air-conditioned vehicle, and travel to the departure dock where your cruise boat awaits.
Hop aboard and find a spot on the comfortable shaded or sun decks as you admire the glittering Red Sea.
Then, drink in the sunshine and scenery as you sail to Ras Mohammed National Park, a protected land and underwater reserve on the southernmost tip of the Sinai Peninsula.
Your destination is the Ras Mohammed marine park, where huge swathes of coral reefs and diverse marine life thrive at the point where the waters of Gulf of Suez and the Gulf of Aqaba meet.
As you cruise, stay refreshed with the complimentary sodas and mineral water.
Then, on arrival, spend the best part of the day snorkeling, swimming and sunbathing as you wish. Your captain will drop anchor at a string of the best snorkeling sites.
Bring your own snorkeling equipment orhire (additional cost) a facemask, snorkel and fins from those available. Then, after a safety briefing and instructions, simply splash down into the translucent shallows.
Drift over vivid coral reefs, anemone gardens and incredible rock formations, and watch for the stunning array of undersea life, from angel fish and butterfly fish to wrasse, groupers, parrot fish, and even graceful rays and turtles.
Return to deck for a delicious buffet lunch, and continue your snorkeling and swimming in the afternoon. Otherwise, lounge on deck perfecting your tan — it's up to you!
When the time comes, cruise back to the starting jetty and finish your tour at the original departure point.
February 2015
An exceptional experience that I shall treasure for a long time! The Blue Hole was a comfortable cruise boat, with helpful and knowledgeable staff. My first snorkeling experience was amazing, I was made to feel very comfortable and secure! An enormous thank you!
August 2014
I cannot swim but i went to ras mohamad and was encouraged to get in the water and do some snorkeling the tour guides got in the water with me and ensured all was safe i really enjoyed the experience and am already planning my next trip to Egypt the Hilton hotel in Sharks bay was also brilliant
January 2014
Fantastic tour, fantastic staff, most willing to give the best out of the trip and also fix small problems that always turn up. They even called and said that they were going to be a little late for the hotel pick up time... very good service.
November 2013
Fabulous tour and snorkeling on the reef, guides we all friendly and helpful. Only negative was that general information addressed by the Tour Guide(s) was conducted in non-English.
August 2011
We had an absolutely amazing experience with this tour! Being brand new to Snorkelling and terrified of the sea I did cry when first getting into the water, the team were fantasic and really helped me. By the last snorkeling spot I was jumping off the boat into the water!
Food was fantastic and crew were great and really got involved, showing us a map of where we where and a range of fish we were likely to see. Only one slight issue we had was the bus was late to pick us up and that was purely the fault of another passenger who couldn't find their passport!! Couldn't rate this tour any higher!!
Jennifer W United Kingdom
June 2011
We booked this online the day before the trip and by that evening we had a fax to the hotel with pick up details and contact info. Transport to the marina was fine, bit chaotic at the port but that was more reflective of the volume of people there. We were on the 'Cinderella' boat. Very clean and comfortable with foam mattresses and seats. The staff were pleasant, enthusiastic and could not do enough for us. Lunch was delicious. The snorkelling was amazing and Ras Mohammed a must of you like the water. The variety of fish and coral was fantastic including rays. Guides in the water kept everybody right and a third watched from the boat. Currents can be stronger in some areas therefore would definitely recommend you hire flippers on the boat if you do not have them otherwise can be a tiring swim. Saying that, everyone from our boat was in the water and there were no issues. My mum got loads of support from one of the guides including giving her his mask when hers leaked. Buoyancy aids also available. Overall a great trip. Would definitely go again!
DAISY H United Kingdom
April 2011
Well organised, good food, good company and the crew was excellent.
Sue P USA
December 2010
The Red Sea Cruise and Snorkeling trip was outstanding! The boat was large and was not even booked to half of its capacity. The guides were very knowledgable and provided a thoroughly enjoyable experience. Two thumbs up!
Magdalena S United Kingdom
July 2010
The trip is worth doing if you are a snorkeller. We went on a boat called Pirates. It was a beautiful ship. The staff were very freindly, especially Honemoon and Camel and the diver.unfortunatly I cannot remember his name. I cannot swim at all so I stayed on the board and at the second stop I was offered a personal assisted sea life viewing with the diver. Firstly, he guided the group to the corals and then he came back to pick me up. I was given a life jacket, I also asked for a buoyancy ring as I really can't swim. The diver was really good, he kept my hand at all times and when I felt that I had enough he brought me back to the ship and the other staff kindly put the ladder more down than they usualy do so I could easily reach steps. It was a very nice experience and I never thougt that I would be going snorkelling. We spent nearly 8 hr on the ship. There were 3 stops where people can go snorkelling. The lunch was nice too. We had a small crash but the trip was enjoyable and staff very friendly and professional. Magdalena&Michael
Hathem S USA
April 2010
We had an excellent time. The staff was great. The food was average.
Advertisement
Advertisement