Uncover the ancient mysteries of Angkor on full-day tour of its sacred temples from Siem Reap. Accompanied by an accomplished guide, marvel at the astounding architecture of the temple complex; gaze at the colossal Angkor Wat and decipher the enigmatic faces of the Bayon Temple. Explore the atmospheric Ta Prohm area, where trees intertwine their trunks with ancient ruins, and appease an appetite for authenticity with a traditional Cambodian lunch at Sras Stang. Enjoy personalized attention from your guide on this small-group tour with limited numbers.
Highlights
Full-day tour of Angkor Temple Complex from Siem Reap

See the iconic Angkor Wat
Visit the jungle temple of Ta Prohm
See the magnificent smiling stone heads of the Bayon temple

Enjoy a Cambodian lunch (included)

Recent Photos of This Tour
Angkor Temples Small-Group Tour
What You Can Expect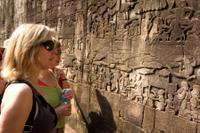 Depart from your Siem Reap hotel in a comfortable, air-conditioned minivan and enjoy the scenic surroundings on your way to the Angkor region. Stop first at the majestic Angkor Wat, a structure considered the masterpiece of the entire Khmer empire; marvel at its reflective pools and vast moat, then stroll through the galleries to see impressive bas-reliefs (carvings) depicting scenes of Ramayana, an epic Hindu poem.
Next, venture to Bayon to become hypnotized by the smiling stone faces of the temple. Gain fascinating insight into the temple's ancient origin from your guide, hearing of vicious battles and attempting to decipher the intricate bas-reliefs that detail scenes of cockfighting and childbirth.
Continue through the South Gate of Angkor Thom and marvel at the line of 54 gods and demons that create a dramatic spectacle beside the road. Revitalize with a locally prepared lunch of typical Cambodian specialties then conclude your tour with a stop at Ta Prohm, a mystical enclave in which tree roots intertwine with ancient ruins.
Return to the minivan and relax during the journey back to your hotel in Siem Reap, where the tour concludes.
June 2016
I thoroughly enjoyed this small group tour. We were able to see quite a few temples so it's definitely worth your time. Our guide was very knowledgable as well as polite and accommodating. I especially appreciated that he would take photos for me so I didn't have to rely on selfies alone! The driver was also very nice and always had cold water and towelettes on hand for us. Some complained that the tour involved too much walking but if you're young this should be no problem.
June 2016
Highly recommended for those people who love Historical sites.
June 2016
A small group of 4 in a nice van. The guide and driver were great. Our guide provided information about Angkor, Kmer religion, customs, and history, and good tips for tourists in Cambodia. Lunch was really good too.
June 2016
Apart from the scorching heat, it was an enjoyable, wonderful and amazing tour. Khmer lunch was good. Tour guide speaks english well and very knowledgeable of the temples' history. HE even showed us to get the water reflection shot of angkor wat without catching the sunrise setting. GReat!

June 2016
My small group tour of Angkor Temples included Angkor Wat, Ta Prohm, and The Bayon. The tour provided me with the absolute perfect path to experience these three magnificent temples in an easy, convenient, yet magical opportunity. I highly recommend this tour to anyone who is seeking the best way to experience these three most iconic Angkor temples. Our guide was excellent, and I made some friends during the experience. 5 Stars.
June 2016
Great day and great guide very informative. The group size was perfect and if you do come to visit go in the low season no queues.
June 2016
Guide was amazing and very informative, Tonteh. Very helpful, very nice and all around great tour.
May 2016
Our guide's name is Juan for short!. He has been a guide for 15 years and you can tell because he is very detailed in delivering information about the temples history. Very pleasant and kind man.
My husband and I loved all that he showed us and the lunch we had during our tour.
We ended our tour at 2:00 pm because by then, it was enough given the heath and all the territory we had covered. Great having our taxi picking us up at the temples exit, with the cool air conditioning running. Middle of May was pretty hot and an umbrella to protect from the sun was better then a hat!
May 2016
This tour was like walking through your television set and into a National Geographic special. Only better. The architecture, the design, the size and the age of these temples are beyond amazing. One member of our group noted our modern buildings are not going to last 800 - 1000 years. Yet they are still holding up and safe to explore. Our tour guides were great in explaining the history of the temples. They led us through at a leisurely pace, so we could have time to absorb the sights and the information and they did a good job of keeping us hydrated in the Cambodian heat. We highly recommend this tour.
April 2016
Our group was only 8 people so we had an excellent day going through the fabulous Angkor temples. Our guide Kamera did a great job with the group making sure everyone kept together and getting the most from the tour. We ended up seeing 4 temples on the day which was fantastic as each one has something unique to see.
Advertisement
Advertisement