Unravel the mysteries of the ancient Khmer capital with this private 3-night tour of Siem Reap and the UNESCO-listed Angkor temple complex. Enjoy the undivided attention of your guide as you stand before the mighty Angkor Wat, explore the fortified city of Angkor Thom and ride a remork to the ruins of Ta Prohm, Pre Rup and more. After 2 days exploring Angkor, escape the city for a cruise around the floating villages of Tonle Sap. This action-packed tour includes accommodation, hotel pick-ups and entrance fees.
Highlights
3-night tour of Angkor Archeological Park from Siem Reap with a private guide
Discover the UNESCO World Heritage-listed Angkor Wat and the jungle-clad ruins of Angkor Thom
Ride a remork to the Bayon, Ta Prohm, Banteay Srei and Pre Rup as you learn about the Khmer kingdom
Take a boat to Kompong Phluk, a Cambodian fishing village on Tonle Sap
Enjoy informative commentary, customized to your interests
Stay overnight at the Angkor Paradise
Airport or hotel pickup and drop-off by air-conditioned private vehicle included
Recent Photos of This Tour
What You Can Expect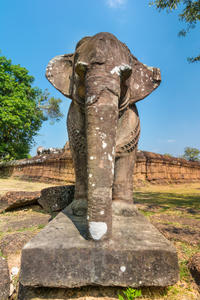 Let a private guide take you to the awe-inspiring temples of the Khmer Kingdom, including Angkor Wat, the world's largest religious monument! Your 3-night private tour of the UNESCO-listed Angkor complex, built between the 9th and 15th centuries, includes three overnights stays in Siem Reap with breakfast and two lunches. Travel by remork, boat and air-conditioned private vehicle. You'll also get complimentary round-trip airport or hotel transfers.
For sleep, enjoy twin share or double terrace rooms at the 3.5-star Angkor Paradise hotel in Siem Reap.

Itinerary
Day 1: Siem Reap – Angkor Thom – Siem Reap
You will be greeted at the airport or picked up from your hotel (if you're already staying in Siem Reap) and transferred to the hotel you selected upon booking. Drop off your luggage and start out on your private, guided tour to the old capital of Angkor Thom in the afternoon.
Hop in a private remork (tuk-tuk) for the 15-minute ride to the South Gate and walk along the ancient city wall with your guide, stopping for photos of magnificent demons lining the causeway. Explore the lost temple of Prasat Chrung for approximately one hour before continuing to the 12th-century Bayon Temple, surrounded by 51 stone towers; each features four serene faces of a smiling bodhisattva.
Your knowledgeable guide then accompanies you the Terrace of the Elephants, the Royal Palace and the Terrace of the Leper King, where you can spend up to two hours. Hear fascinating stories about the Khmer kings that once ruled the ancient city.
After your private tour, spend your evening at your leisure. If you're feeling social, take a dip in the outdoor pool that hosts a happy hour. Otherwise head to your air-conditioned room and enjoy dinner and drinks ordered from the room service menu.
Overnight: Angkor Paradise Hotel or similar in Siem Reap
Day 2: Siem Reap – Ta Prohm – Angkor Wat– Banteay Srei – Pre Rup – Siem Reap (B, L)
Rise early and depart from your hotel approximately 30 minutes before sunrise, traveling by remork to the jungle-covered temple of Ta Prohm. The UNESCO-listed temple complex is one of the most popular at Angkor. The monuments have been left in the same condition in which they were discovered in the 19th century.
Return to your hotel for breakfast, after which you visit the world-famous Angkor Wat, another UNESCO World Heritage site and the best preserved of all the temples in the Angkor Archaeological Park. Your private tour around this magnificent 12th-century structure lasts a few hours. Discover numerous surviving stone temples, once surrounded by wood palaces, public buildings and houses that have since disappeared.
Following lunch at a local restaurant in the afternoon, drive to the temple of Banteay Srei, built in the 10th century. Located 19 miles (32 km) from Siem Reap, the small
UNESCO-listed
temple is dedicated to the Hindu god Shiva, but is dubbed 'Citadel of Women' for its ornate sandstone carvings, a crown jewel of Angkor art.
After your 1.5-hour private tour, take some time to explore on your own and enjoy a provided lunch. When it's time to head back to Siem Reap, you might even catch the sunset descending behind prongs of Pre Rup.
Overnight: Angkor Paradise Hotel or similar in Siem Reap
Day 3: Siem Reap – Tonle Sap Lake – Siem Reap (B, L)
Following breakfast, take a 30-minute morning drive by remork to the edge of Siem Reap for a 15-minute ox-cart ride through the countryside. Then continue by air-conditioned vehicle to reach Cambodia's largest freshwater lake, Tonle Sap. Classified as a UNESCO Biosphere Reserve, the lake feeds the Mekong River during the dry season and swells during monsoons.
Board a local boat at the riverbank for an approximate 30-minute ride to Kompong Phluk, the largest floating village on the lake, where you'll spend the rest of the morning. Here, observe the fascinating daily activities of the Cambodian villagers who reside along the shore, gaining a better sense of how their lives are shaped by the water's rhythms.
After lunch at a local restaurant, the rest of your day is free to spend as you like.
Overnight: Angkor Paradise Hotel or similar in Siem Reap
Day 4: Siem Reap (B)
Enjoy breakfast and time at your leisure until you transfer to the airport for your onward flight. Check-out from your hotel is at noon, but you're free to store your luggage if you'd like to sightsee on your own.
May 2016
Fantastic tour! Our tour guide took us around all of the places that you may not see otherwise. He kept us away from the crowds and adapted the itinerary to suit our needs. Highly recommend a private tour for some of these temples. Great tuk-tuk drivers as well!
March 2015
Our guide, Davi, was excellent. He was knowledgeable and went out of his way to make our experience top notch. The hotel was great and our TukTuk driver was prompt,friendly and helpful. We highly recommend this tour.
June 2016
Excellent tour itinerary covering the must see places in Siem Reap. The tour guides were excellent, don't push for buying souvenirs and very accommodating to all requests. Viator prices may be slightly higher than other local tour operators but its worth it as there are no compromises. My only suggestion would be to give advance information on how much time it takes to cover each itinerary as I had way too much spare time on 2 days.
April 2015
Overall the trip was amazing! We had a problem on our first day due to a miscommunication with the tour company about our arrival time so we had no airport transfer when we arrived. Otherwise, our tour guide mr San was excellent!
January 2015
Very informative tour of the temples of Angkor, led by our very capable guide Sokmeng Thong, who was a fountain of information about all the places we visited, as well as the country's history (ancient and recent), geography, economy, and politics. Two days of travelling many kilometres by tuk-tuk was an experience in and of itself; our driver made it all look so easy and put us at ease in the tensest of situations.
The third day of the tour consisted of a trip to Tonle Sap Lake, with transport by tuk-tuk, ox-cart, and boat. We realised once we were under way that some people would have had trouble with the transport. The ox-cart ride would have been difficult for people with back and/or leg problems because of the length of time sitting in a squatting position on a flat surface while riding along a bumpy road; the tuk-tuk trip as we neared the lake required negotiation of a very bumpy road which could have spelled agony for anyone with a bad back. Fortunately we were both in good physical condition, but we felt that we should have been advised beforehand in the advertising of the conditions we would encounter. Not everyone booking this package will be reading all of the reviews.
Overall, a very good tour for anyone interested in the temples around Angkor, who also wants a glimpse of the life of the resident farmers and fisher folk.
Advertisement
Advertisement