Explore Cambodia's stunning ruins on this full-day private tour of Angkor Wat Ancient temples from Siem Reap. Start the day exploring the Roluos Temple Group before returning to town for a traditional Cambodian meal. After enjoying a savory lunch at a local restaurant, head out to famous Angkor Wat, where you'll climb to the top of Phnom Bakheng and experience the magic of sunset over these iconic ancient ruins.
Highlights
Your own private English-speaking full-day guided tour the ancient Angkor temples
Capture the magnificent sunset over Angkor Wat as you climb up to Phnom Bakheng
Explore the Angkor temple complex and it's countless ceremonial structures
Enjoy lunch in Siem Reap
Hotel pickup and drop off by air-conditioned private vehicle
What You Can Expect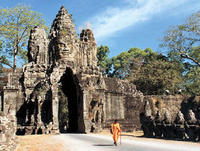 The ancient crumbling structures that make up the Angkor temple complex rank among the world's most impressive and iconic ruins. Spend the day exploring this vast landscape just outside the town of Siem Reap on this Angkor Wat Ancient Temples Full-Day Tour.
Venture into the ceremonial structures, which are tucked amid towering trees and quiet clearings. Built between the 9th and 13th centuries by the Khmer Empire, they remain today as a reminder to the nation's regal past.
Enjoy private transportation from your hotel to the Roluos Temple Group, where you'll see the oldest remaining structures in the complex. Savor a typical lunch in Siem Reap and then take a two-and-a-half-hour tour through the iconic Angkor Wat.
End this memorable day with a climb to the top of Phnom Bakheng, where you'll enjoy epic sunset views of Angkor Wat and the vast Cambodian countryside.
March 2015
May 2014
Absolutely great tour!! Recommend it to anyone! Our guide was wonderful!! He took time to take pictures for us, and had great history and info all along the tour.
Vojtech C Czech Republic
March 2014
In a first minute Mr Heap, our private guide recognised sensitively our needs, adjusted the overall schedule and enable us to see the most valuable monuments, enjoy the trip without being exhausted, tired or "over travelled". He carefully planned for breaks, took care of each of us individually and with a great success arranged very specific events (VIP theatre visit for example). His knowledge of both the sites, history and society, all of great interest for us, was pristine and deep. He is also very sensitive and sustainable companion keeping high level of smooth and friendly relationship with us, something of a high value for a longer period staying with visitors (we did have some bad experience in the past, for example in Bangkok where after few days the guide acted "too aggressively"). His service was above our expectations at all angles. We highly appreciated also his companion, the driver – the car was always in a very clean and perfect condition – which is highly important and rather difficult in tropic areas. His car was always with sufficient water and other important items available, he was always on time and his driving style was of top class, very smooth, professional. Highly recommended for high value, high demand private travelers, couples, single person (both genders).

September 2013
Great tour, great guide, recommended
Actually visited angkor Wat and angkor thom along with the "tomb raider" temple the day before on our own but was more enjoyable with the guide on the private tour
July 2013
Travelled with our two older children 16 and 20 and was concerned the temples would not be all they were cracked up to be. Fortunately this was not the case the friendly guide was well informed and took time to explain the history, religious and architectural but didn't over do this and kept the flow going. The guide we had was called Vutha, he was attentive and ensured we were comfortable and well watered throughout. The stunning views and the majesty of the temples is a must for all travelling in the region.
July 2011
excellent tour guide...well organised...good pace
Peter M USA
May 2011
Wonderful and comprehensive. We had a great time; our guide and driver were the best! Thanks.
Erik Z USA
August 2010
excellent guide
Claudia G Singapore
July 2009
Enjoyed the temple tour very much, well organized and most convenient in its organization. The guide was very knowledgeable and spoke English well. Driver did well and was very attentive, too.
March 2016
we left the hotel @ 8:00am
The tour guide was very good and we enjoyed everything.
The lunch was below average to average at best.
As we found out in our three days there we could have paid half of what we paid Viator for this tour.
Other than the price it was great.
Thank you
Roger and Sherry Lambert
Advertisement
Advertisement