Marvel at what remains of the famed Khmer Empire and bear witness to the stunning ruins of Angkor Wat on this private full-day tour from Siem Reap. Kick things off at the south gate of Angkor Thom City. Follow your guide through Bayon and Baphuon temple before venturing into the Royal Enclosure and Phimeanakas. Take in the beauty of the Terrance of Leper Kings and the Terrace of Elephants, then enjoy a traditional lunch of savory Cambodian cuisine. Finally, explore iconic Angkor Wat, a UNESCO World Heritage listed site that remains one of the most well preserved parts of the archeological park. You'll have plenty of time to explore the grounds before returning to your hotel in a
private vehicle.
Highlights
Private full-day tour of Angkor Wat and the royal temples
Explore the Bayon, the centerpiece of the ancient Angkor Thom City
View Baphuon temple, the Royal Enclosure and Phimeanakas with your informative guide
Discover the temple of Angkor Wat, the most famous and best-preserved structure within the Angkor complex
Enjoy a Khmer-style lunch in front of the majestic site
Hotel pickup and drop-off by air-conditioned private vehicle
Recent Photos of This Tour
Private Tour: Angkor Wat and The Royal Temples Full-Day Tour from Siem Reap
What You Can Expect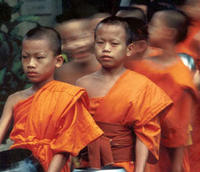 Meet your private driver and friendly guide at your hotel before heading out on your Full-Day Tour from Siem Reap. Your memorable tour kicks off at Angkor Thom City's South Gate, where you'll learn about the 54 demons that line the road. Your professional guide will share stories about the UNESCO-listed site where remains of the former Khmer Empire date back to as early as the 9th century. The itinerary is flexible and guides can tailor the trip to traveler interests.
Take in the splendor of Bayon, located at the center of this great walled city. You can explore on your own, or follow your guide, who will highlight features like the 200 stone faces that surround the center.
Next you'll venture to the three-tiered temple of Baphon. Built in the 11th century and recently restored, Baphon was made as an homage to the Hindu god Shiva. You'll spend about two hours in Angkor Thom, where you'll wander through the Royal Enclosure and Phimeanakas. Check out the Terrace of Elephants and the Terrace of Leper Kinds before tucking into traditional cuisine in front of the famed Angkor Wat.
Arguably the most famous of these temple ruins, Angkor Wat is a sight to behold. You'll have time to explore your surroundings with your guide, who will share stories and details about this 12th century Khmer ceremonial structure. Spend an afternoon wandering the galleries where carvings tell stories from the story Ramayana, and take in the peaceful reflecting pools and giant moat that are just part of what makes Angkor Wat unique.
Once you've finished taking in the temples, head back to your Siem Reap hotel in your private, air-conditioned vehicle.
Uli Malaysia
June 2016
This tour was really good and very informativ.
Also thanks to Mr. Pheara
June 2016
A great tour of great locations with a very knowledgeable guide Mr. Thy Soeun. We started at Ta Prohm temple from Tomb Raider fame and then visited Angkor Thom and Angkor Wat. We were given extensive detail on the histories of each temple and allowed free time to wander by ourselves. It was extremely hot and humid on the day of the tour but we were provided with as much water as we could drink. The tour does have many steep steps which was made even more difficult by the humidity. We had an excellent set menu lunch at porcuisine that was included in the tour.
April 2016
The Tour was Excellent. Mainly because our tour guide, Mr. Suy Vuth, did a fantastic job of explaining everything and making sure that we were having a Good Experience. For a One Day tour we were able to see a lot...... Thanks....
January 2016
Fantastic tour. Guide was not only full of information he was flexible, very enthusiastic and genuine.
Although it was a very humid day and we were kept well hydrated by the driver at all times. It was awesome. BIG thx!

December 2015
Excellent and knowledgeable guide. Patient with children. Safe and secure. Delicious lunch fare.

November 2015
We got an excellent guide. He was on time and very professional and knew way more than expected. He certainly earned the good tip!
November 2015
This was an excellent tour and worth the price even for one person. Mao my tour guide was a delight! Could not have asked for better service and kindness :
August 2015
Excellent tour, lots of walking and steep steps but was well worth it. Lots of amazing views and history. The guide was excellent and very friendly. Elephant rides are also an option.
July 2015
This tour was amazing and it was so great to be driven around and have our own guide. We learnt so much about the history of all the temples. If we had done this tour on our own we wouldn't have known what we were looking at. The driver and guide looked after us all day and at first when I booked I thought it was expensive but it was worth every cent to have the overall experience of Angkor Wat and all the Temples. Once in a lifetime experience!

July 2015
Angkor Wat and the surrounding temples and sites are a must see. We spent a month in SE Asia, and this was one of our two favorites days. Chet was our tour guide and we really liked him. You should not tour these temples without a guide - there is just way too much to see, and without the context Chet provided I don't think we would have been able to appreciate the day nearly as much. Chet also understood what the crowds would be like and rearranged our day to have the least crowded visit to each site. We could tell that his assessment was correct, as people were pouring into one temple as we were leaving, having had a fairly uncrowded visit. We highly, highly recommend this tour. And ask for Chet!
Advertisement
Advertisement