52 Reviews
Location:

Siem Reap, Cambodia

Duration:

10 hours

(approx.)
Be mesmerized by Angkor Wat and other magnificent remains of the Khmer Empire on this private tour from Siem Reap! Beginning at the south gate of Angkor Thom City, you'll explore the Bayon before continuing to Baphuon temple. With a knowledgeable private guide, see the Royal Enclosure and Phimeanakas, the Terrace of Elephants and Terrace of Leper Kings. After lunch, spend most of the afternoon at Angkor Wat, the best-preserved part of the UNESCO World Heritage-listed archeological park, before returning to your hotel by air-conditioned private vehicle.
Highlights
Private full-day tour of Angkor Wat and the royal temples
Explore the Bayon, the centerpiece of the ancient Angkor Thom City
View Baphuon temple, the Royal Enclosure and Phimeanakas with your informative guide
Discover the temple of Angkor Wat, the most famous and best-preserved structure within the Angkor complex
Enjoy a Khmer-style lunch in front of the majestic site
Hotel pickup and drop-off by air-conditioned private vehicle
Recent Photos of This Tour
Private Tour: Angkor Wat and The Royal Temples Full-Day Tour from Siem Reap
What You Can Expect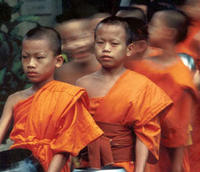 After hotel pickup by air-conditioned vehicle, your private tour of the Angkor temple complex starts at the South Gate of Angkor Thom City, where 54 demons line the road. Not far from Siem Reap, the UNESCO-listed archeological park includes countless remains from the 9th to the 15th centuries built by the former Khmer Empire. Just let your private guide know your specific interests so he or she can include them in your flexible itinerary.
First, explore the Bayon, the centerpiece of the ancient walled city, known for its decorative Khmer temple. Your guide points out distinctive features such as the more than 200 serene and massive stone faces that tower around the central peak.
Your informative tour continues at the Baphuon, a three-tiered temple built in the mid-11th century and fully restored in 2011. Originally dedicated to the Hindu god Shiva, it was converted to a Buddhist temple in the late 15th century.
You'll spend approximately two hours in Angkor Thom, including the Royal Enclosure and Phimeanakas as well as the Terrace of Elephants and Terrace of Leper Kings. Then enjoy lunch in front of the majestic Angkor Wat before entering this magnificent temple, easily the most famous and best-preserved of all structures within the complex.
Spend most of the afternoon meandering with your guide through this architectural masterpiece, unrivaled in its beauty. Built in the 12th century, the Khmer ceremonial structure is believed to have functioned as a funerary temple for King Suryavarman II. Take a look at the enormous moat and reflection pools, and wander through the galleries to find an astounding array of ornate bas-reliefs (carvings) that depict scenes from the Hindu epic, the Ramayana.
Afterward, you'll be transported by private vehicle back to your hotel in Siem Reap.
November 2015
We got an excellent guide. He was on time and very professional and knew way more than expected. He certainly earned the good tip!
November 2015
This was an excellent tour and worth the price even for one person. Mao my tour guide was a delight! Could not have asked for better service and kindness :
November 2015
This was an excellent tour and worth the price even for one person. Mao my tour guide was a delight! Could not have asked for better service and kindness :
August 2015
Excellent tour, lots of walking and steep steps but was well worth it. Lots of amazing views and history. The guide was excellent and very friendly. Elephant rides are also an option.
July 2015
This tour was amazing and it was so great to be driven around and have our own guide. We learnt so much about the history of all the temples. If we had done this tour on our own we wouldn't have known what we were looking at. The driver and guide looked after us all day and at first when I booked I thought it was expensive but it was worth every cent to have the overall experience of Angkor Wat and all the Temples. Once in a lifetime experience!
July 2015
Angkor Wat and the surrounding temples and sites are a must see. We spent a month in SE Asia, and this was one of our two favorites days. Chet was our tour guide and we really liked him. You should not tour these temples without a guide - there is just way too much to see, and without the context Chet provided I don't think we would have been able to appreciate the day nearly as much. Chet also understood what the crowds would be like and rearranged our day to have the least crowded visit to each site. We could tell that his assessment was correct, as people were pouring into one temple as we were leaving, having had a fairly uncrowded visit. We highly, highly recommend this tour. And ask for Chet!
June 2015
The highest marks for the guide and driver. Unbelievable experience but you'll need a second pair of legs - there's so much to see. Also, the lunch was mediocre, make sure to have a good breakfast.
June 2015
I booked this tour for our myself, my husband and my two grown children first trip to Cambodia. We enjoyed the tour immensely! Our tour guide, Mr. Sokvichet Chet Chin was very friendly and courteous. He was very knowledgeable and spoke English well. He patiently acquainted us with the symbolism and history of the Khmer Empire while we toured the ruins. You can tell that he is extremely proud of his country and its past history. We visited the Bayon and Baphoun temples, Terrace of the Elephant/Leper King, Angkor Wat and Ta Prohm. Chet was quick to inform us that our admission ticket covers the entire site so we could pick and choose where to start our tour. It was extremely hot during our visit! The temperature topped 100 degrees in the mid-afternoon we later found out that from April to June its the dry season! The one plus is the fact that there are less visitors and we were able to take our time touring the sites and savoring the wonderful surroundings. Our driver was extremely nice as well -- handing us cold bottles of water and towels after every sojourn into the hot Cambodian sun! We had an enjoyable lunch at an open-air restaurant with good food and attentive staff. I highly recommend this tour and ask for Chet if you go!
May 2015
This trip was inspiring, breathtaking, our guide Sun was very knowledgeable, we both enjoyed it immensely and would recommend the tour and your company. An absolute must
May 2015
This tour was operated by the local tour company and included a dedicated driver and personal guide. The tour provided an extensive walk through the spectacular ruined temples of Angkor. Our guide provided historical perspective and was well prepared to answer questions about the ancient culture, temples and other landscape features. Angkor stretches over a vast area so the tour does not include every ruin but does encompass what is considered to be the most significant ones. The guide allowed us to progress at our own pace including plenty of time for photography and refreshment breaks it was extremely hot on the day of our tour. Angkor is a must see for any visitor to Cambodia, and this tour is good value for money.
Advertisement
Advertisement