Visit one of Siem Reap's most famous pagodas for a behind the scenes look at the lives of Buddhist monks. Your private guide will unlock the mystery and meaning of this unique experience, which includes prayers, chanting and even a traditional Buddhist blessing. Travelers can volunteer to participate in age-old ceremonies that take place amid burning incense and flower offerings. Everyone will leave with a thin red thread wrapped around the wrist that symbolizes prosperity and good luck. Guides customize the tour to individual interests and schedules and round-trip transportation is included.
Highlights
Pagoda ceremony and private monk blessing in Siem Reap
Visit Wat Athvea
Listen as your guide translates and describes the Buddhist ceremony
Watch as a monk ties a red thread around your wrist for good luck during a blessing
Round-trip transport is included from your hotel
What You Can Expect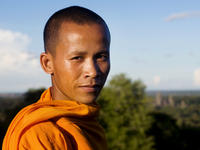 Meet your guide at your Siem Reap hotel and spend the afternoon experiencing the beauty and intimacy of your own private ceremony at a renowned Buddhist temple. You'll venture to Wat Athvea as part of this Buddhist Blessing Ceremony and Pagoda Tour.
Follow your guide through stunning temple grounds, where you'll see ornate carvings, well-kept gardens and golden spires. Temples date back as far as the 15th century and offer a window into ancient Buddhist traditions.
You'll take a seat on the floor once inside the pagoda and watch as Buddhist monks in saffron colored robes chant prayers in Pali, a language that dates back to the earliest Buddhist spiritual writings. You'll have the chance to offer alms—like jasmine flowers—as candles burn and richly scented incense drifts through the air. The ceremony last approximately 30 minutes and travelers can choose to participate as they wish.
Monks will bestow personal blessings as they tie red threads around wrists to symbolize
prosperity and attract good luck. Your professional guide will also serve as interpreter,
and can translate to help you better understand the role of Buddhism in Cambodia.
This private tour is customized to your desires and interests, so explore the grounds at
your leisure before returning to your hotel.
June 2016
I can and #39;t begin to express what a total disappointment this and #34;blessing and #34; was. I was looking forward to this as a highlight of our trip, a chance to learn more about Buddhism and feel an connection to the religious culture of th company. Instead I feel the victim of a scam, embarrassed I spent the money
November 2015
The tour company was not the issue here, it is the pricing structure. I feel horribly ripped off and this is after having an excellent tour with the same operator for Angor Wat. I am traveling alone and booked a private, one person tour 2 tours, one for Angor Wat and one for this. The private tour for Angor Wat was worth every penny of the 168 USD charged. It was an 8 hour tour, lunch, with the various temples ans a tour guide and driver. Then comes this tour, of which I paid 238 USD! I was willingly to because, from the small picture, I was expecting something beautiful, near the temples and having a look into buddhist life. At 40 per person as the starting price, I paid for more than five people for this tour. Boy was I supriswd when the tour lasted for only 45 'minutes, was no where near a temple, the blessing was only a few minutes and then a few minutes of smiles and nods and then a small tour of the small monastery which lasted five minutes! I am floored that this is what I paid for. For an 8 hour tour of the temples, I paid half this price. I cannot believe this has happened to me and feel like a fool for having not understood any of the itinerary. There is no mention at all the true location and timing of this tour at the time of booking. I'm so upset.
Advertisement
Advertisement