11 Reviews
Location:

Siena, Italy

Duration:

9 hours

(approx.)
Visit Cortona and Assisi, two stunning hilltop towns, on a full-day trip from Siena! Explore the town of Cortona in the morning, sightseeing independently or discovering its delights on a guided walking tour (own expense). Then, spend your afternoon in the town of Assisi, following in the footsteps St Francis of Assisi (Italy's patron saint) on a walking tour, learning about his life in the town. See Santa Maria degli Angeli Church, where he realized his vocation, and Basilica di San Francesco -- a spectacular church built to commemorate him.
Highlights
Full-day Cortona and Assisi trip from Siena with an expert local guide
Spend time at leisure in the hilltop town of Cortona

Follow in the footsteps of St Francis of Assisi on a walking tour of Assisi

Explore Basilica di San Francesco and admire Giotto's beautiful medieval frescoes
Visit Santa Maria degli Angeli Church, where St Francis realised his vocation
What You Can Expect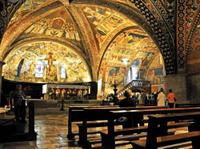 Leave your central Siena hotel in the morning and travel east to Cortona, a stunning little hilltop town of ancient origins. The setting for the 2003 rom-com Under the Tuscan Sun, Cortona boasts a wealth of picture-perfect medieval architecture making it a perfect place to spend your morning. Sightsee at leisure or join a walking tour (own expense), seeing sites like Santa Margherita Sanctuary – built to commemorate the patron saint of the city – and the imposing Palazzo Communale. Enjoy a walk and stroll around the city walls.

After your tour, relax with some free time in the town to do as you please. Perhaps find a piazza-side café for lunch (own expense) or stroll around the narrow lanes admiring the sun-bleached stone buildings. Meet back up with your guide at a pre-arranged time to leave Cortona by coach.

Continue your tour traveling south into Umbria to visit Assisi, an enchantingly beautiful hill town, best known for its links to St Francis – a wealthy merchant's son who chose to embrace poverty and preach on the streets of the town.

Follow in St Francis' footsteps on a walking tour around Assisi, ambling along winding streets and alleyways and ending up in the spectacular Basilica di San Francesco. See both the upper and lower basilicas -- one lavishly ornate and the other minimalistic and sober in line with St Francis' teachings. The church is also famous for its Giotto frescoes, and your guide will point out these medieval depictions of St Francis' life in the town. Finish your afternoon in Assisi with a visit to Santa Maria degli Angeli Church -- a little-known place where St Francis is said to have realized his vocation.

Return to your coach for the journey back through the picturesque Tuscan hills to Siena, where you'll arrive in the late afternoon.
October 2014
My husband and I enjoyed the tour. It was well organized, picked us up at our hotel on time and the tour guides were very personable, accomodating and knowledgeable I lost my iphone and the tour guides and the dispatcher as well very supportive and accomodating. I would highly recommend to use "Viator"
October 2015
September 2015
A really good tour. The bus was late and we were left stuck at a gas station for an 1 1/2 hours due to traffic in Florence with no real help. The trip was really great but very long because of the delay and then thectour also took in Puglia. Most people would have been happy enough to skip Puglia due to the delayed start. It was a very long day. Trip was well worth it.
July 2015
Started in the medieval village of Cortona before going to Assisi. Assisi was special and so well maintained. With the larger group we were given a PA system to link us to the guide so as we could all hear what she was saying even while we walked. The guide was particularly good in explaining the various churches and centres of St Francis and Saint Claire. The lower church of the main Basilica was particularly moving where St Francis was buried, the second Basilica where he died and the crypt to Saint Claire were also special places that we visited.
December 2013
Apparently on the day of this trip the Pope was visiting Assisi, so the city was closed and we couldn't get in, of which I was informed a day in advance (they said we would visit a different twon instead). Then on the day itself after we visited Cortona and had some free time there, we drove to Assisi. It seemed that our guide and driver had no idea how to get into town, but they tried hard, and eventually we parked outside Assisi and took a shuttle and visited Basilica of San Francesco. We even ended up seeing the Pope as he was transferred from one church to another :-) Under the cirsumstances - I think that this tour went very well, so I give it 4 stars out of 5. I don't know how the tour goes under normal circumstances.
September 2013
I truly enjoyed this day. The guides were very good and I learned a lot. I had been ready for this, having read a little about both places, knowing some history and the layout of the towns. The connection from Siena worked well.
September 2014
Not enough time for Cortona or Assisi
ELIMINATE using anything by MyTours!!!!
Perugia was a WASTE of time
Bob Hahn
August 2014
This tour was WAY too rushed and could have done with a lot more attention. First Cortona. We got there at 9:30 and set loose on our own to explore. No map, no orientation, and absolutely no reference to the choice of paying for a local guide as described in Viator's summary of the tour. We were there for just over an hour which was basically enough to have a quick coffee and walk around aimlessly. Assisi was better. We had some free time there for lunch and to wander unattended. The free time would have been better after the guided tour, so that we had some kind of idea about what we wanted to do with our free time. Our driver for the day said it was set up this way because Santa Chaira is closed until 2pm. So 2 we had a guided walking tour ending in 25 minutes to tour the Basillica of San Francesco. 25 minutes, seriously? Three levels of floor to ceiling masterpiece paintings, a huge complex and San Francesco's tomb in 25 minutes? Again this was WAY too rushed. Perugia was a third a final stop on the tour. Why did we do this? It is not even mentioned in viator's description of the day. Again we were set loose for an hour, pointed in the direction of the main square. I and others on the tour thought that it would have been much better to spend the extra time in Assisi. Our driver was a nice person. Overall the day had too much frustration over being rushed. I recommend to readers that if any of these towns are of interest to you as a day trip, do a maximum of two in one day and do it on your own. You could easily spend a full day in Assisi alone. That may be true for Cortona and Perugia too, but I didn't see enough to say for sure.
April 2015
English speaker in Siena was impossible to understand.
October 2014
Not as described. No time in cortona. They Added perugia which was not in the marketing info and we had no interest in seeing
Advertisement
Advertisement