27 Reviews
Location:

Siena, Italy

Duration:

14 hours 30 minutes

(approx.)
Spend a day in the breathtaking Cinque Terre region with an expert local guide, on this must-do tour from Siena! After traveling by luxury coach, explore the picturesque villages of the UNESCO-listed area by foot, train and boat. Enjoy free time in Manarola, travel by train to Vernazza and then relax on a boat ride to Monterosso. Blend scenic views with a delicious lunch before hopping aboard another train to Riomaggiore and spending time at leisure before returning to Siena.
Highlights
Full-day trip to the Cinque Terre from Siena by luxury coach
Discover the best parts of the UNESCO-listed Cinque Terre with an expert guide
Use your Cinque Terre Card to travel by train between villages
Relax over lunch in Monterosso and go for a swim in the sea if you wish
Ride by sightseeing boat from Vernazza to Monterosso (weather permitting)

What You Can Expect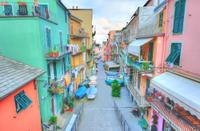 Leave central Siena bright and early, and travel north out of the city toward Tuscany's capital, Florence. After a brief stop here to pick up fellow passengers, continue traveling west in the direction of the coast. Pass out of the lush Tuscan countryside into Liguria and head into the Cinque Terre National Park – a UNESCO World Heritage Site that lines the Italian Riviera's coast.

Meaning 'five lands,' the Cinque Terre is precisely that, but a whole lot more scenic than its name suggests. Five sun-baked fishing villages cling to the area's dramatic sea cliffs, separated only by wind-gnarled vineyards and olive groves; it's the rugged face of the Italian Riviera at its picture-perfect best.

Hop off your coach at the village of Manarola and explore its streets on a stroll around the village. Meet your guide at the pre-arranged time and hop on the train to travel north to Vernazza -- a village once favored by Italian nobility and naval forces. Amble around the pretty streets at leisure, and then hop aboard your sightseeing boat (or train if the weather is bad) to the village of Monterosso. Sit down for lunch in one of its charming seaside trattorias, and admire views over its turquoise bay as you eat. The rest of your time in Monterosso is spent at leisure, so why not head to one of its beaches for a swim?

Your last stop is Riomaggiore, the area's southernmost village, and on arrival here, your guide will show off its delights on a stroll around. A winemaking village that dates back to the 13th century, Riomaggiore is often considered the highlight of the Cinque Terre, with its candy colored houses and secluded beaches. After exploring Riomaggiore, board your train to La Spezia and then board your coach for the journey southeast back to Siena. Your tour finishes around 9pm in the evening at the start point.

Please note: Due to a landslide which occurred at the end of September 2012, the famous path "Via dell'Amore" has been closed.
June 2015
May 2015
August 2014
We booked the tour out of Siena. We were picked up from Piazza Gramsci at the appointed time and driven to Florence to meet the other travelers. The tour guide was very informative, helpful and pleasant. Cinque Terre is a must even if it's for a day and Viator is well organized n is great value for $. Our return from Florence-Rome was just as hassle free.
May 2014
The tour was amazing. It was fast paced as we visited four of the villages in one day. There was confusion about transportation from Sienna to Florence. No one was at the bus station to pick us up. But a driver was dispatched immediately after we called the Viator number. We had a wonderful day!
April 2014
This was a great day out from Siena. Lucky for Amadeo, our excellent guide, there were only 11 of us in the group as there are a lot of deadlines to meet, for trains and the boat trip from Vernazza to Monterosso, so at times the day feels a little rushed. Good lunch of pasta, fresh fish and lemon sorbet. This is not a complaint, but enhanced communication from the local operator when I called to confirm pick-up time/location would have helped - I would have liked to have had an idea ahead of time that, as the only passenger starting the day in Siena, I would be taken to Florence by private car, and driven back to Siena at the end of the day by the tour bus driver who did not speak English. Arriving in the dark at what was no doubt the bus company depot in the middle of nowhere was a little disconcerting, so I was happy to see my smiling driver Renzo from the morning who drove me back into town.
January 2014
Cinque Terre was beautiful! And the tour wasn't as rushed as I had first expected. The towns we visited were pretty small villages, so it was easy to walk them in the allotted time. The guide was very nice and friendly, and the lunch he arranged for us was delicious. I enjoyed this trip very much.
December 2013
We were well looked after by our guide, Amadeus. Keep us fully informed as to timings, and was a constant reminder to be sure to guard our belongings, as pickpockets are a problem in the area. The lunch provided was just great...great pasta, wine, dessert, a nice shot of Limoncino (as opposed to Limoncello)...a great way to end our day @ Cinque Terre. Highly recommend this tour.
December 2013
great day out but not for the faint hearted ! have to fight your way on and off the trains
December 2013
Although it was a rainy day, my son and I enjoyed a wonderful day in Cingue Terre. We were picked up in Siena in a very nice car and driven to Florence where we met up with the group. The bus was a roomy air-conditioned bus with very comfortable seats. Our tour guide pointed out interesting facts along the way. Because of the rain there were no boats and more tourists walking than normal. Cinque Terre was very crowded that day and we had to work hard to keep up with the group and follow our guide. We took the train between the towns and got to see 4 out of the 5. Besides one steep climb down from the bus, it was very easy. Our group all had a lovely lunch together that was pre ordered and overall I would absolutely recommend this tour. Even despite rain all day, it was a wonderful day and worth the money. If you are taking the tour from Siena, I would suggest you find the pick up spot the day before. We had to be there at 6:15 a.m. and we knew it would still be dark so we tracked it down the day before. I am very glad we did this since we some trouble finding it. Also, it was nice that we could keep anything extra on the bus and not have to carry it around with us all day.
May 2013
This was a wonderful tour of an equally wonderful location in Italy. The three villages visited give you a fairly good sense of the treasures in Cinque Terre, which you can only explore more by staying right there. I wish I had known that the tour was available from Florence, as it is a shorter trip and I would have preferred to take it from there, but otherwise it was great.
Advertisement
Advertisement